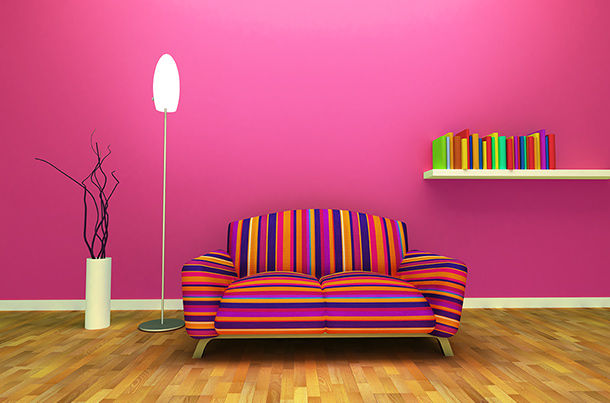 2015 got off to a running start in point of business events like trade shows and fairs. Although only 2 months have passed, many reputable events were held all over the world and drew global attention. Inarguably, decoration fairs are among the most popular ones as they appeal to a large number of people from the sectors of design, architecture, building and construction. Also, many retail customers swarm to these fairs to get inspired and to find unique and fancy products for their houses and their offices.
If you are an exhibitor in this sector or a customer who has an interest in decoration, don't think you have already missed the most remarkable decoration fairs. There are still many reputable decoration fairs that will be held in the following months and will definitely drew international interest and shape the future of the decoration sector.
Baldai 2015 - 26 - 29 March in Vilnius
Consisting of three major themes such as interior, design and furniture, Baldai is held annually and targets the manufacturers, retailers, interior designers, architectures, consumers and more. Last year, nearly 21000 visitors came to this sector leading show and this year, Lithuanian Exhibition and Congress Centre appears to be swarmed by both national and international attendees trying to get the most of this high end event.
Ideal Home Show – 20 March-6 April in London
One of the most reputable, award winning decoration show is undoubtedly the Ideal Home Show that is being held in London since 1908. You'll find anything you need and more in the name of decoration at this show. Don't miss the opportunity to witness this sector leading show between 20 March and 6 April in Olympia London.
Foire de Printemps / The Spring Fair - 09 - 17 May in Luxembourg
Organized by Luxexpo, Foire de Printemps or (the Spring Fair in English), will showcase anything related to furniture, garden equipment, tableware and more. Covering 34000 square meter of area and having 360 remarkable exhibitors, Foire de Printemps is a world in itself.
ICFF 2015 - 16 - 19 May in New York
Known as the premium show for contemporary design, International Contemporary Furniture Fair expects more than 32000 visitors this year. Among the expected visitors there are visual merchandisers, architects, retailers, consumers, interior designers and distributors. If you want to get inspired and know the latest trends about contemporary furniture, flooring, outdoor furniture, wall coverings and lighting, don't miss the opportunity to be in Javits Center between 16 - 19 May.
May Design Series UK - 17 - 19 May in London
Being a most commercially focused trade show in the sector, May Design Series aims to inspire you with its creative spirit. The sectors that you will find at the show cover furniture, lighting and of course decoration. Secure your seat for this impressive design business show in London ExCel.
SIDIM Design Show - 21 - 23 May in Montreal
Since 1989, SIDIM (Salon International du Design de Montreal) are held to bring together the consumers, designers, architects, consultants and the media. To catch up with the recent contemporary trends in design and architecture, or expand your business in this sector, SIDIM is the only place to launch or be informed about new services or new products visited by nearly 17000 people annually.
Decor Expo - 23 - 26 April in New York
Being held in New York between 23 April and 26 April, Decor Expo showcases everything in the name of framing and wall accessories. From hooks to moulding or from glazing to wall hanging devices, you'll find anything about wall decoration. Join the interior decorators, suppliers, manufacturers and art buyers. This trade-only event will definitely boost up your business.
Hong Kong Houseware Fair - 20 - 23 April in Hong Kong
Organized annually by Hong Kong Trade Development Council, Hong Kong Houseware Fair is the biggest houseware event in Asia. The main focus of the show is DIY products, tableware, kitchenware, bathroom accessories, outdoor furniture and eco-friendly products. It is estimated that nearly 28000 visitors will come to Hong Kong Houseware Fair this year.
Decorex – 24 – 27 April in Cape Town
Known as the premier décor, design and lifestyle show in South Africa, Decorex is a perfect hub for design and decoration ideas. Being suitable both for manufacturers and retail customers, Decorex also offers foodie experiences and interactive demonstrations.
Interzum - 05 - 08 May in Cologne
The heart of the furniture industry and interior design beats at Interzum biennially. And fortunately, after a year of break 2015 is the year of Interzum again. Many decision makers, thought leaders, interior designers and manufacturers of the sector from all around the world will come together at Koelnmesse between 5 May and 8 May. Never miss that chance to join them!
Foire de Paris - 29 April - 10 May in Paris
Dating back to 1904, Foire de Paris is kind of a legend in the sector. It offers you a chance to test and compare products and services under one roof with increasing numbers of exhibitors and visitors every year. If you are interested in renovation, furnishings, construction as well as swimming pools and garden furniture, Foire de Paris has more than you need. What is more, it provides the opportunity to take a gourmet break offering you a wide range of world cuisine.
Salone del Mobile Milano - 14 - 19 April in Milan
When it comes to home furnishing, Salone del Mobile Milano is a cornerstone. Since 1961, it has been organized to promote Italian style of furnishings. Last year, it was attended by almost 312000 people from all around the world. For the ones who are interested in the top quality, high end furnishings, Salone del Mobile Milano is a matchless show.
If you are interested in more decoration fairs, you can view the complete list of upcoming decoration fairs on Eventegg.com.