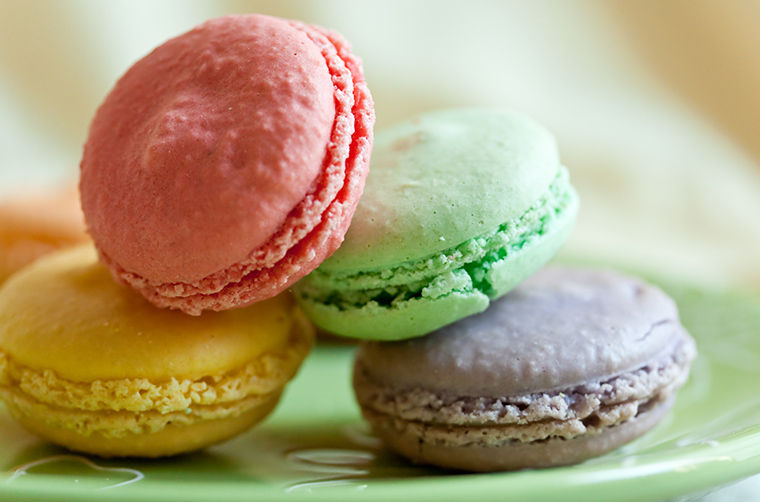 Macaron
We owe the French for this little bites of magic and your trip to Paris enables you to taste the best one you could ever have.
Macarons can roughly be described as biscuits made from egg whites and sugar. Although Paris has got some of the best and worldwide famous patisseries that will feed with you these delicious babies, the variations across the country are also famous.
You can try Ladurée which has got more than one place across the city. You will notice the place thanks to the huge crowd that gathers in front of their door no matter what time of the day it is. Pierre Hermé is the second suggestion to have a couple of macarons. If you are into pastry and don't feel like being content with just macaron part of this finger bitingly delicious cuisine, have a look at the list of 7 Patisseries in Paris that will Make You Want to Lick Your Fingers.
Wine & Cheese
This inseparable duo comes in the best way possible when in Paris, since the country has already a hard to reach reputation for the production of these two. You have probably heard of the fame of the French wine as well with its cheese, so why not feast yourself when you are in the best city to indulge yourself?
Of course, both wine and cheese have got a large number of types, according to the region they are produced and from the types of ingredients they are produced from. No matter what your favorite is, Paris is going to treat you well and make sure you spend a Parisian night in the company of French cheese and wine.
Juvenile's, Le Verre Volé and Baron Bouge are our three recommendations to discover your new favorites from the French wines and cheeses.
Croissant
If croissant wouldn't be included in this list, it wouldn't be fair and the list would definitely be incomplete. Maybe you have heard what they say in Paris, "A croissant a day, keeps the doctor away."
Despite croissant seems to be available in all parts of the world, frozen, freshly baked or homemade, the one you are going to try in Paris are going to make you have a completely new idea of it. Not only because the artisan bakeries use the best ingredients for the dough, but also because it has been so long since they have mastered the way the croissant must be baked.
You are going to come across a large number of places selling croissants in Paris and pretty much all of them make you question what you have been eating as croissants in other parts of the world. However, there are also a couple of places you should head to eat the croissant which you will remember for the rest of your life.
Blé Sucré might surprise with a long queue even at 7:00 A.M in the morning. Du Pain Et Des Ideés is another place that welcomes you with the smell of the delicious butter. The last but not the least is Gontran Cherrier. You can also try their Paris-wilde famous rye bread.
Main Image Credit: aliciagriffin