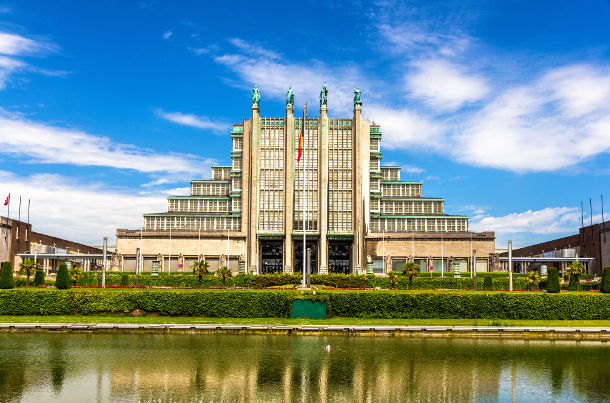 Every year, many different cities compete with each other to be able to host the remarkable international events such as congresses or conferences or symposiums. Accommodation opportunities are increased, new event venues are built, current ones are improved and equipped with the latest technology in order to make these venues meet the requirements of these giant events that steer the future.
Union of International Associations shared the most popular meeting cities in their latest report and we published it as an infographic in our blog page. Now, let's take a closer look at these cities and what makes them that popular for the meeting industry.
Brussels
For the last 4 years, Brussels is ranked as the first meeting city in Europe. Well, why is Brussels so charming for the academic meetings? Above all, Brussels is politically important. As it is well known it's one of the capitals of European Union and a number of primary institutions of EU is located in Brussels. The city also houses the headquarters of NATO. Unarguably, all of these are more than enough to make Brussels a strategically important point. However, in addition to all these, Brussels is also attractive with its central location in Europe. In just a few hours, you can reach Brussels from any other important European cities such as Frankfurt, Paris, London or Amsterdam.
Among the top venues of Brussels we can list Brussels Expo and Square-Brussels Meeting Centre, all of which has a huge exhibition space. The hotels such as Sheraton Brussels Hotel, Crowne Plaza Brussels Le Palace or Radisson Blu Royal Hotel Brussels are among the top choices of the event organizers for the amazing facilities they have. For more information, you can refer to the official website of Brussels Convention Bureau. Are you interested in the upcoming events in Brussels? You can always search for the most suitable one for you on Eventegg.
Singapore
Singapore, the rising star of the event industry both in Asia and in the world, takes this business really seriously and achieves to be at the top of the global rankings of UIA and ICCA. Being the only island city-state in the world, Singapore is also a global trade and finance hub in the region and easily accessible, all of which makes the meeting industry an important source of income of the city. If you need further information about the status of the meeting industry in Singapore, you can always refer to the Singapore Exhibition & Convention Bureau.
Suntec International Convention and Exhibition Centre, especially after its renovation process, is considered as the top venue in the city for the business events and every year it draws a remarkable number of international delegates to city. Marina Bay Sands Singapore, Hotel Fort Canning and Grand Copthorne Waterfront Hotel are also among the top choices as business hotels in Singapore. To take a look at the upcoming events in the city, you can see our list of events in Singapore.
Vienna
The third place of the list is reserved for Vienna, one of the most charming city in Europe. Vienna's being that attractive for the meeting business is not much surprising actually, when you think of its artistic and cultural value. Besides, Vienna's scientific and academic background is very strong and its easily accessible location as well with its prestigious venues makes Vienna a reputable destination for international meetings. Vienna Convention Bureau may provide with even more detailed information about what makes Vienna so charming in this sector.
Messe Wien Exhibition and Congress Center that covers 593,748 sq. ft. of space plays an important role in making Vienna such an important event city, together with Austria Center Vienna which is the largest convention center in Austria. If you're interested in catching up with the upcoming events in Vienna, you can visit our events page.
Paris
Paris is again the all-time favorite when it comes to event business, too. Its historical and cultural background makes Paris a highly special place for both tourist and business travelers. Its perfect location at the heart of Europe and connections to major European cities make Paris even more attractive for event organizers. And undoubtedly, delegates are more willing to attend the events in Paris for there's so much things to do and places to see in this magical city.
The venues in Paris are also worth mentioning. The most reputable event venue Palais des Congres de Paris has nearly 439,000 sq. ft. of space and houses the giant international events every year. Paris Porte de Versailles and Paris Nord Villepinte Convention and Exhibition Centre are other major event venues that serve largely to international meeting industry in Paris. Please refer to the Paris Convention and Visitors Bureau for further information.
Seoul
Seoul is constantly on the rise as an event city thanks to its powerful and evolving economy and its key role in the region. However, sector officials are never content with this position and constantly working to carry it even upper and expanding the meetings-industry capacity. For further information about Seoul as an event city, you can proceed to the official website of Seoul Convention Bureau.
Being the primary event venue in Seoul, COEX Convention & Exhibition Center boasts its ballroom with 1.95 million sq. ft. of space. Other remarkable venue, SETEC (Seoul Trade Exhibition & Convention) also hosts a remarkable number of events in Seoul every year and a new convention center is on its way to be opened by 2018.