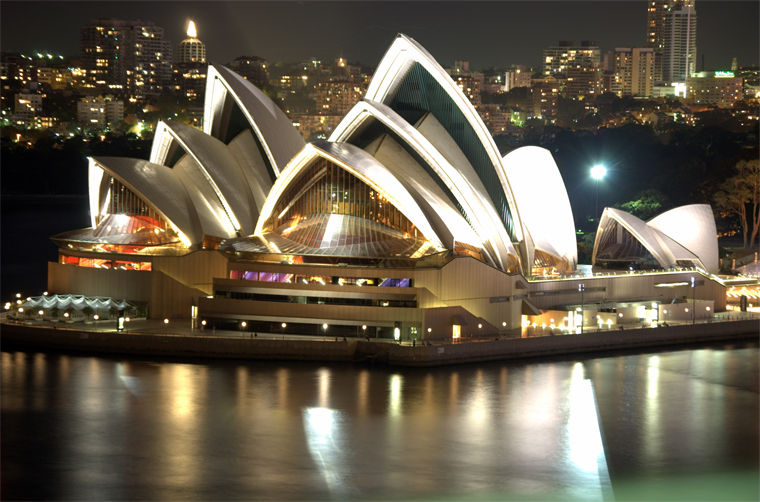 Sydney Opera House
The iconic landmark of Sydney, the Opera House is located near the Harbour Bridge and unlike its name, it hosts many performing arts shows during the season. Each year, more than 1500 performances are seen by over 1 million people. This distinctive building that is designed by Danish architect Jørn Utzon has been a UNESCO World Heritage Site since 2007.
In this huge building there are the Concert Hall with 2679 seats capacity, The Joan Sutherland Theatre with 1507 seats, the Drama Theatre with 544 seats, the Playhouse with 398 theatre, the Studio with a maximum capacity of 400, the Utzon Room with 210 seats and the open air venue, the Forecourt. Each of these venues inside the Sydney Opera House host numerous performances like ballets, dance shows, concerts, plays and business events. Apart from these facilities, many restaurants, bars, stores, cafes and even a recording studio are at your service in the building.
You can visit the official website of Sydney Opera House to see what is on stage while you are there and to buy your tickets.
Opening Hours
The lower ground of QVB is open every day between 9:00 and 18:00 except Sunday. On Sundays, it is open between 11:00 and 17:00. Level 1 and Level 2 are open between 10:00 and 18:00 and they are open between 11:00 and 17:00 on Sundays, too. However, some cafes and restaurants are at your service outside these hours.
Queen Victoria Building
Queen Victoria Building or QVB, which is another landmark in Sydney, was built in 1898 as a marketplace in the central business district in the city. This Romanesque building was designed by George McRae. Even if it was used for different purposes, today it serves as a shopping center again.
QVB has 4 shopping floors that has natural light and the interior design keeps its original style thanks to a faithful restoration that was undertaken by the Malaysian company Ipoh Gardens Berhad. And the initials of this name can be seen on panel 3 on the right.
In the building, you may encounter the portraits of the queen and many attractive exhibitions. The most interesting thing about Queen Victoria Building is the letter that is written by Queen Elizabeth II addressing to people of Sydney to be read in 2085. When the time comes, the Lord Mayor of Syndey will open this letter and read it to the public.
Two mechanical clocks are also located in the building which are the Royal Clock and the Great Australian Clock. The Royal Clock displays 6 scenes of English royalty when the latter displays 33 scenes from the history of Australia. Queen Victoria Building is also rich in terms of historic items. Many memorials and replicas are also there to enchant the visitors.
Access
QVB is located in central CBD district and very easy to reach both by car and by public transport. A parking lot with 700 cars capacity and valet service are available.
If you prefer to use public transport you can use the train to get off at Town Hall Station or bus to get off at QVB bus station. If you still need directions to get there, you can use the tool on the official website of Queen Victoria Building.
Taronga Zoo
Never mind the title and think that I'm just offering you a zoo to visit. Taronga Zoo is not like the other zoos that you can visit. Taronga that means beautiful view in Aboriginal Language, offers you a completely unique experience. It not only exhibits the animals – most of which are threatened – but also cares for them. This 21 hectares area is divided into 8 zoogeographic regions housing more than 4000 animals from 350 species.
One of the most popular landmark in Sydney, Taronga Zoo is opened in 1916. Its oldest landscape Rustic Bridge is a most popular tourist attraction in this zoo. It spans the natural gully in the zoo and visitors can walk on it.
When you go there, you'll meet tens of animals that you've never seen before even on wildlife documentaries. From cute, standing meerkats to koalas and Tasmanian devils hundreds of animal species will welcome you in a perfect nature.
During the year, there happens many events like concerts, shows or talks in Taronga Zoo that will entertain you along with the animals. If the Taronga experience is still not enough for you, what about sleeping over in Taronga Zoo? Waking up to stunning view of Harbour Bridge and Sydney Opera House would be an unforgettable memory.
Access
Taronga Zoo advices public transport to reach there for it is the easiest way to get there. From Circular Quay, you can get to the zoo in just 12 minutes by ferry. You can also have a discount combined with your zoo entry ticket.
For more information about transportation options and buying entry tickets, you can visit the official website of Taronga Zoo.