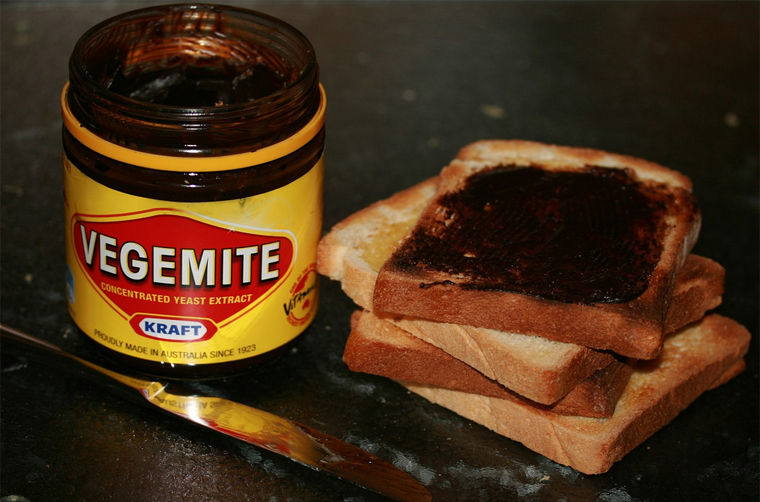 Vegemite
Vegemite is the soft spot of Australian people since 1922. It is made of vegetables spice and yeast extract and used as a spread for sandwiches as well as a tasty filling for pastries. This dark-colored magical paste is salty, bitter and malty. Like beef bouillon, it also has an umami taste. The main ingredient of vegemite is yeast extract and it doesn't contain any fat, animal content or added sugar. So if you care for your nutrition, there's nothing wrong with trying vegemite. It goes well with your breakfast, lunch and dinner. Although foreign people tend not to like its taste generally, don't leave Australia before giving it a try!
Lamington
If you have a sweet tooth, lamington is a perfect Australian dessert for you. It is a sponge cake coated with a traditional chocolate sauce and coconut. However, this is the basic type. There are also other varieties like cream or jam filled ones. You can taste them at cafes, bakeries and even at supermarkets.
Pavlova
Pavlova is another famous Australian dessert that was named after the famous Russian dance Anna Pavlova. According to the story, the dessert is created when Anna visited Australia during one of her tours. Pavlova has a place in the cuisines of both Australia and New Zealand.
The main ingredients are meringue and fruits. Its crispy and soft texture and the simple yet tasty recipe are what make this dessert special.
Meat Pie
Another matter of debate between Australia and New Zealand is the meat pie. Both countries claim that this delicious snack belong to their cuisine. Whether it is New Zealander or Australian, you will not regret tasting it. Meat pie is a small pie that is filled with minced meat and covered by tomato sauce. The tomato sauce on it may be hot or chilled. Once you taste it, you'll immediately understand why Meat Pie is so special for Australians.