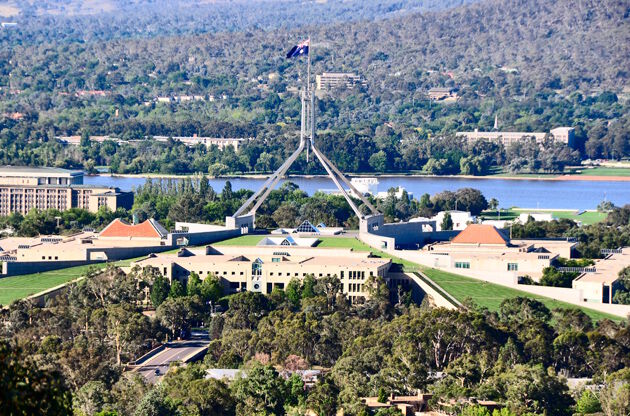 Canberra is Australia's capital city and a fascinating destination for visitors. Although it is the country's administrative center and a large percentage of its population is connected in some way with government and administrative functions, it welcomes tourists and offers everything for a memorable stay. The beauty and grandeur of its public buildings and the natural beauty of a city that has been built to accommodate and showcase the surrounding environment never fail to impress.
You could say that Canberra was created to settle an argument. There was a need for an alternative to the two largest cities – Melbourne and Sydney - both of which were vying for the position of Australia's capital. So, Canberra was established as the political center of the country and the home of the Federal Australian Government in 1913, 12 years after the joining of the former Australian colonies as States under a Federal Constitution in 1901.
Although there are other claims as to the origin of its name, 'Canberra', appropriately, is said to come from a word in one of the local indigenous languages, meaning 'meeting place'.
Many visitors are impressed by the formal structures of Canberra. The site was chosen carefully and deliberately for a planned and purpose-built city – the first of its kind in the country. Because of this, the city is highly symmetrical, largely made up of concentric circles, and designed by Walter Burley Griffin, an American architect. The outlying suburbs, named after Australian politicians, are like satellites around Civic, the central district.
Where is Canberra?
Canberra is the only city in the Australian Capital Territory, which is geographically inside the state of New South Wales but functions as a small, separate, self-governing territory. It is 288 kilometres (178 miles) from Sydney and 647 kilometres (402 miles) from Melbourne. It is Australia's largest inland city.
Getting to Canberra
The international airport is very conveniently situated on the outskirts of the city, less than ten minutes from the center. It is well served by taxi, public buses and an Airport Express Shuttle.
Getting Around in Canberra
Canberra is an easy city in which to drive with plenty of relatively cheap parking. There is an efficient bus system and network of cycle paths. The center of the city and the area around the lake, where many of the main attractions are located, is easy and pleasant to explore on foot.
Things to Do in Canberra
One of the outstanding features of Canberra is Lake Burley Griffin, artificially created and completed in 1963, after the damming of the Molonglo River. It is literally a centrepiece of the city and the focus for many of the leisure activities in Canberra.
Around its shores are many of the notable public buildings, exquisite parklands, walking and bike tracks and areas for fishing, swimming and every type of water sport. In the main basin of the lake, the Captain James Cook Memorial with its magnificent jet fountain, is a widely recognized Canberra image and the beautiful Carillon, built to mark the city's 50th Anniversary regularly rings out its 53 bronze bells.
Canberra has a superb National Gallery and a National Museum with outstanding permanent collections and constantly changing visiting exhibitions.
For the history and a sample of the local area's visual arts, visit the Canberra Museum and Gallery and for something a little different, the National Dinosaur Museum, the National Film and Sound Archive or a tour of the Australian Institute of Sport. The list is really endless.
Canberra's Parliament House, high on Capital Hill, is an architectural gem and there are regular tours available. The High Court, the Australian National University and the National Library are also worth a visit. For those who are interested in Australia's military history, the Royal Military College, Duntroon and the Australian Defence Force Academy are both in central Canberra. On a visit to the Australian War Memorial, no-one can fail to be moved by the exhibitions and the superb tributes to those who served in war.
Shopping in Canberra
There are five large shopping complexes, in Civic and the surrounding districts. Civic's Canberra Centre has a wide choice of stores and some of the more up-market options. The Canberra Outlet Centre is located in nearby Fyshwick. Check the schedules for the Old Bus Depot Markets in Kingston and the Hall Markets, just north of the city.
Dining & Nightlife in and near Canberra
There is a wide variety of restaurants, pubs, clubs, bars and taverns, as you might expect in a city that has a large population of young urban professionals and weekly commuters. There is definitely something for every taste.
Canberra is not the nightlife capital of Australia but there is plenty of choice with live music venues, lounge bars and nightclubs, particularly in the city centre.
Excursions and Tours in and Around Canberra
Namadgi National Park is a great day out, just forty-five minutes from Canberra. Visitors can learn about Australian plants and enjoy the beauty of the Botanic Gardens and then see the zoo's collection of animals from all over the world.
Cockington Green is a miniature village, popular with families and is also only a short drive away.
Enthusiasts of space travel and communications will enjoy a visit to Tidbinbilla, a forty minute drive south-west of Canberra. The Canberra Deep Space Communication Complex, operated by NASA as part of its Deep Space Network, is a spectacular sight. The Tidbinbilla Nature Reserve is close by.
Events in Canberra
Organizers might choose to take their business or academic events like conferences, congresses, trade shows, fairs, exhibitions and symposiums away from their regular haunts but Canberra is a popular venue for conference organisers from interstate and overseas. Some major venues are: the National Convention Centre, the Exhibition Centre and any one of a vast number of hotels and function centres in the city and surrounds.
Travel Tips for Canberra
Weather: Canberra has four distinct seasons, with hot, dry summers, rainy spring weather and cold, frosty winters. Bring a warm coat if you are travelling there between June and August! Between October and March, the conditions can be stormy at times.
Safety: Canberra is generally recognized as a very safe city, if visitors exercise normal precautions.
Tipping: In Australian cities, this is not normally required but, in restaurants, it is a mark of appreciation (about 10%) for better than usual service. In hotels and in taxis, it is entirely a matter of choice.