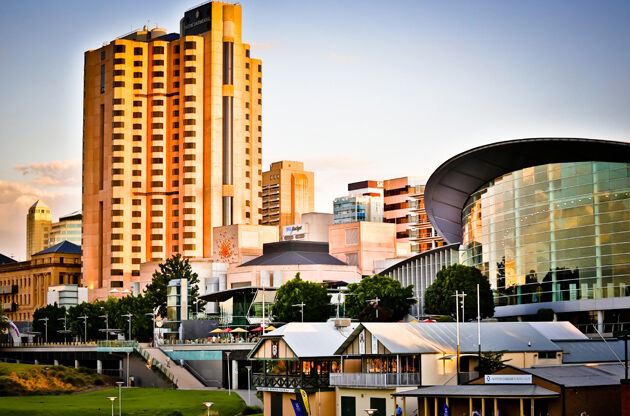 Adelaide is South Australia's capital. It was first settled by Europeans in 1836 and was one of the few Australian cities that was not a convict settlement in its early years. It has been referred as the 'City of Churches', not because it has a huge number of them, or because it is exceptionally religious but because it began as a colony where freedom of religion and dissension were welcomed.
Nowadays, Adelaide is better known as the Festival City. During March, Adelaide hosts one of the best Arts Festivals on the planet. The annual Fringe Festival attracts hundreds of people around the world and the international World of Music gathering in Adelaide's Botanic Park is a major attraction for visitors.
Adelaide prides itself on its superb produce and the many food and wine festivals that showcase its excellent quality.
Adelaide is also famous for the Tour Down Under, the biggest cycling event in the southern hemisphere, and cycling enthusiasts flock to the city every summer for the exciting stages of the event – from city stretches to spectacular hill climbs and races through beautiful wine regions.
Adelaide lies on the River Torrens and the section of the river that runs through the city centre has been widened and is remarkably beautiful, with sloping lawns and gardens, plenty of shade, the chance to take out a small paddle boat and some pleasant eateries along the banks. It is a highly civilised and pleasant place to visit.
Getting to Adelaide
Travelling to Adelaide from the Airport is easy via taxi or by shuttle bus. The distance is 14 kilometres and takes about 15-20 minutes. From interstate, trains arrive at the main railway station, just 10 minutes from the CBD.
Getting Around Adelaide
Adelaide is small enough to explore easily on foot. There is a free city tram, which runs in both directions along King William Rd and King William St between South and North Terraces and to the Entertainment Centre in the inner Western suburbs. Most of the suburban bus services also stop in the CBD. Taxis are moderately expensive but distances between attractions and venues are generally short.
Things to Do in Adelaide
Walking along beautiful North Terrace is a stroll amongst art and culture. The South Australian Museum, the Art Gallery, State Library, Conservatorium of Music and are all accessible from there.
The Festival Complex off King William Street is the focus for drama and musical theatre and meanwhile the drama of political life plays out in Parliament House right next door. Elder Park and the Riverbank area have recently been revitalized. There's an excellent Convention Centre with superb bar and restaurant facilities available for casual visitors. The newly re-opened bistro serves meals with a view – the Torrens River setting is as good as it gets.
For sports enthusiasts a footbridge spans the river to reach the spectacular Adelaide Oval sports stadium – home of football and cricket
Shopping in Adelaide
The best shopping streets are Rundle Mall, Gawler Place and Grenfell Streets. The Central Market, between Grote and Gouger Streets it is one of the best produce markets in the country, and is surrounded by places to eat – with a strong focus on Asian cuisine. There are numerous suburban shopping complexes and for factory outlet shopping go to Harbour Town, close to the Airport.
Dining & Nightlife in Adelaide
You can find any type of cuisine and superb restaurants all over the city (and suburbs) but many are clustered in Rundle Street East and Gouger St (City Centre), nearby North Adelaide (O'Connell St and Melbourne St) and in Norwood (The Parade)
The liveliest nightlife spots in the CBD are Hindley St, King William St and North Terrace but there are many clubs and hotels within easy reach of the city centre of Adelaide.
Excursions and Tours in and near Adelaide
If you are short of time, in just a fifteen-minute drive east of the city centre you will be amongst the stunning scenery of the Adelaide Hills and plenty of small towns to stop for coffee or lunch. The western coastal area, just a few kilometres from town is dotted with excellent beaches and dozens of seaside dining spots. Try Henley Square, Glenelg's Holdfast Shores or Brighton. A visit to the celebrated wine regions makes a perfect day trip. South Australia produces some of the world's best wines – particular shiraz and crisp dry whites.
All of the best regions are easily accessible. The Barossa Valley is about one hour to the north. Early German settlers established small towns in the area; today they are perfect destinations for sightseeing, shopping for local products (many with a definite European flavour) and superb dining. You can hire a car or take one of the many available bus tours. An hour's drive south takes you to McLaren Vale – a different experience in terms of the wines produced and an area of magnificent natural beauty.
The many national parks and reserves close to Adelaide are good ways to see Australian wildlife at close range. Kangaroo Island is a favourite destination for a few days' visit, if you want to go further afield.
Events in Adelaide
The compactness of the city, the ease of travel and the pleasant year-round climate make Adelaide the perfect venue for business gatherings and corporate events like conferences, congresses, trade shows, fairs, exhibitions and symposiums. The Adelaide Convention Centre, the BioSA Conference Centre and the Hindmarsh Education Centre are purpose-built for events of any size.
Further away, for a unique conference experience, there are venues in the Barossa Valley, the Clare Valley, Kangaroo Island and the Southern Vales.
Travel Tips for Adelaide
Weather: Adelaide has four distinct seasons: the summer (December to February) can be very hot and dry; the winter (June to August) is mild with some rainy days and cold nights - the only time that visitors will need heavy coats. Spring and autumn (fall) are cool to warm with plenty of sunshine.
Safety: Adelaide is generally recognized as a safe city, if visitors exercise normal precautions.
Tipping: In Australian cities, this is not normally required but, in restaurants, it is a mark of appreciation (about 10%) for better than usual service. In hotels and in taxis, it is entirely a matter of choice.