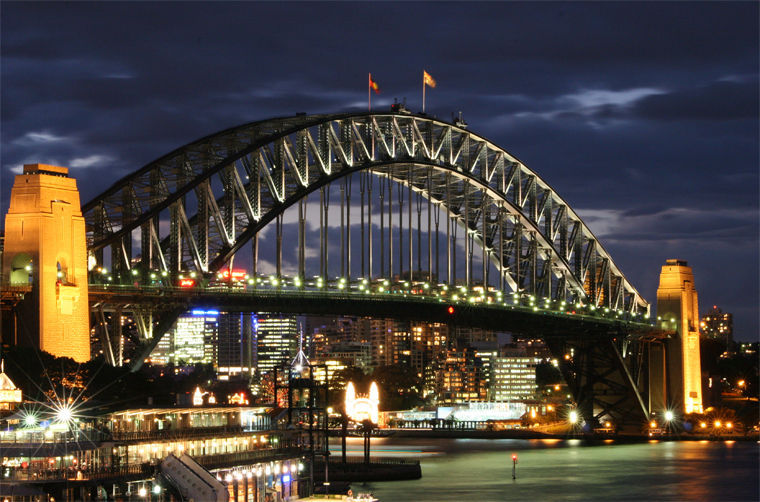 Climb Harbour Bridge
Did you know that the iconic landmark of Sydney, The Harbour Bridge (or Coathanger as the locals call it) offers you more than its stunning appearance? If just looking at this magnificent bridge is not enough for you, why not climb on it and admire the ravishing view of Sydney from the top of the bridge? Yes, this is possible if you are not an acrophobic.
The construction of Sydney Harbour Bridge started in 1924 and it took 1400 worker to build the bridge in 8 years. 53000 tons of steel were used and it now serves with 8 lane and 2 rail lines. Now it is the largest steel arch bridge in the world.
Since 1998, climbing the bridge is one of the most popular activity both among the tourists and locals. You can choose the time when you like to climb the bridge as day, night and event twilight climbs are possible. Before letting you climb the bridge, you will be equipped with the needed outdoor gear according to the weather conditions and some important safety precautions will be taken. The Climb Simulator is another phase which gives you the chance to experience climb beforehand.
To have information about the fees and to book your climb online, you can visit the official site of Bridge Climb.
Pylon Lookout is another option to experience the Harbour Bridge. The pylon – located at the southern eastern end - has exhibition inside about the history of the bridge and offers a 360 view of Sydney. If you need more information about Pylon Lookout and entrance fees, please visit the official website of Pylon Lookout.
Explore the Blue Mountains
If you have a bit extra time while you are in Sydney, Blue Mountains will make a perfect getaway! Located approximately 50 km away from Sydney city center, Blue Mountains offers you a breathtaking nature.
Nature
Its stunning nature with eucalyptus trees, sandstone cliffs, caves canyons, deep valleys, pristine bush land, rivers, lakes, waterfalls and stone formations. Blue Mountains is also inhabited by more than 400 different types of animals including koalas, Spotted-tailed Quoll and yellow-bellied glider. You will also have chance to see rare and exotic plants. The best way to discover the nature of Blue Mountains is the walking tracks. Guided tours are also available.
Aborigine Culture
Blue Mountains has a direct connection with Aborigine culture and life because this area is where Aboriginal people have lived for thousands of years with its rich flora and fauna, rocky structure and generous water sources. At Waradah Aboriginal Centre you can watch their traditional dances and didgeridoo performances. You can also buy from dozens of kinds of souvenirs to remember this unique experience with you. If you wish to get the most of the Aboriginal experience while you are in Blue Mountains, you can join a tour that will take you to the from stunning cave sites to the best Aboriginal stencil galleries in the Sydney through spectacular tracks.
Access to Blue Mountains
To discover this UNESCO Heritage Site, there are many options to pick. You can drive to, travel by train or take the Explorer Bus. City Rail runs hourly from Sydney Central Station to Wentworth Falls, Leura, Katoomba, Blackheath, Mount Victoria and Lithgow. For more detailed information, you can visit the official website of City Rail. If your choice will be Explorer Bus, it departs from Katoomba Station. To plan your journey by Explorer Bus, you can visit the official website of Explorer Bus. For the ones who doesn't want to limit their trip, there are accommodation options in Blue Mountains. You can also prefer daily tours, too.
Via the official tourism website of Blue Mountains, you can have more detailed information about the area.
SKYWALK at the Sydney Tower Eye
The other fascinating activity in Sydney is skywalking at the Sydney Tower. If you wish to see this fabulous city from a different point of view, climb the tower to view the city from 286 meters above (this is twice the height of Harbour Bridge). If you are older than 8, there is nothing to prevent you from Skywalking! You'll be accompanied by a guide and you'll be photographed on the glass floor platform.
If you are still not into Skywalk, you can stay inside at the Observation Deck to view the city panoramically. 4D Cinema is included in all tickets to offer you a unique experience through the city's iconic landmarks. Also do not forget that you can have your dinner at one of the 2 revolving restaurants accompanied by of course a breath-taking scenery. For more information about the restaurants you can visit the Sydney Tower Dining Website.
Opening Hours:
Sydney Tower is only closed on Christmas Day. You can visit the tower 7 days a week. Between 09:00 am and 09:30 pm. Please be sure you check the official website of the Sydney Tower to have more information about the opening hours and booking your Skywalk.