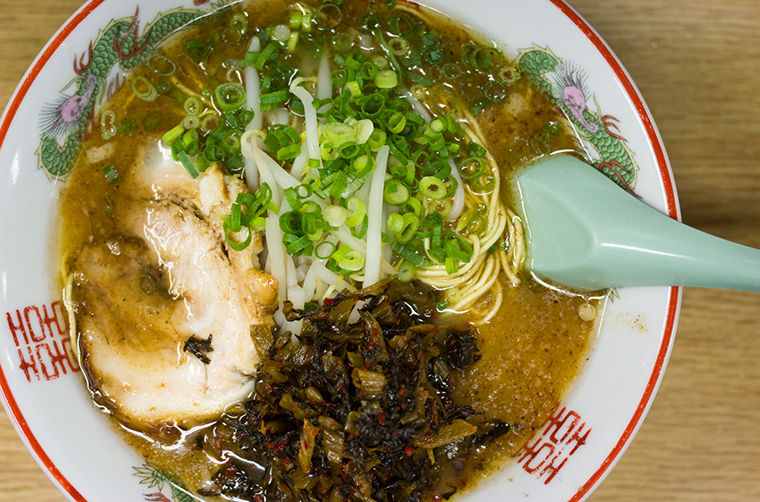 Ramen
Tokyo is a great city to indulge yourself in the deliciousness of Japanese cuisine. Not only the most famous ones but also more local dishes that are special to smaller regions of Japan can be found in Tokyo. However, if you would like to take an introductory step to this tasty cuisine of the land, you may want to start with Ramen.
Ramen, with the basic description, is Japanese style noodle soup. The noodles used in the making of the dish are usually the typical Chinese wheat noodles which is accompanied by meat or fish most of the time. In addition to the meat used in the soup, it is common for Ramen to be flavored with soy sauce or miso. Ramen is one of the dishes that varies from region to region; so be prepared to be served the Tokyo style when you are in the city.
Menya Musashi, a restaurant that is located on 7-2-6 Nishishinjuku, K1 Bldg. 1F, Shinjuku is claimed to be serving one of the best ramen in town. Still, don't be sorry if you cannot make it specifically to this restaurant, since Tokyo is filled with a lot of places that serves ramen in different styles and different ingredients.
Tempura
One of the most famous dishes in the Japanese cuisine, Tempura, is going to be remembered even long after your trip to Tokyo. It is not the best friend of a healthy diet but one has to try hard to say no this battered and deep fried vegetable or seafood dish.
Tempura can actually be defined as the way the ingredients cooked since it is hard to limit the type of food that can be included in the dish. For example, if you want to try the seafood tempura, your options may be prawn, shrimp, squid, cat fish, eel, and a lot more. It is the same with the vegetable tempura. Mushrooms, carrots, bell peppers, onions and pumpkins are only some of the vegetables you can choose if you want to try tempura.
Sushi
You may regret trying sushi in Tokyo since it is going to make you think you have never eaten the real one before and you will not be able to eat anywhere else in the world. This little bites of deliciousness are truly a must eat in Tokyo, even if you are not a big fan of the dish.
There are many places you can eat sushi in Tokyo, of course. Which one to choose depends on your priority and the district (prefecture) of the city you are in. There are some really nice high end restaurants that serve some of not only Tokyo's but also the world's best sushi in the city. However, you may find the most delicious sushi you will ever taste just at a random sushi bar in Tokyo, too. Having a look at some of these famous places websites in advance to your trip may save you from the trouble of deciding which one to go when you arrive.
Yakitori
Yakitori is the name given to the grilled meat on a stick in the Japanese cuisine. It used to be associated with chicken mostly but today it is possible to try the pork liver and meatballs yakitori. It is more like street food but you are going to see a lot of business people, especially in Ginza region, helping themselves with Yakitori accompanied by ice cold beer.
Main Image Credit: h4ck