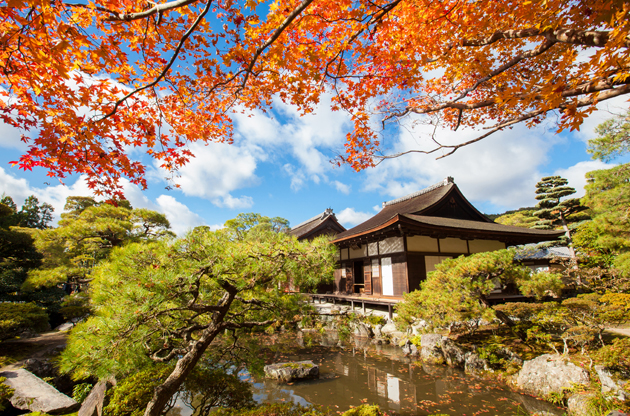 Kyoto is one of the oldest and best preserved cities in Japan. Though people have lived there since before recorded history, the city itself was established in 794 as the imperial capital of Japan with the name Heian. For over 1000 years it remained as the center of imperial rule, and also that of art and culture. Throughout its history, parts were destroyed in war and fires, but they were rebuilt in the original style, giving a glimpse into what life was like in feudal Japan.
Today Kyoto is a thriving metropolis which welcomes its visitors. There is a limited subway and train system within the city, but the most convenient public transportation in the city bus system, which extends to most of the major sightseeing locations.
Pick up a one-day bus pass for unlimited rides at the bus terminal for the best value. Because the city was designed after a classic Chinese model, the main streets are wide and run parallel to each other, making it easy to navigate if you prefer to walk. There is adequate English signage in most public areas, and many people in the service industry are good at communicating with foreigners.
Where is Kyoto
Kyoto City is the capital of Kyoto Prefecture. It is surrounded by mountains and has four distinct seasons per year. The closest major cities are Osaka and Kobe; Tokyo is about 2 1/2 hours to the northeast via the shinkansen bullet train.
Getting to Kyoto
Most people enter the city via Kyoto Station, which has both standard and shinkansen bullet trains running to other parts of the country. The bus terminal and taxi stands are directly in front of the station, and there is an information center within the station building.
For those coming from overseas, the easiest access is to arrive in Kansai International Airport, also called Osaka Airport or KIX. Take the JR Airport Express Haruka or a limousine bus to Kyoto Station. The train takes about 75 minutes and the bus about 10 minutes more. Because Kyoto Station is such a convenient hub, it is advisable to find a hotel nearby.
Things to Do in Kyoto
There are over 1600 Buddhist temples and 400 Shinto shrines. Nijo Palace and the Old Imperial Palace were the seats of authority. Hundreds of famous gardens have changing colors throughout the seasons. There are museums and hands-on cultural activities like geisha shows, tea ceremonies, weaving demonstrations, and more.
UNESCO has designated 17 places as "Historic Monuments of Ancient Kyoto"; most visitors do not have a chance to see them all. Planning ahead is advisable to see the things of greatest interest.
For the first time visitor, the classic tourist sites are good choices: Kiyomizu-dera, a temple overlooking the city; Kinkaku-ji, the Golden Pavilion; Heian Jingu, a shrine with a beautiful strolling garden; Ryoan-ji, a Zen temple with the world's most famous rock garden.
Others might like strolling along the Philosopher's Path, or seeing the less well known Nanzen-ji or Ninna-ji temples. The Kyoto National Museum and Nishijin Textile Center are good indoor choices for inclement weather. All areas are crowded during the peak cherry blossom season in April and the changing fall colors in November.
Shopping in Kyoto
Several of the traditional gifts from Kyoto are foods. Look for triangle-shaped pastries called yatsuhashi, which are filled with different flavored pastes. A hard, arc-shaped cinnamon cookie has a longer shelf life and is often sold in decorative tins.
Non-food items include most of the traditional Japanese crafts: pottery, fans, kimono, and chopsticks, to name a few. Kyoto is the origin of brocade fabric called nishijin, and many gift items are made from it. Chirimen is another type of ornamental fabric used for small items like coin purses, card cases, and stuffed animals.
For the best selection of souvenirs, try Porta, the stores inside Kyoto Station, or the street leading up to Kiyomizu-dera. There is an excellent shopping arcade around Shijo-dori Street. It not only has traditional items, but also stores like Gap, Uniqlo, and The Body Shop.
Nishiki Food Market is a covered arcade with dozens of interesting small shops, and makes a good destination for rainy days. On the 21st of every month, there is a huge flea market outside of To-ji Temple that is well worth a visit.
Dining and Nightlife in Kyoto
Because Kyoto is landlocked and Buddhists historically did not eat meat, many of the traditional regional dishes are vegetarian. Kaiseki ryori is the epitome of Japanese cuisine. It is a multicourse meal served with attention to detail. It must have balanced flavors, colors, and seasonal references.
Each dish is like a small work of art, and the full meal of 7 to 10 plates can be savored over several hours. Though expensive, kaiseki are an excellent taste of Kyoto. A large concentration of these restaurants are found in Gion, the geisha district.
The elegant, old wooden buildings overlooking the Shirakawa River are especially interesting when the streets come alive after dark.
For those preferring simpler fare, try the food hall at Porta, the underground mall in front of Kyoto Station. There are dozens of restaurants featuring all types of cuisine.
With offerings ranging from udon noodles to sushi to pizza to okonomiyaki grilled omelets, there is something to satisfy everyone. Kyoto is known for its food, so there are small restaurants in every neighborhood.
Visitors out in the evening will see red lanterns in front of drinking establishments called izakaya. Order a beer and enjoy some snacks like grilled chicken on skewers; sometimes locals enjoy a good conversation and drink rounds with the new arrivals.
Excursions and Tours in Kyoto
For those liking nature, try a hike through the bamboo groves in Arashiyama or climb through the thousands of red torii gates of the shrine in Fushimi Inari. Fushimi also boasts excellent sake breweries which do tours and tastings.
Toei Kyoto Studio Park is a nostalgic choice for those who want to see a period Samurai film being made. Osaka, Kobe, and other cities are also a short train ride away.
Events in Kyoto
Thanks to its beautiful nature, grown economy, high class facilities, venues and the hotels that can meet every kind of tastes Kyoto has become an unmatched destination for global events.
Being one of the largest cities in Japan, Kyoto boasts hosting many reputable international events so far and each day it adds more to its potential as a host city for worldwide gatherings like conferences, congresses, fairs, exhibitions, tradeshows and symposiums.