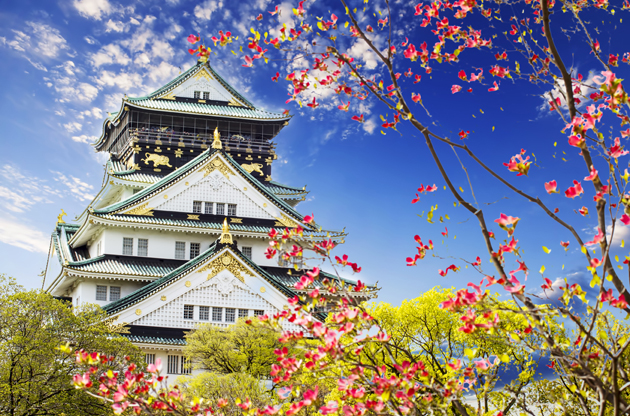 Historically Osaka was the most important economic and commercial center in Japan. Today it is the third largest city in the country, and continues to be one of the major business centers, home to large corporations such as Panasonic and Sharp. Though it was the home of the imperial court twice, in 645 and 744, the majority of citizens were merchants and traders, so residents had the reputation of being stingy and calculating.
Osaka suffered serious damage during World War II, but quickly rebuilt into a thriving modern city. The central area is divided into two major sections at either end of Midosuji Street, called Kita (north) or Minami (south). The Kiba section is known for the Umeda business and retail center; the Minami section is known for its entertainment districts and the famous neighborhoods of Namba, Dontonburi, and American Village.
The climate in Osaka is humid subtropical. There are four distinct seasons, the coldest being January, when days are just above freezing. Summer is hot and humid, and July through September can be very rainy. The spring is noted for its cherry blossoms and autumn for its colored foliage.
Where is Osaka
It is the capital of the prefecture with the same name. It is located in the central part of the main Japanese island, Honshu. It sits at the mouth of the Yodo River. Osaka Bay makes up the western edge of the city; the rest is hemmed in by 10 smaller towns.
Getting To Osaka
The usual arrival point for overseas visitors traveling to Osaka is Kansai International Airport, built on an artificial island just outside the city. It is accessible by bus, train, and ferry. The simplest method is to take the JR West Kansai Airport Rapid Service train to Osaka Station, which takes about 65 minutes.
Alternatively, the JR West Airport Express Haruka runs to the Shin-Osaka Station in about 50 minutes; the latter is where the Shinkansen Bullet trains stop.
Travelers coming from other cities in Japan have a variety of options, including train, highway bus, and ferry. Upon arriving in Osaka, there is an extensive subway service, bus, and rail systems that reach most major tourist destinations.
Things to Do in Osaka
Because most of the city was rebuilt after WWII, many of its attractions are modern. The replica of Osaka Castle stands proudly on a hill above a park full of walking paths through trees and green spaces; the interior is a museum appealing to those interested in history.
There are many other notable museums around the city, such as the National Museum of Art, the Osaka Municipal Museum of Art, the Osaka Science Museum with an OMNIMAX theater, and the Maritime Museum.
The Kaiyukan is an excellent aquarium and Tennoji Park has a zoo as well as extensive grounds for the outdoor enthusiast.
Movie lovers might enjoy Universal Studios Japan, whereas those seeking traditional entertainments can watch kabuki, bunraku, or sumo wrestling. The Hanshin Tigers are a popular baseball team with a home in the city.
Shopping in Osaka
One of the most popular attractions is Tenjinbashi-suji, the largest straight covered shopping arcade in the country. It runs 2.6 km (1.6 miles) with stores and restaurants appealing to most tastes.
Den Den Town is famous for its electronics, anime, and manga stores. Umeda is an entire district with international name brand stores. It also is the home of Hankyu Sanbangai, a shopping mall with electronics stores, the latest clothing and accessories, and restaurants.
Because several famous electronics companies are based in Osaka, electronics are a popular souvenir item. Watches and small handheld items like games are the best choices for tourists, who should be aware that product may need an adapter to run at home.
Dining and Nightlife in Osaka
This city is sometimes referred to as the "food capital of the world," and the reputation is well-earned. Visitors to the city will find dining options that range from temporary food stalls set up by a canal to fine restaurants, plus everything in between.
Try Umeda, Namba, or Dontonburi for plentiful restaurant options with cuisine from all over the world.
Though Osaka is known for its excellent food, two regional specialties are okonomiyaki and takoyaki. Okonomiyaki is like an omelet made with a starchy flour, eggs, cabbage, and other ingredients such as seafood, meats, or vegetables. The name literally means "as you like it." Okonomiyaki are cooked on a hot griddle, and in some restaurants, customers can enjoy making the meal themselves.
Takoyaki are a grilled fritter made with octopus pieces, though there are many variations including those made with cheese or ones served in soup.
American Village has an active night life which draws a younger crowd. Another evening option is to take a ride on the Tempozan Ferris Wheel for a beautiful view of the sparkling lights of the city and boats on Osaka Bay.
Excursions and Tours in Osaka
Visit Kyoto or Nara to learn about history and tradition and see centuries-old buildings. Hiroshima with its Peace Memorial and Museum is a sobering tribute to the devastation of war; combine that with a visit to Miyajima, an island considered one of the three most beautiful places in Japan.
Himeji Castle is one of the most intact and beautiful castles in Japan, well worth a visit. For those wanting a short day trip, try a visit to the Asahi Oyamazaki Villa, a gem of a museum and architectural curiosity. The travel options outside of Osaka are almost limitless; there are choices sure to appeal to every interest.
Events in Osaka
One of the largest cities in Japan, Osaka boasts hosting numerous global events each year. Thanks to its wide ranging opportunities, world class venues and luxurious hotels, Osaka makes a perfect destination for reputable international events. Each meeting like conferences, congresses, fairs, exhibition, tradeshows and symposiums draw worldwide attention and make Osaka grow more.