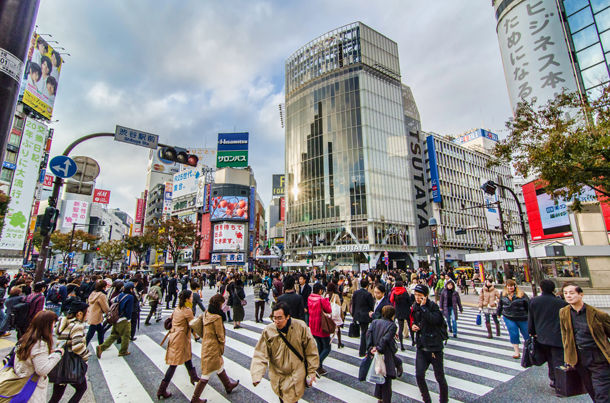 Well, hello busy traveler! I know you are about to attend an important meeting, congress conference or symposium. There is no doubt that this event is going to be one of the most productive ever. The rich sessions, outstanding opportunities to network with like minds and catching up with the latest happenings will make you more than glad that you made your mind to participate.
Just like every successful event you've participated in, you'll go back home without seeing the beauty of the city you have been recently. You'll not enjoy a local drink, not send a post card to a loved one. You'll not buy a souvenir from a local market; instead, you'll fix that at the airport as you always do.
How about giving this an end? Wouldn't it be nice to wander around your destination and see some of the most outstanding places of interest?
Let me give you a secret; it is not actually that hard to make the most out of your event and enjoy your destination, at least mainly, at the same time.
Even if it is a giant city that has a lot to offer, such as Tokyo!
Keep on reading for a full pack must to do's of Tokyo, all of which can be completed within 24 hours!
Let's start if you are ready!
Mornings can be two things in Tokyo: fishy and serene!
There are so many things you'll see today, therefore that'd be good to wake up early and leave your hotel room. Your first stop is going to be a unique Tokyo experience: Tsukiji Fish Market, the biggest one in Japan. Of course, I am not suggesting you buy some and stuff it to your luggage but I can assure you the experience of witnessing that rush, watching people buy, choose and bargain will be quite a different one. Plus, the tuna auction is not something you can come across just anywhere in the world.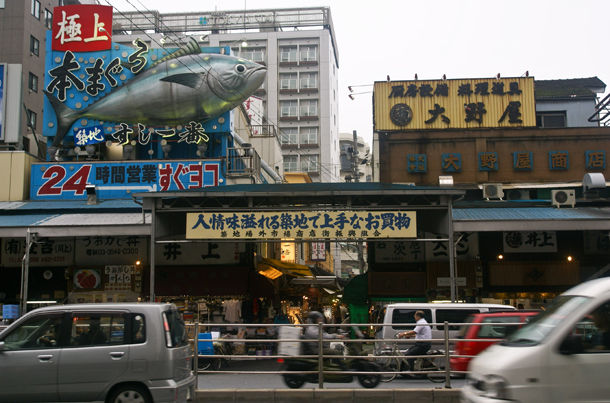 Image Credit: riacale
You should have your breakfast in the market as well since a sushi breakfast is a must when in Tokyo. There are plenty of places to choose from however my advice would be Sushi Dai or Daiwa-Zushi as these two are known to be serving the best sushi of all times.
After enjoying your breakfast, I am sure you'll be ready to be fascinated by the artistic richness of this peculiar yet striking nation. Therefore, the place you should head next is obvious: Tokyo National Museum. There you'll have the chance to see the original paintings by Katsushika Hokusai, the most famous painter of the country and much more.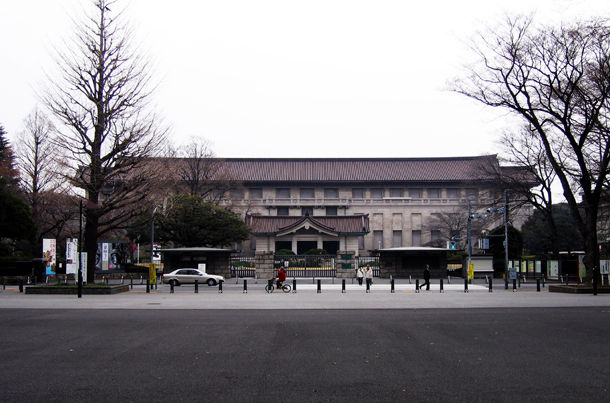 Image Credit: jpellgen
Your last stop before your delicious lunch is the Meiji Shrine. This is one of the must see places in Tokyo since it is by no means a part of the main stream temples and shrines. Meiji is not a tourist trap and the place will eventually make you feel the peace. Don't forget to write your wish on a small piece of paper and tie them on the prayer wall.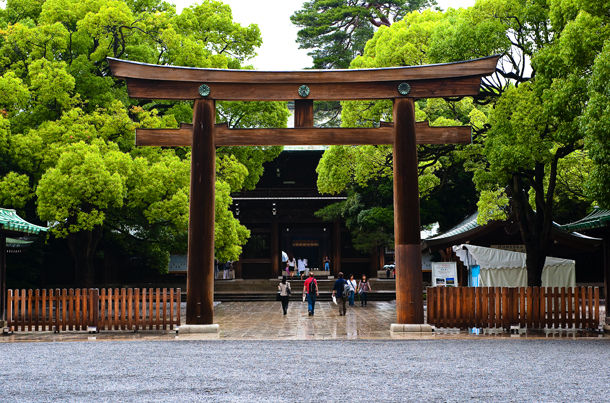 Image Credit: eugene
Since Meiji Shrine is in Shibuya, don't miss the chance to mix in the crowd to experience the famous Tokyo pedestrian crossing in the traffic lights; you'll remember the moment as one of the most exciting piece of memory later.
Alternative for April Visitors
If your trip falls in the first 2 weeks of April, don't miss the chance to see the cherry blossoms, as known as Sakuras that turn anywhere to a piece of heaven wherever they bloom. Ueno Park, Sumida Park and Meguro River are among the top places to see these.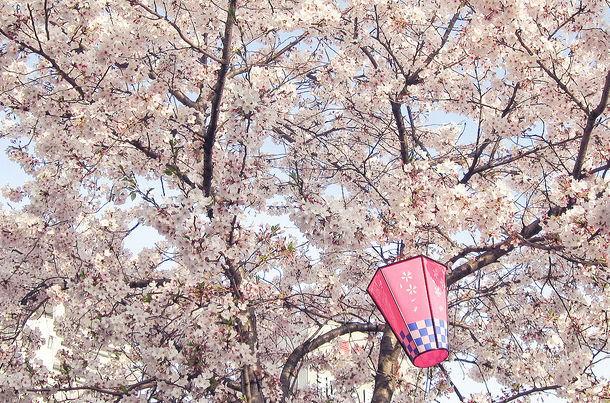 Image Credit: onurson
Afternoons in Tokyo are different than what you know
Your afternoon in Tokyo is going to start with a delicious lunch. You will be introduced to the mouthwatering samples from the Japanese cuisine and fall in love with every single bite you eat. My suggestion would be Gonpachi since you will be in Shibuya district after the Meiji Shrine. Gonpachi specializes in dishes including Soba however you will also find some of the dishes from classic Japanese cuisine. (There are rumors that Gonpachi was actually the place where the bloody fight scene in Kill Bill Vol I was shot. Even if it is a rumor, we can agree on the restaurant's being a huge source of inspiration for Mr.Tarantino.)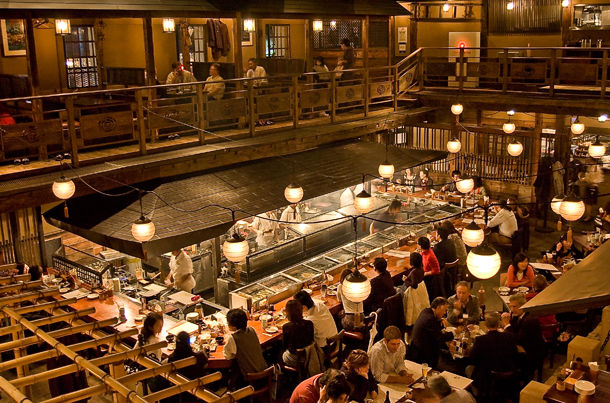 Image Credit: amberandclint
Now you are ready to keep on discovering the amazing Tokyo. What I will suggest next is going to fasten your heart beat as you witness one of the most breath taking sceneries ever. Tokyo SkyTree is the tallest tower in the world with a height of 634 m. While you are up, you can enjoy a post-lunch drink in the restaurant serving there.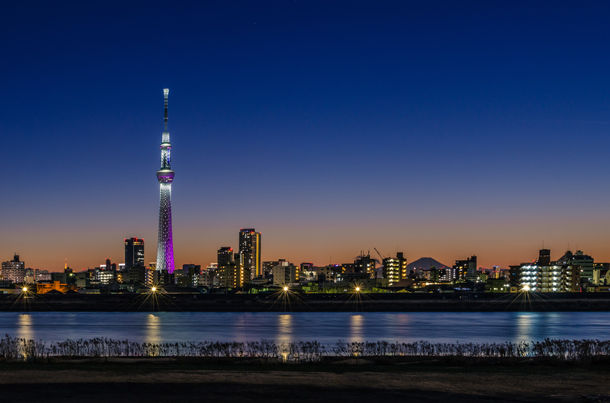 Image Credit: lestaylorphoto
After this phenomenal experience, you may want something more 'regular'. The famous Edo-Tokyo Museum is located in the same district if you want to make a second museum tour. However, to be honest I cannot think of a better time to dig in some of the craziest Tokyo stores. My personal favorite shopping district is Shinjuku in Tokyo. I will not try to list what you can find in the store located there simply because it would be anything. In addition, Shinjuku is a great place for those who want shop some electronics and don't want to go all the way to Akihabara.
If you have been to Shinjuku before and want to shop somewhere else, you can go to Harajuku & Aoyama, Roppongi or Ginza, all of which offer different styles of shopping however all of them are solely Japanese.
Get ready to be hugged by the neon lights in Tokyo nights
So far, you have visited the most symbolic fish market of the whole country, had a unique breakfast experience, been to one of the most spectacular shrines in the world, have watched a breath-taking view from 450 meters, had a local at best and wonderfully delicious lunch and shopped some of the most weirdest yet purely Japanese goods. Now you are ready for the famous Tokyo nights.
Since you have been to Shinjuku in the afternoon, my suggestion would be heading to Roppongi for your night adventure in Tokyo. Don't go for the horrible things said on web about the district. It is now one of the most famous and improved areas of the city.
Roppongi has got a large number of different restaurants you can choose from. Therefore, at this point that'd be good to choose what you want to have in dinner. Here is a short list of options, including some of the most famous dishes in the Japanese cuisine and the name of the restaurants in the Roppongi district where you should have them:
Ramen- Musashi
Tempura-Mikaku
Sushi- Macchan (Macchan is an Izakaya, which is a place serving both drinks and side dishes; can be defined as a Japanese pub)
Yakitori-Gun chan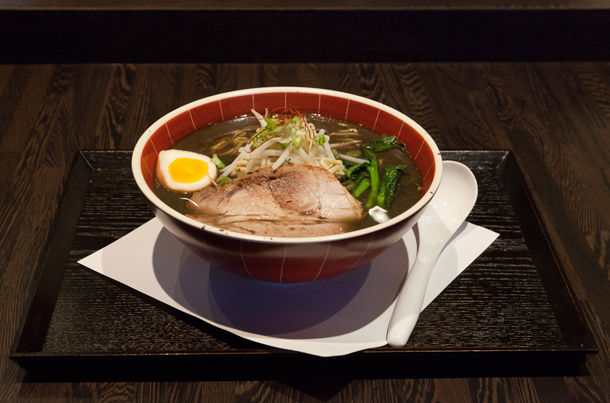 Image Credit: sifu_renka
If you would like to see what is so amazing about the famous karaoke bars of Tokyo, you should go and see what Lovenet has got to offer you. It is one of the most famous bars not only in Roppongi district but also in whole Tokyo. They have got some of the most stylish karaoke rooms ever; some you'll remember from a couple of great movies.
I have another suggestion for your last stop in the amazing Tokyo.
I am sure most of you have watched the great movie, Lost in Translation by Sofia Coppola. And I am sure you remember the bar where Bob meets Charlotte. It is Maduro, Grand Hyatt's bar in Roppongi and is one of the most elegant yet sincere places to end your trip. While sipping your Sake, you can go over your trip while you are enjoying the charming aura that you will remember even after a long time you go back home.
Main Image Credit: lestaylorphoto