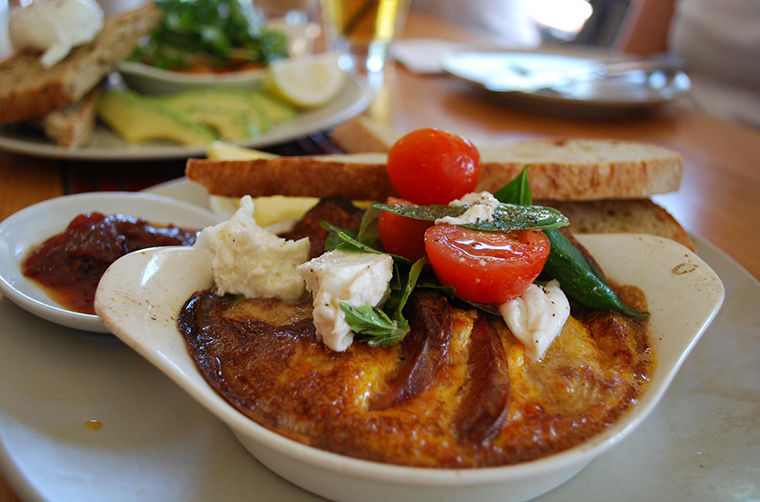 The breakfast at Hammer & Tong 412
Melbourne offers tasty bites to its visitors. No matter which part of the city you go, you are going to be welcomed by some inviting smells that comes from under the doors of some elegant, urban or chic places. Rather than giving you the names of the must haves for breakfast in Melbourne, we thought that'd be better to recommend you the place you should head to eat one of the best breakfasts of your life.
Hammer & Tong 412 is located on Rear 412 Brunswick Street in Fitzroy and might be a bit different than places you are used to. The place looks like an everyday stylish café, but believe us, it is more than that when it comes to their breakfast. It is just like the Washington D.C. café & bookstore Kramerbooks & Afterwords where Mr. Obama had breakfast once.
You are going to feel the most indecisive when you see their day time menu but we'll recommend you to try the spiced baba ganoush, fried egg, red peppers, candied olive, charred onion, chestnut parmesan, charcoal brioche. Bon a petit!
Lamington
Lamington is one of the most authentic Australian desserts and you should give it a try when in Melbourne; not only because you can have the best one there but also because you can have it only there.
Lamington can roughly be described as the sponge cake that is roasted in chocolate sauce however once you try it, you are going to agree that it is something pretty much hard to describe.
The Movida Bakery, Cooper and Milla's and La Madre are our three recommendations in Melbourne to have a couple of these tasty cubes.
Meat Pie
Almost all the cuisines in the world something close to the meat pie. It is like the universal must of every food culture; the shape, the toppings or the ingredients may vary from one to another but the result is usually something you are familiar with.
There comes the big but. But, the Australian Meat Pie is something you should definitely give try. Think it that way, just because you had pizza in Rome, you cannot miss the deep dish when in Chicago.
The Australian Meat Pie is regarded as a snack in Melbourne and this makes it very available in every parts of the city. These are our recommendations to choose from;
Pure Pie on 383 Bay St, Port Melbourne, 9041 5004
Zumbo, Claremont St, South Yarra, 1800 858 611
Tivoli Rd Bakery, 3 Tivoli Rd, South Yarra, 9663 3038
Main Image Credit: avlxyz