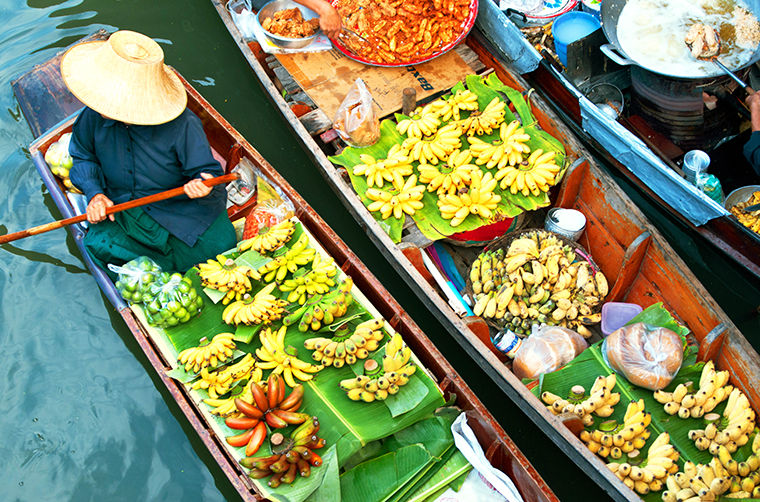 Visit a traditional floating market or a night market
Bangkok is also a great city to make some very traditional shopping. The floating markets are really exotic and unique, if you are to stay in Bangkok for more than a couple of days and have a place to keep fruits or vegetables, make sure to visit Kwan-Riam Floating Market or Wat Sai Floating Market and buy some freshest of ingredients.
However, the real thing in Bangkok are the night markets. These amazingly big markets are the places for just for any single thing you can imagine. They are crowded; usually filled with visitors who are completely amazed by the tradition. There are also some nice places to stop by a refreshment or a small bite, so don't worry about it being a tiresome experience. This must also be added; the night markets are the places to get socialize for Bangkok locals. Meeting there is quite popular among the young people.
The most famous of the night markets in Bangkok are Patpong Night Market and Talad Rot Fai Market.
Get a Thai Massage
Is it get any better than it is in Bangkok? Beautiful nature, great food and everything that will help you to forget about anything else and enjoy your time in this magnificent city. After visiting the most iconic places in the city and trying the mouthwatering bites, now it is time for more relaxing and chill activities Bangkok has got to offer you.
You are in the best place to enjoy something the whole world runs after; a true, relaxing Thai massage done by the experts.
It is not be possible for you to walk down a street without seeing a local massage shop in Bangkok. These shops are pretty good after a day of exploration done on foot. Most of them also provide full body or face massages as well. The prices when compared to the quality of the service you receive can be described as cheap; so just enjoy different types of massages as many times as you can in Bangkok.