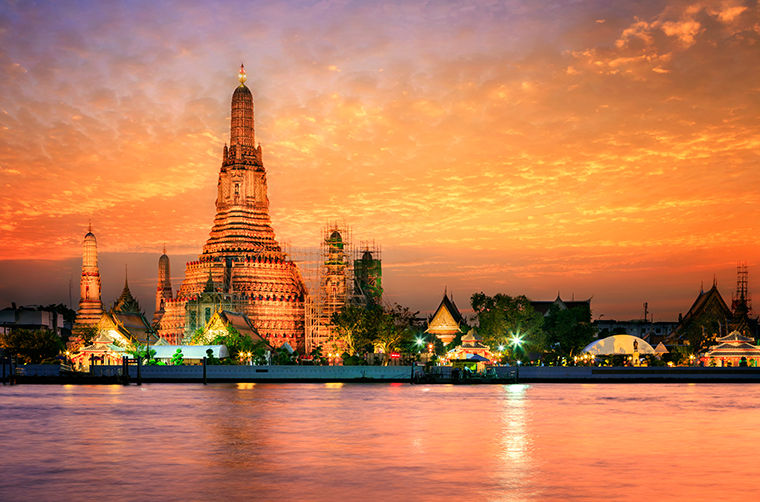 Temple of Down (aka Wat Arun)
This is another temple in Bangkok which can be considered as the unofficial emblem of the city. Wat Arun was built in 17th century however the decorations surrounding the temple were all rebuilt in 19th century. Some of the visitors who have been in Wat Arun once time and then five years later say the renovation never stops however even under construction the temple is so beautiful and charming that it surely deserves a visit.
There are four little towers surrounding the main tower, God of Wind, or Phra Phai as it is known among the locals and the visitors can climb there to witness one of the most beautiful sceneries ever, over the river.
Wat Arun is located in Phra Nakhon district of Bangkok, on west bank of the Chao Phraya River.
Temple of the Reclining Buddha (aka Wat Pho)
Bangkok, for sure, is an exotic place with a lot to offer to the visitors. One of the most popular tourist destinations in the world, Bangkok, is not only home to amazing food, night clubs, nature or limitless shopping options; some of the world's most beautiful temples are also located in this exciting city.
There are a large number of temples in Bangkok and if you want to visit just one and the most impressive, Wat Pho, also known as the Temple of the Reclining Buddha must be the one. This giant Buddha statue located in the temple is 46m long and 15m high, and in golden color, making it one of the most exquisite Buddha statues in the world.
Remember, appropriate dressing is required while visiting the temple. Flip flops and shorts or tank tops may not be the most preferable clothes for the temple as they would be for the general weather in Bangkok.
Wat Pho is located in Phra Nakhon district of Bangkok.
Grand Palace
One of the most iconic structures in Thai Architecture and culture, the Grand Palace must also be included in your list of must visit places in Bangkok.
Grand Palace has served as the main residence of the Kings of Siam since 1782. It is still in use today however not as a main residence but a place for the national occasions.
Grand Palace is a huge complex and you can easily spend more than a couple of hours there so you may have to keep this in mind before making your daily tour plan. In addition, that wouldn't be wrong to say the Grand Palace is the main attraction in Bangkok which means it is almost always very crowded and the queue may be way longer than you imagine. The best thing would be going there as early as you can which will also save you from the afternoon weather.