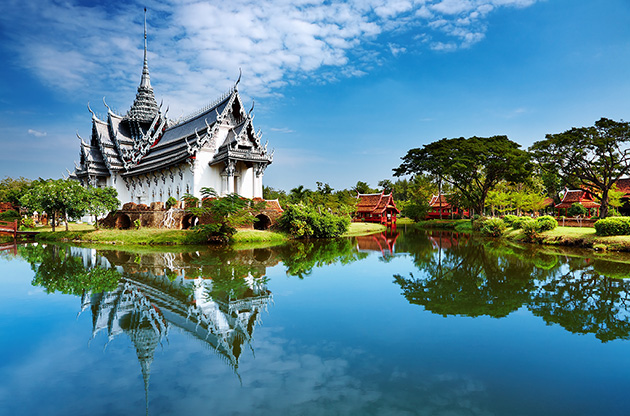 On my first day in Bangkok, I got on a boat on Chao Phraya River under the blinking rays of the setting sun. My eyes were caught by the shining temples and skyscrapers situated on both sides of the city. The people of this city were waving at me smiling from their houseboats. It was the first picture of the city that I took with my eyes to keep in my memories.
Happy People of Bangkok
This is kind of a city that fills your heart with peace like the other cities of Thailand. Everyone you see is the source of positive energy and their smiling and greeting you warms your heart. It is one of the few cities both being crowded and tourist-friendly.
The City that Allures You
The mystical and dreamy atmosphere of the city pulls you in at first sight. The effects of the Buddhism, the different architecture of Thailand and the significant culture of Asia can be considered as the labels of Bangkok.
Bangkok is Chaotic Yet Harmonic
Seemingly chaotic, this is a city in harmony indeed. Everything circles in order and the local people are aware of this system. It may take some time to get accustomed to this for the foreigners though. The weather in Bangkok is also surprising like it is in Thailand in general. It makes you hot with the moisture in the air and then the sudden yet refreshing rain cools you off.
The city of contrast and harmony or Krung Thep (means City of Angels in Thai) awaits you with all its magical charm. Once this city takes you in, it will not let you go.
Where is Bangkok
The capital city of Thailand, Bangkok is divided by Chao Phraya River and located near the northern coast of Gulf of Thailand.
Getting to Bangkok
In Bangkok, there are two airports that you can land.
Suvarnabhumi Airport
Located 29 km away from the city center, Suvarnabhumi Airport is in Racha Thewa in Bang and it is the busiest airport of Thailand. For the transfer options from airport to the city center or directly to the venue, you can take a look at the official website Suvarnabhumi Airport.
Don Mueang International Airport
Don Mueang International Airport is formerly known as Bangkok International Airport and located 35 km away from the Bangkok city center. To get detailed information about how to get the city center or directly to venue from the airport, you can visit the website of Don Mueang International Airport.
Things to Do in Bangkok
Temples
Wat Phra Kaew
Located next to Grand Palace, Wat Phra Kaew is filled with the colorful statues and the rooftops. The famous emerald Buddha is also here.
Wat Po
The Buddha inside impressed you with its 46 meters length and 15 meters height. Throwing coins into the pots is a traditional activity in this temple.
Wat Arun
Having 80 meters of height, Wat Arun offers a beautiful scenery of the river, thanks to its favorable location.
Grand Palace
Being the most popular landmark in Bangkok and the home of Thai King for 150 years, Grand Palace will mesmerize you with its unique architecture with the complex details.
Jim Thomson House
Jim Thomson was a New Yorker architect who was sent to Southeast Asia by USA as a CIA agent. He is famous in Bangkok for industrializing the Thai silk that was about to die out. His house by the river is a spectacular tourist attraction in Bangkok.
Thai Massage
If you like to get relaxed a bit after tiring lectures, world famous Thai massage is what you need. The Oriental Hotel's Spa was held in high esteem as the best massage center in the world. Now it is time to do your body a favor.
Dining and Nightlife in Bangkok
Vertigo
Located on the 61st floor of Banyan Tree Hotel, you will feel like you are dining on an open top plane. Touch the sky or just watch the world from there!
Sirocco
When you go down its stairs, you will feel yourself as a movie star. A rich menu and the live jazz music will add up to your dining joy.
Bed Supper Club
Boasting being the best club in Bangkok, Bed Supper Club offers its customers an unforgettable night club experience. You can just lie down on a divan, drink your cocktail and listen to best chill sounds.
Shopping in Bangkok
Night bazaars are popular shopping places in Bangkok and in Thailand in general. Suan Lum is one of the best night bazaars in town that you can prefer.
If you like to buy famous Thai orchid (yes you can take it to your country and it may last almost 1 month with a good care) you may go to Bangrak.
Siam Paragon
Siam Paragon is such a big shopping center that you can buy a Ferrari, see an opera show or you can get lost in one of the biggest aquariums. Our advice is that do not leave Bangkok without visiting Siam Paragon.
MBK
Bangkok's, even Thailand's most legendary shopping mall MBK you can find everything from accessories, electronics, stationary or clothing. What is more interesting is that the prices are negotiable just like in the markets.
Events in Bangkok
Bangkok, one of the most stunning urban areas in Asia, makes a perfect setting for international gatherings thanks to its multicultural structure, beautiful nature and fast growing economy.
Every year, thousands of people from all over the world come to Bangkok for the leading events of each sectors. Congresses, conferences, fairs, exhibitions and tradeshows draws many people to the city and international gatherings can be counted among the major tourism revenues of the city.