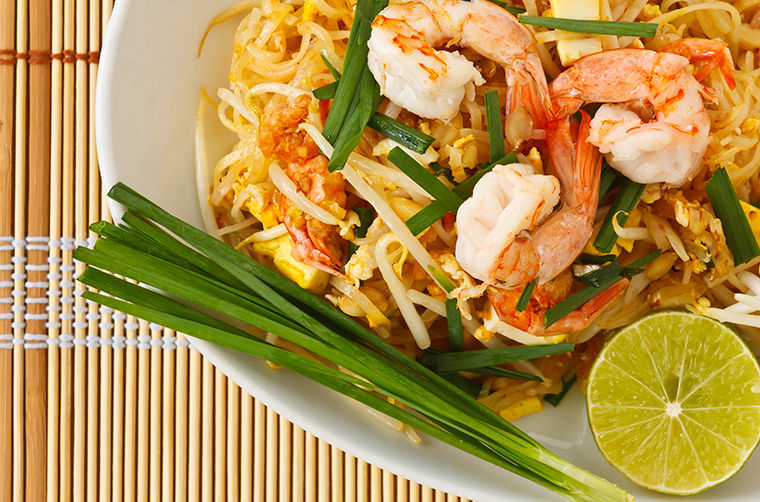 Som Tam
Bangkok is a gastronomy heaven when you consider the importance of the Thai Cuisine throughout the world today. Not only the exquisite dishes will make you ask for more; even the freshest of fruits and vegetables, without turning them into salads or adding dressings must be included in your list of must taste in Bangkok.
The first thing you should give a try in Bangkok must be Som Tam, which is the papaya salad. It is 100% Thai but it is not very easy to find it in other parts of the world so you should eat it in the best place possible. The salad combines the main 5 tastes from the Thai cuisine; sweetness, fish sauce, salty, hot chili and sour lime. This may sound a bit confusing at first however the result needs a different word than "delicious" to be defined.
Som Tam Nua, located on 392/14 Soi Siam Square 5, Rama 1 Road is a famous restaurant that serve one of the best Som Tam in Bangkok.
Thai Tea
It is one of the best ways to refresh yourselves under the hot Bangkok sun if you want an option without alcohol. Thai iced tea is made with whole or coconut milk poured over brewed Ceylon tea. There are also other variations with different flavors. You can find it in food stalls located on streets, in restaurants or even in supermarkets, as bottled ones.
Pad Thai
One of foods you will see every day of your trip to Bangkok is Pad Thai. It is a stir fried noodle dish made with tofu and fish sauce and usually referred as street food in Thailand however that doesn't take anything away from its deliciousness. If your stomach is sensitive to unusual, don't go for the stalls on street however if not, trying it from one of the stalls may be one of the most local experiences you can ever have in Bangkok.
The main ingredient used is rice noodles however the other things that is used may vary according to preference. For example different kind of vegetables may accompany your Pad Thai such as beans or garlics. Not to mention the meat options, especially the sea food selection that can be added which will turn it into a little festival in your mouth.
At least 1 Street Food from the Food Stalls
When in Bangkok you should give a try at least one of the street foods. This is going to be not only a tasty try but also a great way to experience the Thai culture. You have to know the food you'll eat will not be the most hygienic possible however this is also a feature of the daily life in Bangkok.
There are many things to be tried in Bangkok while wandering around and exploring the city but these below are the most known and preferred ones;
Kanom Kai Nok Krata – Sweet Potato Balls
Kanom Krok Bai Toey – Pandan Sweetmeat
Prata – Fried Banana Pancake