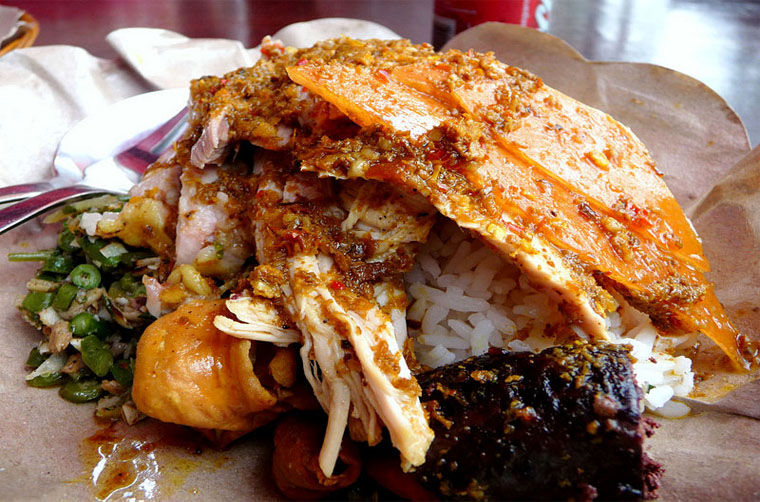 Bebek Betutu
Bebek Betutu is a traditional ceremonial dish in Bali. This duck dish is cooked for so long hours that it may not eat it on the same day you order. Before cooking the duck is rubbed with salt to purify its flavor. After tenderizing the meat (it can be chicken or duck) it is stuffed with a spice mix, eggs and bumbu rajeng. Then it is wrapped generally in banana leaves and cooked for nearly 24 hours. In the original recipe, it is wrapped in "upeh" but since it is expensive and hard to find, banana leaves can be used instead. If you are determined to try Bebek Betutu while you are in Bali, we recommend you to go to the restaurant and order it one day before!
Lawar
Lawar is another common food in Bali and can be found in most restaurants and warungs both as a side dish and a main dish. Lawar is mainly made of minced meat, coconut, vegetables and spices. In some recipes the blood is mixed with herbs and spices to add some flavor to the dish.
Since it is a highly popular dish in Bali, the recipe may vary in each village. Lawar is generally served with Babi Guling or you can try it in its own right as Young Jackfruit Lawar or Lawar Nangka.
Babi Guling
Although pork dishes are not common in Indonesian archipelago, Babi Guling is exceptionally popular in Bali. However, it is still a matter of debate to eat a pig that need to be feeding on its mother's milk.
Despite all the disputes, Babi Guling is a popular traditional dish in Bali and under 70 kg pigs are not used in the recipes. Before the cooking, the pigs are rubbed with turmeric and stuffed with a kind of spice paste. In this paste mixture there are coriander seeds, lemongrass, garlic, lime leaves, ginger and black pepper.
If you wish to try Babi Guling (or suckling pig) while you are in Bali, Ibu Oka that is located in Ubud, can be a perfect address to taste it.
Image Credit: suanie