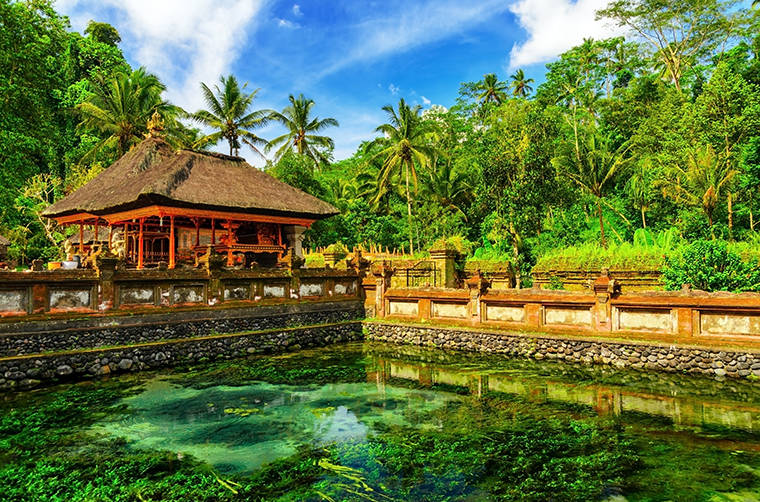 Watch Barong Dance
Barong Dance is a performance that represents the everlasting controversy between the good and the evil. The costumes and the show is spectacular with its interesting details such as the expression of the performers.
Barong is a creature that represents the good in the mythology of Indonesia. Rangda is its enemy and stands for the bad. The dance show starts with two monkeys teasing Barong and then Keris Dance follows. In this dance Rangda appears and orders male dancers to commit suicide. And they really stab themselves in a trance which is a highly impressive part of the show. At the end of the show, Barong gains victory over Rangda.
Barong Dance lasts for one hour and there are many places in Bali that you can watch this dance. Many travel agencies organize tours for these dance shows. However, you can also book your own ticket and have an unforgettable time!
Be Purified at Tirta Empul Holy Water Temple
In Bali, you may encounter many temples but Tirta Empul is probably the most popular one. Tirta Empul means "crystal clear stream" and people believes that the water that comes from it purifies their souls.
Built in 960, this Hindu temple has sacred fountains in several pools and people washes themselves to be purified. When you go further in the temple, you can notice the source of the water and get fascinated by this natural wonder. Reportedly, the gods in search of water shot an arrow and it was stuck just in this point. The entrance of the temple is also so impressive with its traditional split pillars.
If you wish to enter the pools you need to wear sarongs that can be obtained at the entrance door. If you are a woman you need to wear a shirt and a sarong. If you are a man, only sarong is enough. And if you don't adhere the dress code, you'll be refused.
Tirta Empul Holy Water Temple is located in Manukaya, Tampaksiring and will offer so much things to you in the name of Balinese culture.
Take a Tour to Tegalalang Rice Terrace
This spectacular land is located in the north of Ubud and takes an hour of drive from the city center. And once when you get there, it will definitely leave you breathless. Tegalalang Rice Terrace is where you can see all shades of the green.
Rice, not the main one though, is still a means of income in Bali and it is the major food. However, Tegallalang Rice Terrace is famous for its scenery and the subak which is the traditional Balinese irrigation system rather than its rice production volume.
Tegalalang Rice Terrace is visited by thousands of people every year and the area is also popular with the woodcarvings. You can see these colorful woodcarvings along the road. There are also cafes, art kiosks and souvenirs shops for you to stop by. Tegalalang Rice Terrace is definitely one of a kind among any kind of sights.