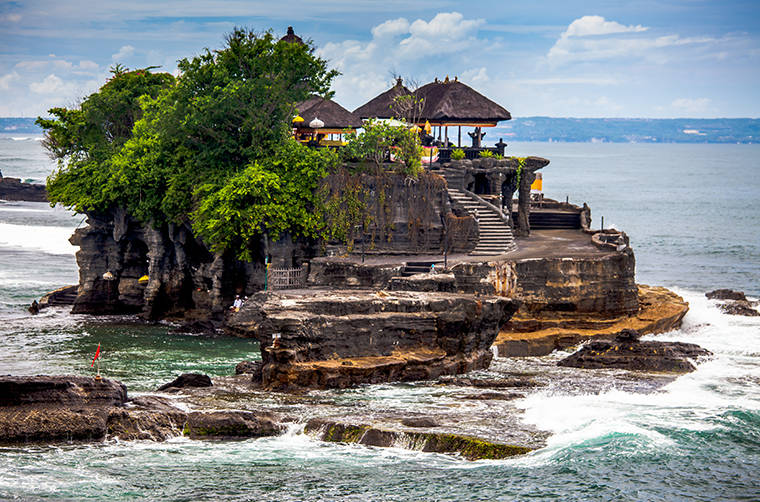 Tanah Lot Temple
Tanah Lot is one of the most popular temples in Bali and located on a cliff by the ocean so it offers a stunning view. Tanat Lot means "Land in the Ocean" and just like it name suggests, the temple stands on a rock in the ocean. And if you are lucky to be there when the sea level rises and the waves are huge, the temple seems to be floating in the ocean.
The temple is built in the 16th century and it is dedicated to the God of the Ocean, Baruna. Tanah Lot Temple has been a part of Balinese mythology for since it was built. The water below the cliff is believed to sacred and another legend is that the temple is guarded by the venomous snakes that live at the base of the rock. For a breath-taking scenery, you can watch the sunset or sunrise at the northern or southern side of the temple. To reach Tanah Lot Temple takes around 30-40 minutes of drive from Ubud.
Mount Batur
Mount Batur is the second biggest active volcano in Bali and it is located 1717 meters above the sea level. Having also a natural crater lake, Mount Batur is one of the most popular sights among the tourists in Bali.
Its eruption that was 30000 years ago is accepted one of the most important volcanic incidents in the world history. And the last eruption of the volcano was in 2000. On top of the mountain there are four craters, a lake and some villages around them. Climbing to Mount Batur is easy and takes around 2 hours an when you reach top, the scenery is larger than life. Especially when the sun sets or rises the top of the mountain is full of fascinated tourists taking photographs.
Your visit to Mount Batur will give you another opportunity to see one of the nine major Hindu temples in Bali. Pura Ulun Danu Batur is now located on the highest rim of the caldera after it was relocated after the violent volcano eruption in 1926.
Goa Gajah – Elephant Cave
Goa Gajah, also known as the Elephant Cave, is another sanctuary in Bali. It is was built in the 9th century and located near Ubud. At the entrance of the cave, you can notice some creature or demon figures are carved in to the stone.
The cave site houses a river and a bathing temple which was not excavated until 1950s. In the temple there are also some figures that pour water from the pots in their hands. This T shaped cave may be uneasy for the people that have claustrophobia but the historic ruins and mythological signs make this cave a must see place.
The most popular part of the cave are the recesses in which the Buddhist priests were meditated and the statue of elephant-headed Ganesha. Goa Gajah is in UNESCO World Heritage Tentative List since 1995.