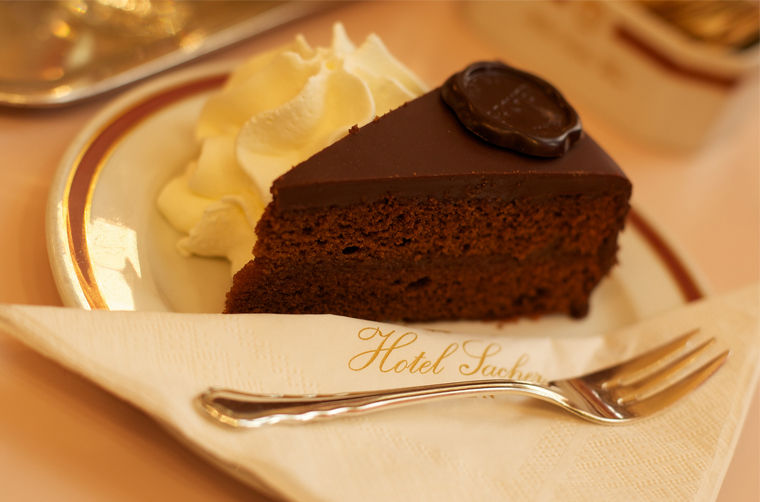 Sachertorte
Sachertorte tastes so heavenly that it can be regarded as a reason to visit Vienna on its own. It is much more than an ordinary chocolate cake because it has a special recipe. Sachertorte has apricot jam inside and covered with dark chocolate icing. It is generally served with unsweetened whipped cream and of course a cup of café mélange.
If you wish to try the original one, you'd better visit Hotel Sacher's café as they sell the copyrighted original Sachertorte. If you like this taste, you can buy some Sachertorte to for your family and friends. Yes, thanks to its wooden boxes, it is possible to take the "piece of Vienna" home with you!
Apfelstrudel
Dating back to 1600s, Apfelstrudel (Apple Studel) is a traditional Viennese pastry. It has cooked apple filling inside and its basic dough is made of flour and butter and many more variations of it exist. It is generally served warm with caster sugar on it and sometimes it is served with vanilla sauce or whipped cream. The dough should be rolled out really thin which makes Apfelstrudel special.
If you like this taste, you try one of the recipes that you can find on the internet. However, bear in mind that no Apfelstrudel can be like the ones that you eat in Vienna. Almost all the cafés serve really good Apfelstrudels but you can check it out this blog article Which One is More Tasty? Classical Music or Apple Strudel? to learn about simply the best ones in the city.
Schnitzel
When you are in the home country of Schnitzel, it will be really weird if you turn back without tasting Wiener Schnitzel. It is accepted as the national dish of Austria and the schnitzel you eat in Vienna is never like the ones that you eat anywhere in the world.
Wiener Schnitzel is made of veal and it is deep fried. Although other similar variations are available like chicken, turkey or pork, remember that the original Wiener Schnitzel is made of veal. To try the best Schnitzel in the city, you can pay a visit to Figlmüller, Schnitzelwirt or Griechenbeisl.
Image Credit: Christian Stangier