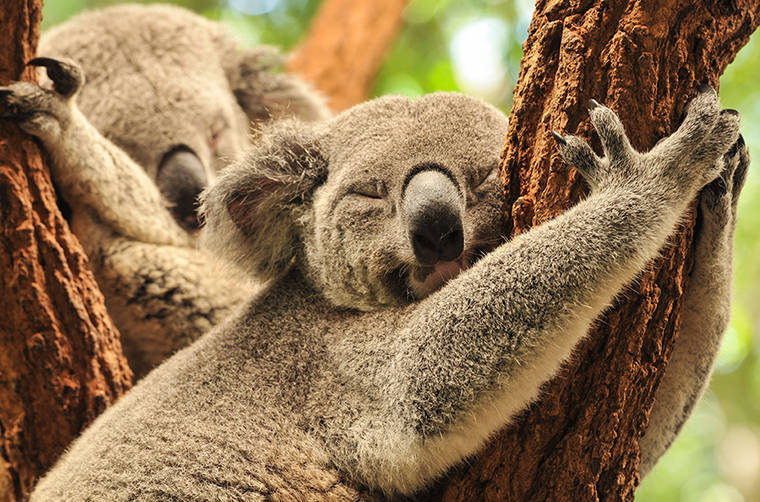 Lone Pine Koala Sanctuary
If you are in Australia, leaving the country without seeing any Koalas would be a bit sad. And if you are in Brisbane, you are so lucky that you will have the chance to meet these cute animals face to face.
Lone Pine Koala Sanctuary is the first and the largest koala sanctuary according to the Guinness Book of World Records. As well as the koalas, among the residents of the sanctuary are platypuses, wombats, crocs, emus or lorikeets. Cuddling a koala or feeding a baby kangaroo is priceless. Taking a photo with a snake around your neck or smiling together with a cute koala will definitely be the best memories or your Brisbane trip.
Lone Pine Koala Sanctuary is located nearly 15 km away from the city centre and you can also take the ferries to reach there. It is open daily between 09:00 and 17:00. For further information about the sanctuary and entry tickets, you can visit the official website of Lone Pine Koala Sanctuary.
South Bank Parklands
South Bank Parklands are heaven-like corner in Brisbane. As well as being a perfect place for recreation, South Bank Parklands serve also as a cultural and social centre in the city. In the urban park, there are stores, museums, cycling paths, performance spaces, pubs and restaurants. Every year, nearly 10 million visitors come to this lifestyle destination.
The popular Wheel of Brisbane and the artificial beach, the Streets Beach are also located there and they attract more and more people to South Bank Parklands. Not far away from the parklands, Courier-Mail Piazza shows big sporting events and movies.
At the weekends, Collective Markets offer handmade goods, artists, performers and more. It houses a new different event every week. South Bank Parklands are located in Grey Street on the southern banks of the Brisbane River.
Old Windmill
Dating back to 1828, Old Windmill that is located in Wickham Park is the oldest building in Queensland. Originally, it had sails but reportedly, the sails were built too heavy so the wind couldn't turn them. Then, convicts were employed to turn the sails. And Old Windmill witnessed a brutal history.
Old Windmill is also known as the place where two Aborigines were hanged from an upper window of the windmill for the public to see. The mill then used as a signal station, a TV broadcast site and meteorological observatory. Old Windmill was also the place where the first TV signals in the southern hemisphere were transmitted.
The windmill has 5 floors and a hexagonal staircase up to the observation deck and below the deck there are small windows that are designed to let light into the top floor. However, the Old Windmill is not open to the public and you can only view it from the outside.