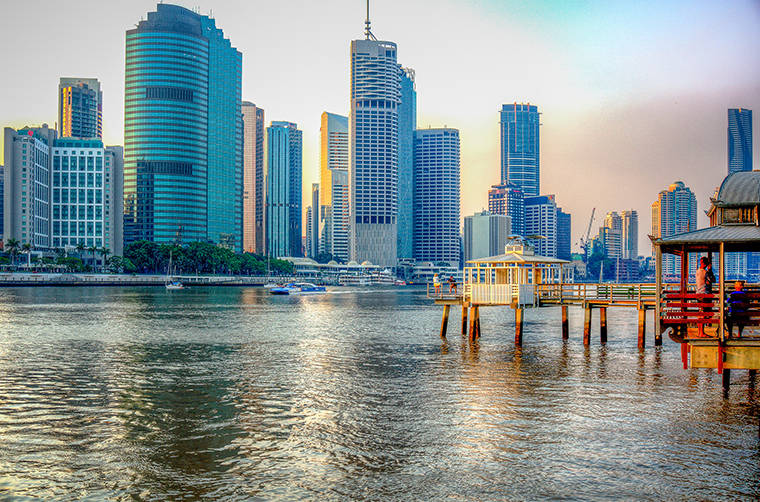 Cruise the Brisbane River
The best point for viewing Brisbane is undoubtedly its iconic river because it is the perfect way to experience the city's relaxed yet dynamic lifestyle. Generally the tours are guided and take around one and a half hour offering you fantastic opportunities to take photos of this spectacular city.
The tours cruise past most of the iconic sights of Brisbane such as Kangaroo Point Cliffs, Story Bridge, Southbank Parklands and more. You'll definitely can't decide which side to look. Because each side of the river is full of great scenery and spectacular houses.
There are many tour operators offering you different packages of Brisbane River cruises all of which promise a unique experience of the city. You'll never forget Brisbane that you viewed from the river.
Watch the Whales
If you are into water-based activities, Brisbane offers a great setting for you. The nearby islands, the legendary river and its spectacular shores are where you can enjoy these activities. However undoubtedly the most entertaining water activity in the city is watching the whales.
If you are in Brisbane between June and November it means that you are lucky to be there in whale watching season. Then, you can have the chance to head out on the water and meet the gigantic whales while they are breaching. During the whale watching tour that you can choose among many different tour operators, you can have lunch or dinner while watching the whales from the vessel's lower deck windows.
The tours take approximately 5 hours which means you'll enjoy enough amount of time to be at sea, so you'd better take your seasickness pills with you and wear plenty of sunscreen. Whale watching will most probably be one of those moments in your life that you will not easily forget.
Discover Moreton Island
If you need even more shore-based fun while you are Brisbane, the city has even more to present. Moreton Island that is located just 25 km away from the city center is a great escape both for the visitors and the locals. What's more, it offers many activities that can be done on the sand or in the water.
The adventure begins when you are on board. The journey takes around one hour and showcases a breath-taking scenery. And once you step on the island, you'll find yourself into a dozen of activities. Snorkeling, fish feeding kayaking and paddling are just few of these activities. Shipwrecks are also highly popular on the island and most popular among them are Tangalooma Wrecks. These wrecks also affect the marine life and offer you a wonderful world when snorkeling.
As well as the water activities, you can also try riding a Segway, Quad Bike, ATV or off-road exploration. Moreton Island will offer you a truly Brisbane experience.