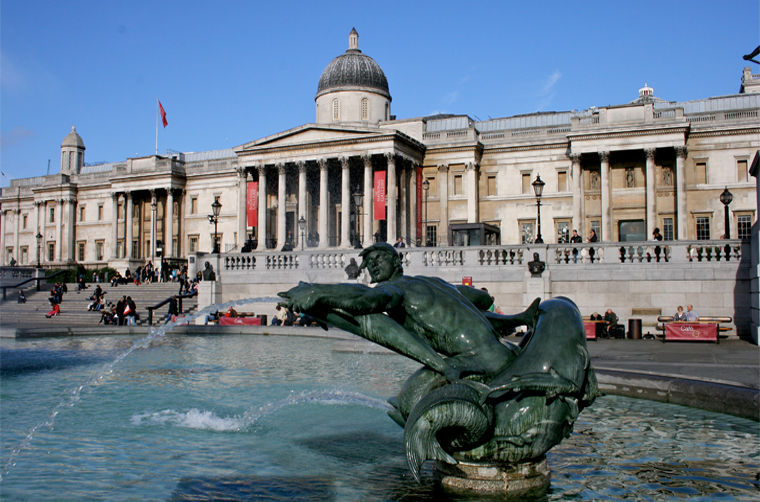 The National Gallery
Located in Trafalgar Square, the 4th most visited museum in the world, the National Gallery is founded in 1824. It houses more than 2300 paintings from 13th century to 19th century and the collection belongs to the public of UK. The entrance is free to the main collection.
If you are not sure about visiting the National Gallery or not, the list below will urge you to go. What you will enjoy inside are:
Uccello, Mantegna, Duccio, Lippi, Memling, Bellini, Botticelli and Dürer from 13th to 15th century
Leonardo, Michelangelo, Raphael, Titian, Veronese, Bronzino and Bruegel from 16th century
Rembrandt, Caravaggio, Poussin, Velázquez, Vermeer, Rubens and Claude from 17th century
Cézanne, Van Gogh, Ingres, Constable, Canaletto, Goya, Degas and Monet from 18th century.
Tate Modern
Tate modern is visited by more than 4.5 million people per year and it is the most visited modern art gallery in the world. It first opened in 1897 with just one site and the only collection it had was of British artworks. Today, Tate houses nearly 70000 artworks totally. From 1900s to present day, you can see the largest collection of both British and international modern art.
The current building of Tate Modern was Bankside Power Station that was built in 1963. After it closed in 1981, a competition was proposed by The Tate Gallery to build a building for modern art and Herzog & de Meuron won this competition in 1995 to reinvent the building. To complete your London trip by visiting Tate Modern, you need to get off at Southwark or Blackfriars station from the tube. The entrance to Tate Modern is free.
British Museum
Established in 1753, British Museum documents the human culture from its beginning to the present. Its rich collection includes pieces from many different cultures and offers its visitors an opportunity to experience the world culture under one roof.
What you will see inside this magnificent building is limitless but among the world-renowned objects in the collection there are Rosetta Stone, Egyptian mummies and Parthenon sculptures.
The entrance is free and you can reach the British Museum by getting off at Tottenham Court Road, Holborn or Russell Square Station from the tube. For more information, please visit the official website of British Museum.