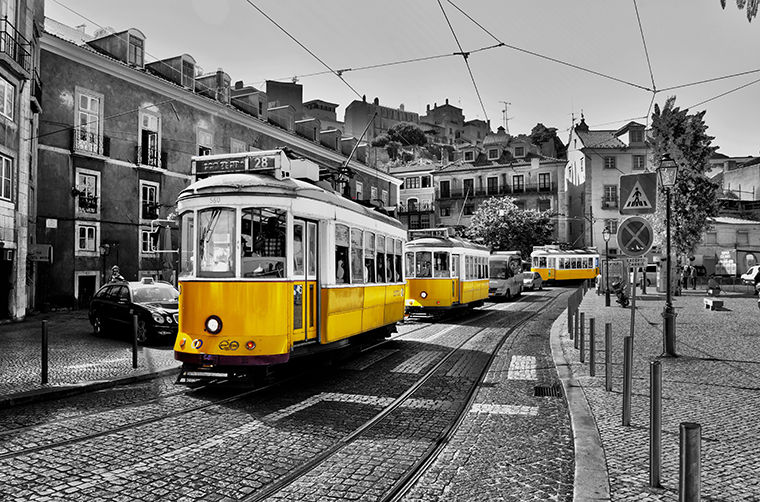 Explore the old Lisbon by Tram 28
The local transportation in Lisbon is great; you can use trams, buses and metro to go any part of the city. However there is one journey you have to take in Lisbon in order to see the narrow, steep and old streets of Lisbon; the historical Tram 28.
Tram 28 is also a great way to see the city's structure. It makes a tour around Lisbon while passing through the streets which you probably wouldn't be seeing if you follow a regular sightseeing tour in the city.
It is not only convenient but a cheap way to see Lisbon. However make sure your belongings are with you at all times and your pockets don't contain anything valuable because Tram 28 is also the favorite place of the pickpockets who believe the tourists visiting the city make great prays.
Listen to Fado
Portuguese culture is one of the most distinctive ones in Europe. The aura which can be described as "European" cannot be felt excessively in Portugal. Instead, the atmosphere has got a lot more from the country's own roots and history.
One of the most significant and "a hundred percent Portuguese" things in Lisbon you must experience is a listening a live Fado singing. The origins of the singing style dates back to 1820's however it is believed that it actually has an older history.
The characteristic feature of Fado music is the mournful lyrics it has and the singing style however as long as it follows basic structures the song may be about anything.
There are worldwide famous Fado singers such as Amália Rodrigues and Carlos do Carmo. Today Fado is popular among the tourists rather than the Portuguese so you can come across a large number of places with special Fado nights in Bairro Alto district of the city.
Visit Sintra
As mentioned before, there are countless places to see in Lisbon and the city life there is truly something different than what you may experience in the rest of Europe. However, if you feel like you want to explore more of the culture, then jump on the next train to Sintra to find yourself in a Portuguese fairytale.
Sintra is located 28 km outside of Lisbon and from Rossio Station, there are trains leaving to Sintra every 20 minutes.
The first settlement in the region is thought to be made in Neolithic and since that time, Sintra has lost nothing from its importance. The places and castles built there in different time periods by different communities show the importance of the place.
There are a lot of places to be visited in Sintra so you may have to arrive there early in the morning. If you cannot make your mind on which ones to see in Sintra, here is an extensive guide called A Portuguese Fairy Tale: Sintra which you can make use of.