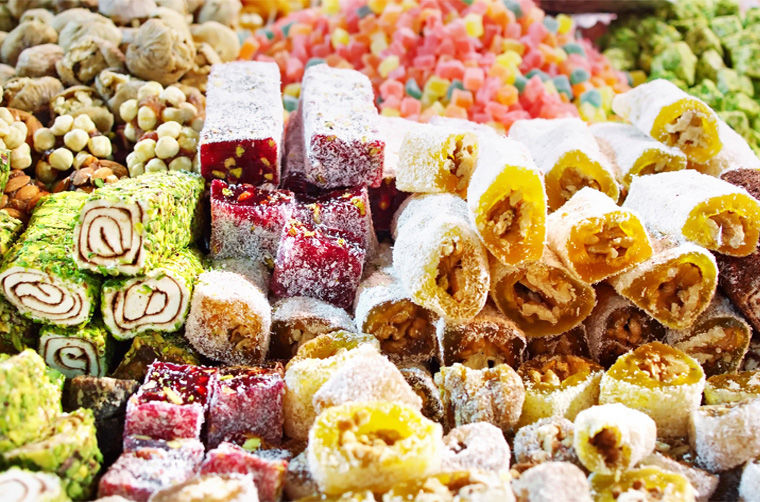 Baklava
When you say "dessert" to a Turkish person, baklava will probably the first thing that flashes before his eyes. Because in Turkish cuisine, it has the crown. Baklava is made of layers of filo. The thinner the layers are, the better the baklava is. Between the layers chopped pistachios or walnuts are filled and syrup is put on it after it's baked. You should try it with cream (kaymak) and Turkish coffee to balance the sweet taste of it. For the best baklava in the city, you can visit Koskeroglu or Gulluoglu both of which are located in Karakoy.
Boza
Boza has a distinctive taste that not all people may like but it is worth trying. It is accepted as a drink but it is as thick as you can spoon it up. It is made of fermented millet and it is highly popular especially in winter. It doesn't have neither a salty nor sweet taste. It's more like sourish. For the best taste, you can put cinnamon and roasted chickpeas on it. Vefa Bozacisi is the inventor of today's boza and it is located in Vefa as its name suggests.
Turkish Delight
If you are in Istanbul, leaving the city before trying the world renowned Turkish delight would be a remorse. Turkish delight is made of sugar and starch and it is flavored with rose, hazelnut, pistachio, lemon, strawberry, ginger or even chocolate. The texture of Turkish delight is still impossible to be reproduced in other countries. So when you have the time, don't miss the chance to taste it. Haci Bekir is considered as the inventor of Turkish delight to taste the best ones, you'd better visit these shops that are located in Taksim and Eminonu.
For more great tastes in Istanbul, you can take a look at our blog article 11 Hidden Tastes of Istanbul.