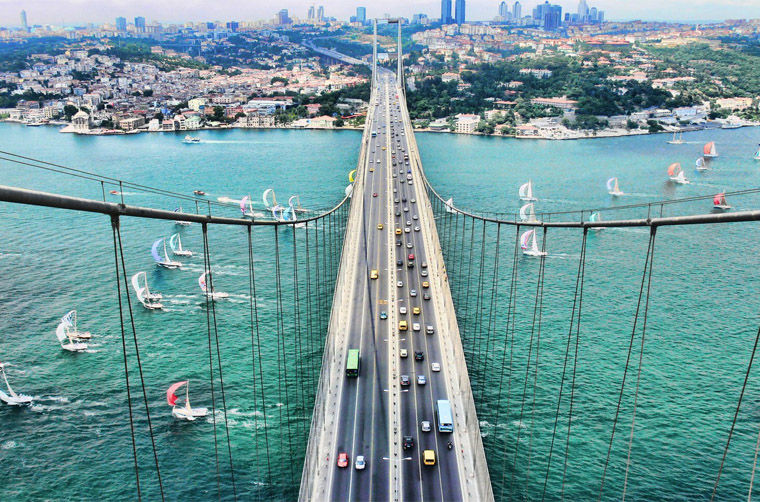 Take a Bosphorus Tour
The apple of the eye of Istanbul, Bosphorus is the most popular one among the must-see places in the city because the legendary beauty of it will leave you speechless. Bosphorus divides the city into European and Asian sides and these sides (actually continents) are connected with the reputable bridges whose names are Bosphorus and Fatih Sultan Mehmet Bridge that is named after the conqueror of Istanbul. Bosphorus connects not only the two continents but also the Black Sea and Marmara Sea so its strategic importance is high. The length of the strait is 31 km and its maximum width is 3420 m.
Feeling the magic of the Bosphorus will be much easier if you are in it rather than just overlooking it. So taking a boat tour in Bosphorus will be an unforgettable experience. For a boat tour in Bosphorus you have numerous options. You can join a daily tour, dinner or lunch cruises or rent a private boat. Boat tour operators will do their best to meet your requirements.
As well as the great time you will have in the boat with music, dance shows, delicious food and more (all of them are optional), you'll witness the picturesque corners of the Bosphorus. Historical mansions, beautiful mosques, palaces, towers, fortresses and the other modern or historical buildings will be waiting for you to fascinate you. And remember that pre-booking your tour is more advantageous.
Have a Turkish Night with Raki and Meze
Raki is the traditional and of course the most popular drink in Turkey. This anise-flavored drink is produced from fresh grapes and turns white if you add water in it. It goes well with olive oil dishes (they are called meze in Turkish cuisine), fish or kebab. However Raki is not a kind of drink that should be hastened. Since the alcohol by volume is around 45%, you'd better drink it slowly and relish. Raki Table is a serious business in Turkey. It has its own codes and everyone at the Raki table is expected to follow them. For example you should just graze the mezes instead of eating until you're full and share everything on the table including the Raki. The youngest person at the table pours the Raki in the glasses. A Turkish night with Raki generally continues with traditional music and dancing or singing along. Some restaurants offer also belly dancing show. However, through the end of the night, it is common that people are dancing around or even on the tables.
When you have the chance to experience the dominator of Turkish culture, don't miss it because Istanbul has perfect places to offer you an unforgettable Turkish night with delicious tastes. When you go to a restaurant to drink Raki, first feta cheese and melon appear at the table. Then, meze platters arrive and you pick your favorites. After grazing and sipping your Raki, it's time for warm starters such as Albanian style fried diced liver, shrimp stew or fried calamari. If you still have some empty space in your stomach you can order a main dish like fish or kebab (depending on the menu). As desserts, fruit platter, baked tahini halva, semolina dessert or the most popular ones and the night always ends with a Turkish coffee. If you add the Turkish night on your to-do list, note that pre-booking is vital especially for the weekends.
Cross the Continents
Connecting two continents Asia and Europe is what makes Istanbul that special. So if you are lucky to be in this city, crossing the continents is undoubtedly a must for you. No matter you view Asia from Europe or vice versa, Istanbul will offer you literally stunning views. The shores of the strait that connects Asia and Europe -that is called Bosphorus- is home to many mansions, palaces and historical buildings all of which makes the Bosphorus even more beautiful.
Crossing the continents is easy in Istanbul. Because the distance between the two continents is just 3.6 km at most. You have many ways to cross the continents in Istanbul. First option is Bosphorus or Fatih Sultan Mehmet Bridge. These two bridges are typical in architecture but Bosphorus Bridge - the first bridge on the Bosphorus- that lies between Ortakoy and Beylerbeyi will definitely mesmerize you with a more beautiful view. Remember you can cross the bridge on a bus, metrobus, driving your own car, or even your motorbike but walking on the bridges is strictly prohibited due to suicide cases. If you are still determined to walk on the bridges, there is just one way to do it. You need to be lucky to be in Istanbul in October or November to join Istanbul Marathon that is run between the two continents. By this way you will have that opportunity to walk or even run on the bridge!
The second way to cross the continents is ferries. If you like to be on water, this is definitely for you especially in summer months. Ferries are so special for Istanbulites and it means more to them than just a way of transportation. You can get on a ferry in Besiktas, Karakoy, Eminonu, Yenikapi, Bakirkoy to reach Kadikoy, Bostanci or Uskudar. The journey lasts about 20 minutes and you can also enjoy the nice weather along with the picturesque views if it is spring or summer. Hiring a "sea taxi" is another way to cross the continents and you can get on a sea taxi wherever you are by the sea! It is a bit the expensive way to do it but it is worth it for sure.
If you need to cross the continents in just a few minutes, you can pick the last option that came into use in 2013. Marmaray is the subway that goes under the Bosphorus in just 4 minutes. If you are in a hurry, you can get on Marmaray in Kazlicesme, Yenikapi or Sirkeci to reach Uskudar or Kadikoy. By using this way, you will not benefit from the fascinating view of the Bosphorus but it is the fastest way to do it, anayway.