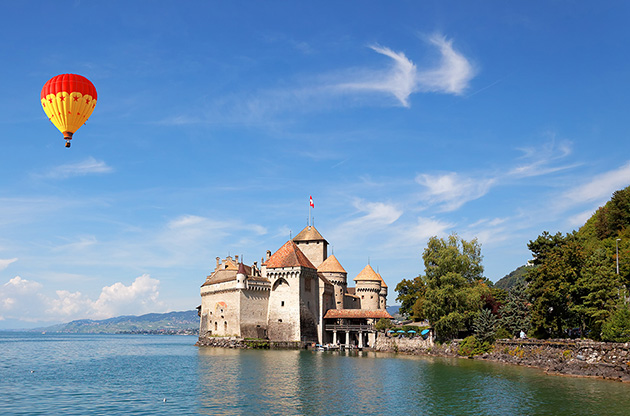 If a world existed in each continent, Europe's world would be Geneva. With its tranquility, peaceful nature, historical gothic buildings, symbolic landmarks and high standards of living, Geneva, the Swiss dream, winks at you to be discovered.
Geneva: The Center of Europe
Being home to many people from different nations all over the world, and the center of World Health Organization, United Nations, International Red Cross and International Labor Organization, this global city of Switzerland thanks to its central location in Europe.
French-Swiss City of Switzerland
Owing to its location bridging France and Switzerland together, the French effect on Geneva is highly felt. French language is spoken mostly and people of Geneva can be considered as half-French.
The Good Life in Geneva
Being one of the most expensive and luxurious cities in Europe and in Switzerland, Geneva is also boasts being one of the most livable cities. With its uncrowded and clean streets, paradise like lake and rivers, high class shopping malls, adorably designed hotels, Geneva, the apple of the eye Switzerland offers its residents a good life.
Geneva undoubtedly will make you live a dream life during your trip. Who knows? You may event want to try settle in this beautiful, most livable city.
Weather in Geneva
Weather in Geneva is milder than of Switzerland thanks to effect of the lake which is located in the middle of the city. The winters are cold due to effect of Alps and provides a perfect environment for winter sports. The summers are not that hot and it's the perfect time for taking a walk around the lake.
Where is Geneva?
Geneva is located between the Alps and Jura Mountains and by the lake of Geneva in Switzerland.
Getting to Geneva
Being in a central position between France and Switzerland, getting to Geneva is easy thanks to many transportation options.
If you are coming to Geneva by plane, you will land in Geneva Airport which is located just 4 km away from the city center. For transportation options from airport to the city center or directly to the venue, you can check the official site of Geneva Airport .
Things to Do in Geneva
Jet d'Eau
Being s symbolic landmark, Jet d'Eau is a fountain in the Lake Geneva. It is 140 meters high and it shoots 500 liters (113 gallons) of water into the air at a speed of 200 km per hour. Seeing it at night will me more fascinating for it is ravishingly illuminated at nights.
Lake Geneva
Shared between France and Switzerland, Lake Geneva's coasts are the places for fertile vineyards, historic castles, luxurious hotels and picturesque wood houses. You can taste the local wines, visit the fascinating castles and walk around the heavenly lake under the shadows of the great mountains.
St Pierre's Cathedral
The melting pot of Neoclassic, Roman and Gothic architecture, St. Pierre's Cathedral remains as the must see place in Geneva. Once being a Catholic cathedral, St Pierre now is a Protestant cathedral which is plain and has adorned only with stained glass windows.
United Nations Palace
Being the office of United Nations, this palace is framed by 100 years old trees and it is one of the most popular tourist attractions in the city. You are welcomed by the cute peacocks in the garden and you can visit the assembly's aisles and the frescos of Jose Maria Sert's. Not only from the other countries, but also the people of Switzerland come to Geneva to see this important landmark.
Place Neuve
Neuve Square is the city's art center with being home to Victoria Concert Hall, Rath Museum, Grand Theatre and Conservatoire of Music. You can join many events that are held there or you can just admire the architecture.
Barbier-Mueller Museum
Barbier- Mueller Museum is one of the most prestigious museums not only in Geneva but also in Switzerland. that has over 7000 pieces of art, jewelry, clothing and military equipment. By visiting this museum, you will have chance to see Indonesian sculptures, pictures that belongs to the ancient American natives and the icons that Aboriginals worshipped.
Dining and Nightlife in Geneva
Surprisingly enough, Geneva offers more options than New York for dining. If you cannot decide where to eat, our list will help you a lot.
Il Lago
IL Lago Restaurant is located in Four Seasons Hotel offering you the best tastes from Italian Cuisine. What is more, it has a dreamy ambiance inside and dazzling lake scenery.
Patara Restaurant
If you are into Thai cuisine, Patara will give you more than you want. With its contemporary Asian decoration, Patara also offers a magical lake view.
After dinner, activities varies in Geneva. There are so many concerts, plays and festivals almost every day. You may make your ears happy in Victoria Hall or have a great night by watching a show at Bâtiment des Forces Motrices.
Shopping in Geneva
This city is an oasis for luxury shopping. However, open-air markets are another popular option for shopping. Especially La Madeleine, Plaine de Plainpalais and La Fusterie are popular destinations for this kind of shopping.
Rues Basses is the main shopping place in Geneva. You can find many clothing and jewelry brands that meet all kinds of needs in this region.
If you are an art lover or a collector, Old Town will be a treasure for you. Chocolate lovers will lose themselves in Mulard and Rue de Rhône.
If you are still do not have any idea about what to buy, the list below will help you a lot.
Jewelry
Chocolate
Watches
Wine
Excursions and Tours in Geneva
Grottes
Grottes is one of the most charming regions in the city with its picturesque bazaars and unique architecture. Having a street which is known as the Land of the Smurfs, Grottes' architecture is world renowned with the unordinary buildings that has not nothing to do with straight lines.
Carouge
Carouge is a suburb which is located 4 km away from the city center. The streets are set like a chess board and the low wood houses with large Mediterranean gardens are the symbols of this region. Carouge is also remarkable in terms of nightlife and shopping.
Events in Geneva
Geneva is a very advantageous city for hosting international meetings firstly because it has a very central location in Europe and the airport is very close to the city center. Secondly, it has the largest congress and exhibition capacity in Switzerland.
Being a global and politically central city, the city is home to over 118 hotels with 9000 rooms including the largest hotels of Switzerland's. High class venues that have largest capacities equipped with the latest technologies make this city the perfect hub for exhibitions, tradeshows, fairs, conferences and congresses.