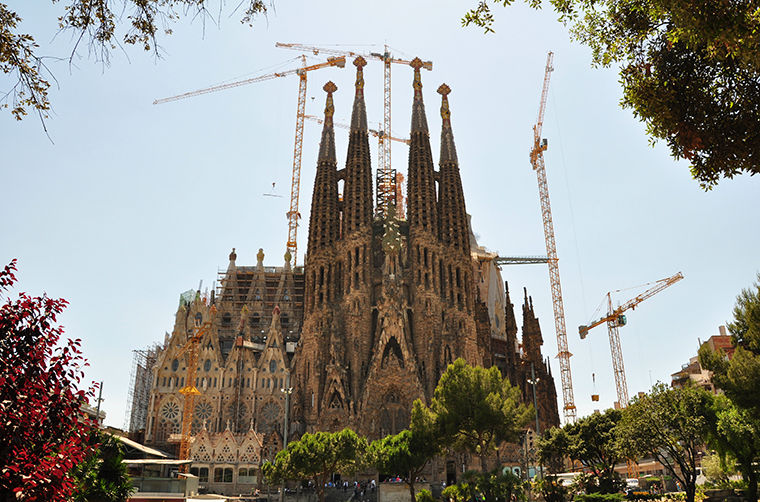 La Sagrada Familia
Barcelona is a city that can be considered as the living signature of Gaudi. In every step you take through the city, you will probably come across one example of his work. Sagrada Familia, however, is his masterpiece and is visited by almost 2.8 million every year despite it is still being built.
The name, Sagrada Familia, means Church of the Holy Family in English. It is one of the most important landmarks not only in Spain but also throughout the world and it is already in the UNESCO's World Heritage List.
The construction of Sagrada Familia has witnessed a lot of important mile stones in the history such as the Spanish Civil War. The reason why it took so long to complete the building has a couple of different reasons. One of these is Gaudi's being involved to the construction in 1883, a year after it started. Until 1926, only less than a quarter of it was completed. In addition, the construction was being carried out by donations.
The church is probably the most significant example of Spanish Late Gothic architecture. Gaudi's very own style can be recognized clearly even when it is not completed. There are a large number of international art and architecture students pay a visit to Sagrada Familia in order to witness and appreciate the perception and talent of one of the most significant architects of all time.
Sagrada Familia's construction is expected to be completed by the year 2026. The construction is not sponsored by the Spanish Government; the private donations and the ticket money the visitors pay are used for the funds.
Sagrada Familia is easy to access by public transportation. If you would like to use the subway, you can use both L5 and L2 lines and get off at the stop that carries the same name as the church. In addition, the buses numbered 19, 33, 34, 43, 44, 50, 51, B20 and B24 have also got stops at Sagrada Familia.
The admission cost of 2014 starts at 14, 80 Euros. The visitors are also offered options such as the Sagrada Familia tour with a guide and the tour including the towers. Sagrada Familia can be visited every day during the week, from 09:00 to 20:00, with an exception in Crypt which accepts visitors from 09:00 to 14:00 on Sundays.
Museu Picasso
Spain is the home country to some of the most influential names who have influenced not only the European but also the international art scene. Mr. Pablo Picasso is one of them. And you are lucky to be in a city that has the museum which contains the most number of complete collection of his works.
Although Picasso was born in Malaga, a Spanish city that is located in the southern coast of the country, he had a continuing and enriching relationship with Barcelona. That is why he suggested Jaume Sabartés to open the museum in Barcelona, rather than in his birthplace as he suggested.
The museum has got 5 large buildings, they can also be called palaces of Cale Montcada. These buildings are constructed in different years but all of them are built in Gothic Civil Catalan style.
The museum now has 4.249 works by the painter. All these pieces were donated to the museum by himself or by his friends such as Salvador Dalí. The permanent collection in the museum is compiled under three different categories; painting and drawing, engraving, and ceramics. If you are familiar with his work, you are going to realize these pieces are usually from his early artistic life however not strictly bound to that period.
Museu Picasso accepts visitors 6 days a week, excluding Mondays. From Tuesday to Sundays, you are welcomed to the museum between 9:00-19:00. On Thursdays it is open until 21:30. The admission fees change between 6,50 to 14 Euros, depending on which collection you would like to see.
The museum is easily accessible by local transportation. If you are going to use the subway, you can take L1 and get off at Arc de Triomf Station, L2 and get off at Liceu Station and L3 and get off at Jaume I Station.
If you would like to take the bus, you once again have many options to choose from;
Line 17, 40, 45, 19: Via Laietana Bus Stop
Line 39,51: Passeig Picasso Bus Stop
Line 14, 59: Pla de Palau Bus Stop
Line 120: Princesa Bus Stop
Park Güell
Park Güell is another masterpiece by Gaudi. It is a garden complex rather than a park, located on the El Carmel hill.
The complex was intended to be built as a site for the luxurious apartments at first however it ended up with being a place that actually has got only two houses neither of which was designed by Gaudi. However, he lived in one of these houses from 1906 to 1926 and the place is now called Gaudi House Museum and it contains a lot of his work.
The architectural elements that reflects Gaudi style are abundant in the park and when this sightly view is accompanied by the sun shine and fresh air, Park Güell becomes a must visit place in order to feel that you are in Barcelona.
If you would like to visit this complex that will change what you know of a park, there are many options of local transportation you can choose from.
The subway L3 is going to take you a close place to Park Güell if you get off at Vallarca or Lesseps stations. The bus lines H6, 32, 24 and 92 will also take you to the stops from where you can reach Park Güell within a short walk.
Park Güell is open 365 days a year however the opening times change from season to season. From 24 March to 30 April and 15 September to 26 October you can visit the park between 08:00-20:00. From 1 May to 14 September between 08:00-21:00.
The admission fee is 8 Euros per person.
Main Image Credit: ranh