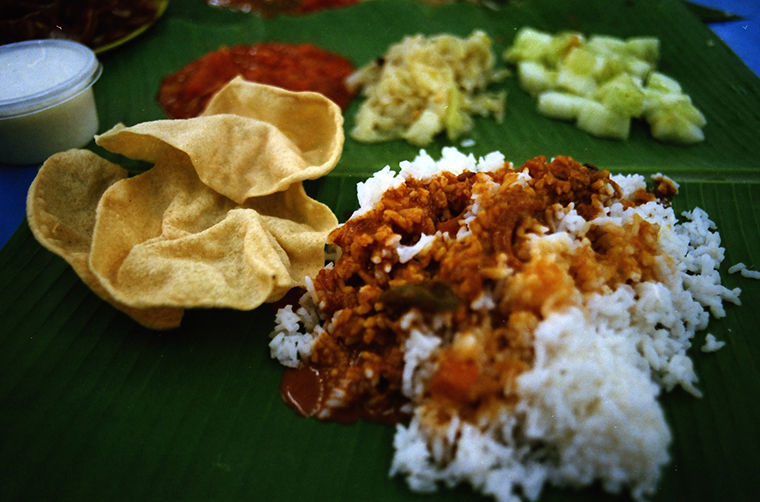 Banana Leaf Rice
Although Banana Leaf Rice is a dish from the Indian cuisine, it is one of the must eats in Kuala Lumpur since the country is also home to a remarkable number of Indian people.
Banana Leaf Rice is boiled rice, served with curry sauce on top and sided with vegetables and pickles. The banana leaf is used as a disposable plate and gives the food an authentic look. It is not a part of the dish and it is not consumed.
One thing you should know about the banana leaf rice is about its etiquette: it is eaten without using the western eating utensils or chopsticks, as you would expect. You can enjoy this tasty dish with using your hands. Don't forget to fold your banana lead once you are finished with the dish. It is a way to show gratitude to your host.
Sri Nirwana Maju Restaurant and Raju Restaurant are two of the best restaurants in Kuala Lumpur to try the banana leaf rice.
The freshest of sea food
Rather than recommending just one sea food dish, it makes more sense to recommend sea food in general when in Kuala Lumpur. The country's cuisine is predominated by sea food because of its abundance and variety.
Since the cuisine of the country is a mixture of Indian, Chinese and Malay, you can find all the sea food dishes from these cuisines in Kuala Lumpur. One of the most popular of them is the Chinese "steamboat". A hot pot is placed on your table and raw seafood is brought to your table and cooked there right in front of you. You can choose what to have in your steamboat and most of the restaurants offer the visitors a wide variety of options including different fish and vegetables.
Main Image Credit: exodes