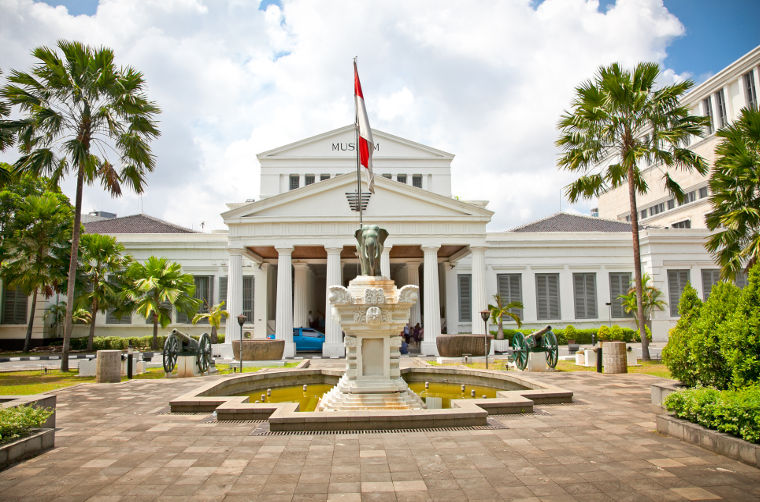 Istiqlal Mosque
Are you ready to visit the largest mosque in Southeast Asia while you are in Jakarta? Istiqlal Mosque, that is built in 1978, is so important for Muslims and so attractive for all the visitors with its magnificence. The name of the mosque means independence in Arabic.
Istiqlal Mosque can welcome 120000 people at the same time for praying and 200000 people for visiting. No matter what your religion is, this huge mosque is really inspiring. The mosque was built in modern Islamic architecture style. The huge dome of the mosque was built of steel and the biggest bedug in Indonesia is located in this mosque.
Istiqlal Mosque is located in Central Jakarta, next to Merdeka Square and it is easy to reach. If you like to visit this breath-taking mosque during your Jakarta trip, you can use Metromini or Transjakarta bus in Gambir direction.
National Museum
National Museum of Indonesia is a popular museum in Jakarta which exhibits the archeological, historical, ethnological, and geographical pieces. It is generally known as Elephant Building because of the elephant statue located in its forecourt.
The museum has a huge collection that shows Indonesian history dating back to prehistoric era. In its 140000 pieces collection you can find foreign ceramics, cultural objects from the era of Hinduism and Buddhism, jewelry of the sultans and the rajahs, statues of Hindu's Gods and Buda, numismatic collection and more.
National Museum is located in Jalan Medan Merdeka Barat, in central Jakarta and you can reach there by taking a TransJakarta bus to get off at Monas. You'll need to walk approximately 200 meters to the museum after you disembark from the bus. National Museum is closed on Monday and on public holidays. It is open to visitors on Tuesday, Wednesday, Thursday and Sunday from open from 8.30 am to 2.30 pm, on Fridays from 8.30 am to 11.30 am and on Saturdays from 8.30 am to 1.30 pm.
Wayang Museum
Wayang is kind of a shadow puppet theatre in which there is a person moving the wayangs behind a screen. The puppets themselves are also called as wayangs and this puppet theatre is highly popular in Indonesia. Naturally, there is a museum in Jakarta that is dedicated to the wayangs.
In Wayang Museum you'll find a large collection of wayangs from different regions of Indonesia as well as the other countries. Since 1975, Wayang Museum welcomes many local and foreign visitors to be inspired. Besides the wayang paintings, sculptures or dolls, the museum also organizes wayang-making workshops and theater shows periodically.
Wayang Museum is open daily except for Mondays or public holidays between 09:00 and 15:00. It is located at Kota Tua which is also known as the Old City and you can reach the museum by taking the busway to get off at Kota Tua Terminal. After the terminal, you'll need to walk approximately 300 meters.