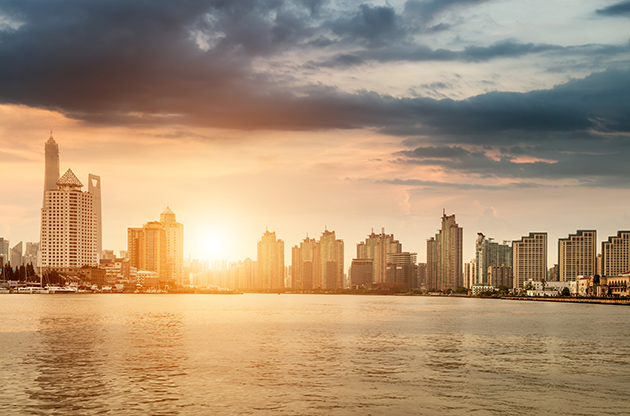 What comes to your mind when you hear the name of Mumbai? Indian culture? Bollywood? Or the cosmopolitan face of India? Mumbai is actually all of them. Once you are in this country, you'll realize the deepness of its soul if you have enough time.
Its name derives from Bom Bahia in Portuguese that means "Good Bay" in English and the city really offers a fantastic scenery with its coastlines, its tropical forests and its unique texture. Mumbai is the center of fashion and the film industry in India and it is also the financial power generator for India.
With its fascinating mansions - yes, the most expensive houses in the world can be found in Mumbai – its skyscrapers, big shopping centers and its big population, Mumbai is one of the most vibrant cities in the world.
Thanks to Mumbai's privileged geographical position, the first harbors in India were built there and that led the city to be the commercial and financial capital of India. So it is also a cosmopolitan city and its population density is 21,000/km2.
In this city of contradictions, you can notice both the traditions and the modernity, poverty and the wealth, Islam and Buddhism or Hinduism, Hindu culture and English culture at the same time and be sure of that, visiting Mumbai will be a matchless experience in your lifetime.
Where is Mumbai?
Mumbai is located on the western coast of India consisting of seven islands in the Arabian Sea and it is the capital city of the Indian state of Maharashtra.
Getting to Mumbai
Chhatrapati Shivaji International Airport is the primary airport in the city and you can reach the city by the direct or indirect flights to this airport. However, this airport has 2 different buildings which are local and international. The local one is called Santa Cruz Airport and the international one is Sahar Airport. So before your flight, you'd better make sure which terminal you are arriving at or departing from.
To have more detailed information about reaching the city center from the airport, you can visit the official website of Chhatrapati Shivaji International Airport.
Things to do in Mumbai
Sightseeing
Gateway of India
The most popular landmark in Mumbai, Gatweway of India was built in the memory of King George V and Queen Mary and it is standing on the southern coastline of the city since 1924 This gorgeous arch which was made of basalt in Hindu-Islam architectural style is 26m high and it is the symbol of the freedom of the city because in 1948, the last English troops left the city passing under this arch.
Chowpatty Beach
A Mumbai trip is never complete without a visit to iconic Chowpatty Beach. Every day, thousands of people from each age group swarm into this beach and it is like a festival area with full of food stalls, entertainers, dancers and show stages. Chowpatty Beach is a perfect open air place to have fun, eat nice food or relax. Chowpatty Beach is swarming both at nights and in the morning. If you are lucky, you can catch a festival like Ganesh Chaturthi that is held in Chowpatty Beach and there are many other festivals that take place in this popular area of Mumbai.
Victoria Terminus
This gothic-Victorian style terminus is one of the most important places to see in Mumbai. Being UNESCO's World Heritage site Victoria Terminus is still in use and the trains run between this terminus to the suburbs of Mumbai or the other towns of India. It was built in 1888 and since then, it attracts millions of people worldwide on account of its magnificent architectural style.
Museums
Prince of Wales Museum
Being used a military hospital before, now the building serves as the Prince of Wales Museum since 1923. It is located near the Gateway of India and reflects the Hindu-Islam architectural style. The building is covered with yellow and blue stones that are extracted from Mumbai.
Unique artworks, handicrafts from Mauryan era, Buddhist manuscripts and Hindu relics are among the things to see in the museum. You can also see bronze statues in the large gallery in the museum and also archeological ruins from Nepal and Tibet.
Mani Bhavan
Mani Bhavan, which is also known as Gandhi Museum, is actually the house of Gandhi. In this house you will have the chance to see his photographs, his personal belongings and the books about him. Visiting this museum will offer you the opportunity to witness the India's late history.
Shopping in Mumbai
Shopping in Mumbai is a matchless experience because both street markets and luxury boutiques have immense diversity of products and for both kinds of shopping and the golden rule is negotiation. Mumbai is a shopping heaven for jewelry, antiques, rugs and of course the world renowned Indian silk.
The best addresses to shop are:
Zaveri Bazaar
You can head to Zaveri Bazaar if you like to shop for natural stones, jewelry or accessories. Even if you are not interested in buying anything, you should visit this bazaar because you will have the chance to see many products like photo frames, dinnerware or tea sets that are made of from these popular natural stones of India. Zaveri Bazaar is located in Near Charni Road and Sheik Memon Street.
Crawford Market
Crawford Market is situated opposite the Police station near the Victoria terminus. You can easily recognize the building from the clock tower that is just standing before it. From Crawford Market you can buy Indian spices, fresh meat, fish and fresh vegetables and fruits.
Chor Bazaar
Chor Bazaar is an oasis for antique fans. You'll see dozens kinds of tea sets, royal English uniforms, wood carvings and gramophones. Chor Bazaar is located in Mutton Street and is open daily except Fridays from 11:00 to 19:00.
Dining and Nightlife in Mumbai
If you are in Mumbai, you know that you are in the perfect city for the nightlife in India. There are dozens of nightclubs, luxury restaurants, theaters, concert halls and of course cinemas. If you are interested in performing arts, National Center of Performing Arts, Nehru Centre and Shanmukananda Hall presents numerous great shows. If you are lucky, you can catch one of the festivals that are held in the city during the year.
San-Qi Restaurant
To taste the best of Thai, Japanese and other Pan-Asia cuisine, San-Qi Restaurant will be your favorite. The name San-Qi means "3 energies" and the wine menu is incredible. The restaurant is located Four Seasons Mumbai and offers private rooms for special events.
Ziya Restaurant
Ziya Restaurant offers a wide variety of food from contemporary Indian cuisine. It is located at Oberoi Hotel and you can taste the best of aromatic herbs and exotic spices of Indian cuisine there. And the elegantly decorated room will impress you while you are also entranced by the incredible tastes.
Indigo Restaurant
This award winning restaurant serve the best examples of European-Asian cuisine. Being the choice of many celebrities, Indigo Restaurant has a highly attractive design, a magnificent view and of course a delicious menu. It's located in 4 Mandlik Road, Colaba.
Excursions and Tours in Mumbai
Elephanta Caves
Being designated as UNESCO World Heritage Site, Elephanta Caves is the most touristic place in Mumbai. The caves are located on the Elephanta Island which is 10 km away from the east of Mumbai. The huge statues that are carved in the caves are the most popular attraction in the island.
On the island, you can encounter many monkeys who live there. You can also climb up the island and view the fascinating scenery of the island. To reach the island, you can get on the boats that departs from next to Gateway of India.
Events in Mumbai
Being the financial capital of India and one of the most cosmopolitan cities in South Asia, Mumbai call the attention of event organizers. Each year more than a hundred of business and academic events like conferences, congresses, trade fairs, exhibitions and symposiums are held in Mumbai and each of them draws international attention. Mumbai has also modern convention centers and hotels at international standards like and has a huge capacity of accommodation.