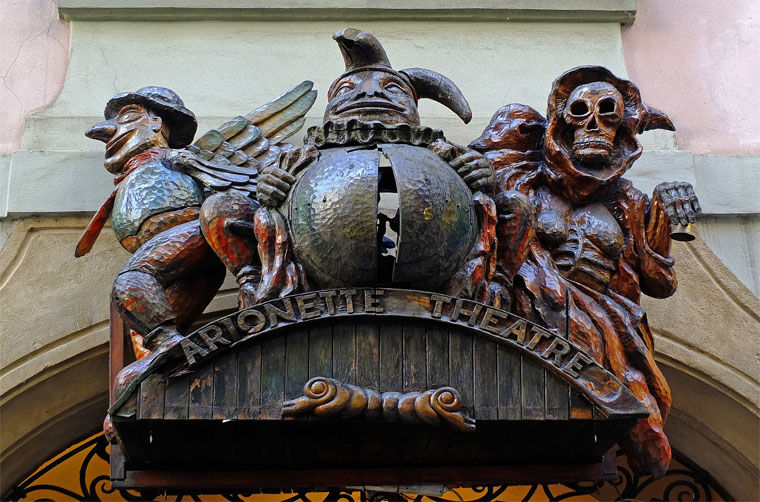 See a black light theatre show
Black Light Theatre is kind of a stage show whose components are a darkened stage, black curtains and black UV light. The artists are in fluorescent costumes to surprise the audience with visual illusions. At a black light theatre show, you may feel that you are in a wonderland or having a dream because what you see or in other words what you think you see is surrealistic. The objects seem to be flying or you may see a headless performer due to the light shows.
The trick of the Black Light Theatre is simple, actually. Your eyes just can't distinguish the performers dressed in black against a black background. So when they move the items you just see the colored parts thanks to the UV lights.
In Prague, there are more than one theatres in Prague that stage black light theaters such as Image or Wow or All Colours Theatre. Via their websites, you can make reservations online, buy tickets or check the program.
Buy crystal products
As everybody knows, Czech Republic has the world renowned crystals and glass products. And while you get the chance to be in Prague, it will be wise to buy these dazzling products either for yourself or for your friends and family. Czech crystals will undoubtedly be the perfect souvenirs that can ever be bought. The question is, where to buy the good crystals at reasonable prices and how to know if a crystal is authentic or not.
The first thing that you should pay attention to when identifying a crystal is the weight. Glass products are much lighter than the crystal ones. And if you hold a crystal up to a light it will result in multiple rainbows. Once you find the right products, you can go for the colored, blown, engraved or painted ones to your delight.
For the top quality Czech crystals, you can head to Erpet Bohemia Crystal or Celetná Crystal which are located near Old Town Square and Blue Praha for brilliant classics and hand-made glass products.
Watch a puppet theater
When you are in Prague, you will immediately notice that this city has something to do with marionettes. If you still don't know about that, marionette theatre is an old tradition in Czech Republic dating back even to Middle Ages.
The first name that you will encounter will probably be the National Marionette Theater when you search for the puppetry performances in Prague, however, it is also the most touristic address for these shows so most of the shows are generally sold out. So if you are determined to watch a puppet theater at this world-renowned theater, you'll need to make a reservation online via the official website of National Marionette Theatre.
However, due to the steady demand of the tourists, there are many other theatres available such as Spejbl and Hurvínek Theatre, Puppet Theatre Jiskra or Marionette Kingdom. Watching a puppet theater will probably make one of the greatest moments of yours in Prague so never forget to book your ticket in advance.
Image Credit: Steven Feather