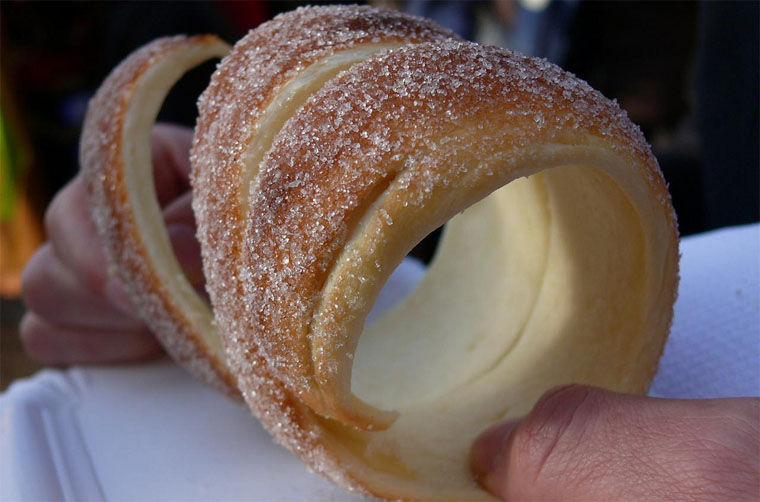 Becherovka
Having worldwide reputation, Becherovka is the pride and joy of Czech Republic. Its secret recipe is produced in Karlovy Vary and it has a bitter, ginger and cinnamon flavor. It has many more herbs and spices in its recipe and it is often consumed as a digestive aid. However, since it has 38% alcohol by volume, it is the most popular alcoholic drink in Czech Republic together with beer. What's more, Becherovka has a museum in Karlovy Vary whose name is The Jan Becher Museum that is named after the producer company.
Svíckova
Known as the most popular Czech dish, Svícková is made of Sirloin steak, vegetables and double cream. The recipe is rich in spices and vegetables which makes Svícková a flawless taste. It generally contains parsley root, carrot, onion, black pepper and thyme. However the vegetables and spices that are used may vary from recipe to recipe. It is cooked with double cream and served with bread dumplings just like Vepro-knedlo-zelo.
Trdelník
If you are into sweet tastes, this one is for you. When you walk in the streets of Prague, you may smell Trdelník because Trdelník stalls are just everywhere. Trdelník is a sweet pastry that is wrapped around a stick, grilled over coal and then covered with sugar. This traditional pipe shaped pastry is originally from Transylvania (historical region in the central part of Romania) but it is highly popular in Prague. Trdelník would be a perfect treat for yourself while enjoying the flawless beauty of Prague!
Vepro-knedlo-zelo
This classic Czech dish can be described as roast pork with bread dumplings and stewed cabbage. Rather than having a heavy taste like other traditional meat dish recipes, Vepro-knedlo-zelo is light and kind of sweet and sour. Sauerkraut is another component of this dish. Vepro-knedlo-zelo may be high in fat for some people and may be a little bit bland but considering that it is one of the most popular dish among the Czech people, leaving Prague without trying it would be a remorse.
Image Credit: Mar.tin