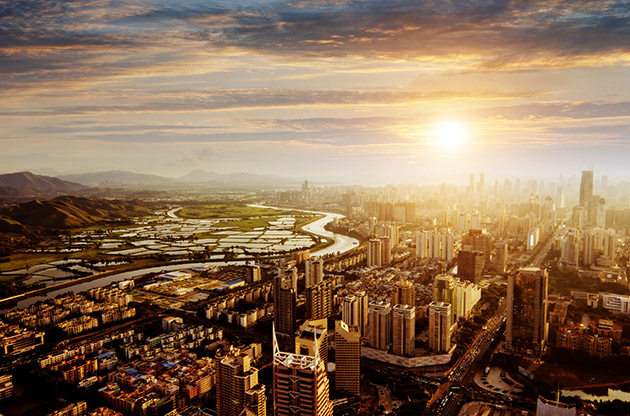 Which city comes to your mind first when you think about China? Is it Beijing? Or is it Shanghai? Maybe it is Hong Kong, which still intrigues a lot of people on being Chinese or not (it is a part of China, indeed). Of course, these three are the most famous ones for valid reasons however there is also one another that doesn't lack any qualities to be included in the top cities of this giant country; that is Shenzhen.
Shenzhen, located in the Guangdong Province in southern China. It is well known for being the textile hub of the country and being back to back with Hong Kong. Home to almost 10 million people, Shenzhen is one of the richest cities in China. The population of the city also makes it the 5th with the highest density in the country.
Shenzhen is actually known for not only being the textile hub of China but also for being the "fun land" of the country because of the abundancy of the theme parks. It is usual for Chinese people to make weekend trips to the city with their kids to enjoy a day in these gigantic parks, while getting the opportunity to re-define "fun and excitement."
The city is also rich in terms of cultural and historical heritage. It is possible to see the traces of Hakka culture in Shenzhen and there are bunch of must see areas in the city and in the surrounding districts to get a better insight on the elements that have shaped up this part of the country.
Shenzhen's climate can be described as sub-tropical which also means high levels of humidity, and makes the months October, November and December the best time to visit the city. The summer may be extremely humid and hot in Shenzhen; it is best to be prepared if one is going to set out for Shenzhen during these months.
No matter what your purpose of visit to this beautiful city of China, get ready to be fascinated by its outstanding look and the way it mixes traditional Chinese culture with modernity. A trip to Shenzhen is a great reason to include the city in your favorites not only in China, but also to the ones across the world.
Where is Shenzhen?
Shenzhen is in the Guangdong Province, which is located in the southern part of the country. It is only 100 km from Guangzhou, which is the third biggest city in China.
How to get to Shenzhen?
If you are going to fly to Shenzhen, you plane will land on Shenzhen Bao'an International Airport which is located 32km northwest of the city center. It is easy to get to downtown by using the metro line 1, it takes around 50 minutes to reach the center of the city. You can also use the airport shuttle bus to get to the Shenzhen center. If you need further information about the other options such as renting a car or cab, please have a look at the official website of Shenzhen Bao'an International Airport.
You can also use the Hong Kong International Airport to get to Shenzhen. Detailed information can be found on the official website of the airport.
How to get around in Shenzhen?
If you want to make the most out of your time in Shenzhen, you are recommended to use the Shenzhen Metro which is one of the most efficient and time saving way of transportation. According to the district of the city you want to go, you can choose Luobao Line, Longhua Line, Shekou Line, Longgang Line or Huanzhong Line. The official website of Shenzhen Metro gives detailed information on lines, time tables and fares.
You can also use bus or taxi to get to wherever you want in Shenzhen. Having the open address of the places you'd like to go written in Chinese may be very helpful if you decide to travel by bus or cab.
Attractions in Shenzhen
Shenzhen offers unique attractions ranging from traditional to historical, as well with the ones that have a more 2000's touch. You can spend time in museums and historical sites, visit holy places or enjoy Chinese way of shopping. The city has got a large selection of restaurants serving both traditional Chinese food and cuisines from all over the world. When it comes to shake the stress away of a day filled with, Shenzhen will take good care of you, too.
Museums and Sightseeing in Shenzhen
Shenzhen Art Museum is a great place to start your cultural excursion when you are in Shenzhen. If you feel like seeing another museum, then head to He Xiangning Art Museum which is the second national modern art museum of China. Shenzhen Art Museum or Guan Shan Yue Art Gallery may also be included in your list if you want to discover the artsy side of the city better.
Hong Fa Buddhist Temple and Chiwan Tin Hau Temple are the most famous religious sites and structures located in Shenzhen. You can come across hundreds of pilgrims, especially in Hong Fa. Tomb of the Young Song Emperor and Xin'an (Nantou) Ancient City are the other two must see places in Shenzhen.
Shopping in Shenzhen
Shenzhen is going to offer you a quite shopping experience, so it may be wise to spare some time in your suitcase in advance if you don't want to end up with paying extra luggage while you are going back home.
Luohu, which is actually located in Hong Kong, is one of the most famous shopping areas among the visitors of Shenzhen. The places is filled with small scale stores selling clothes and jewelry. It is smart to bear in mind that most of the items you'll see are not going to be authentic but really well produced fakes. If you don't feel like such an experience then head to Dong Men Pedestrian Street where you'll find a more decent shopping experience. There are stores selling clothes and souvenirs; definitely better in terms of quality when compared to Luohu.
If you are after a good bargain on electronics, then the area you should head to is Hua Qiang Bei. You have to take your time to explore what sort of items and equipment are sold on each floor since the place is huge. If you are after a more familiar way of shopping, then head to Shekou, the door opening to Western-like shopping.
Dining & Nightlife in Shenzhen
Shenzhen is one of the cities in the world that you can be introduced to the real Chinese food. If you want to try and experience the food culture of the nation, Overseas Chinese Town is the must visit place for you. There are also a couple of Korean restaurants if you want to try something from Korean cuisine, too. Don't forget, food stalls on streets are very popular in Shenzhen. If you are not very picky about what you eat, trying at least one street food may be a good idea to experience Shenzhen in the best way possible.
Coco Park is known for its live nightlife scene in Shenzhen and that is one of the reasons why it is so popular. There are pubs and restaurants you can enjoy a drink or two, or simply the local beers while having good time with your colleagues. If you want to dance and visit a club to do so, then Luohu is the area where you should go. There are many clubs in the area you can choose from.
Excursions in Shenzhen
If you think you are done with the major sightseeing and shopping in the city, here are some more suggestions you can try to do when in Shenzhen. This city is famous for the spa and massage facilities it has. So you can buy yourself half an hour of relaxation for an insanely cheap price. Still, making a small research and choose the best place or asking your hotel for recommendations would be wise.
If you are golf player or if you are willing to give it a try for the first time, you can consider yourself to be in Mecca. Don't forget to check out Mission Hills; it is one of the world's best golf courses.
If your trip falls into swimming season, you can also check the beaches in Shenzhen out for a good swim.
Event Tourism in Shenzhen
As mentioned before, being the textile hub of the whole country turned Shenzhen into a popular city to hold fairs and tradeshows. Of course, these two are not the only events in Shenzhen; a large number of conferences, congresses, and symposiums are also held in the city. Thanks to the venues that are equipped with adequate technical gear, the events' success in Shenzhen is getting bigger and bigger every other year.