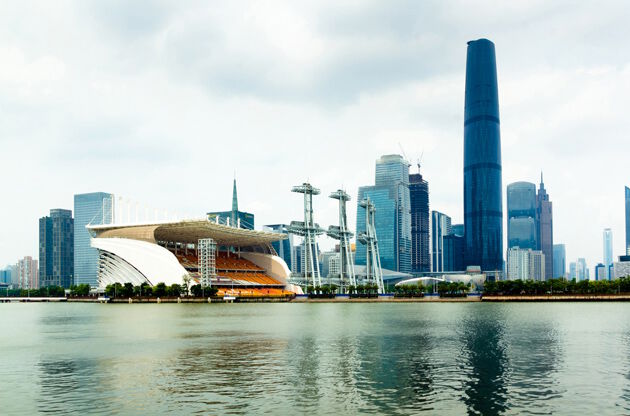 Guangzhou, also known as Canton, is a very prosperous city that is full of life. It is the capital city of the Guangdong Province, and is located on the southern coast of China. With Guangzhou's prime location, it makes the perfect port city. It has easy and quick access to other major cities such as Hong Kong and Macau.
Since Guangzhou was one of the first cities to benefit from the Reform and Opening Up policy that was established in 1978, it acts as one of the flagship cities of economic development of the country, with a ton of small, medium, and large corporations. These corporations offer a ton of job opportunities which makes the city a heavily populated area.
Being a large booming city, that also happens to be located on the coastline, it makes it a prime location for tourism, has great dining, and fantastic real estate. The city has a very long and rich history, just like Athens of Greece and Rome of Italy, dating back more than 2,800 years.
Guangzhou is a sub-tropical place, with an average temperature of 71.6 degrees. There are also many higher education establishments, including the Zhongshan University, the South China University of Technology and the Ji-nan University. The city of Guangzhou is also known for its arts and crafts, embroidery, ivory carving and ceramics.
All in all, Guangzhou is a highly diverse city with a dynamic history and a very active life, making it on of the most well known and traveled to cities in China.
Where Is Guangzhou?
The city of Guangzhou is located at the north of the Pearl River delta. This places Guangzhou on the south coast of China. It is also the largest city of the Guangdong Province, as well as being the capital.
Getting to Guangzhou
There are plenty of ways to get to the city of Guangzhou. The main way will be traveling there from the airport. The Guangzhou Baiyun International Airport is pretty close to Guangzhou. It is only about 17.3 miles away from the center of the city. The Guangzhou Baiyun International Airport is one of the busiest airports in China.
Getting transport to Guangzhou from The Guangzhou Baiyun International Airport is very simple, as it boast a convenient and strong ground transportation system. There are taxis, six express bus lines, nine airport shuttle bus lines, and an intercity bus that frequents Guangzhou and other cities in Guangdong Province.
Attractions in Guangzhou
Guangzhou has got so much to offer to its visitors that one may not able to spare that much free time to make the most out of the city. There are a lot of historical landmarks to see, museums to enjoy, places to dine and shop as well with must try excursions to participate in.
Museums and Sightseeing in Guangzhou
Guangzhou offers a lot to its visitors, especially to the ones who are into history and museums. The Cantonese artifacts and traces are still visible throughout the city and going after them to discover these is similar to reading a book that has the best visuals to make it even more realistic.
Sacred Heart Cathedral, Temple of the Six Banyan Trees and Zhenhai Tower are the top three places that are visited frequently by the visitors. In addition to these, one of the oldest Buddhist temples in the city, Guangxiao Temple is also a famous landmark. A trip to Baiyun Mountain is one of the most popular day trips from Guangzhou and a walk along the Pearl River, or a boat tour on that adds to the charm of the city.
If you are a museum lover and want to discover a couple of them when you are in Guangzhou, Museum of the Mausoleum of the Nanyue King and Guangdong Museum may be good choices. You can also pay a visit to Guangzhou Art Museum or The Revolutionary Museum of Guangdong, too.
Shopping in Guangzhou
The city of Guangzhou boasts a very strong shopping scene. One of the big areas that tourist will end up shopping is the Shangxia Jiu Lu Walking Street. It is a traditional and prosperous district, and it was also the first. Even if you do not want to buy anything there, it is suggested you at least go so you can get a feel of the rich cultural atmosphere. The Qi Lou, which is an old China style building, is located on both side of the Shangxia Jiu Lu Walking Street.
There are many well known department stores to go shopping in Guangzhou. Among these are Teem Plaza, and The China Plaza (Zhonghua Guangchang). The Teem Plaza is now the newest commercial center in the city. There are many shops that sell a lot of different wares, and it is a place where many great restaurants come together.
There are many other plazas and streets that are in the city that offer many shopping venues. You can go out and get some jade jewelery. At the Wende Calligraphy and Painting Street, which is also know as the 'Guangzhou Gallery', has many stores that sell calligraphy and craft works on both sides of the street.
Dining and Nightlife in Guangzhou
There is a lot do in the city of Guangzhou, including a ton of dining areas and a fun nightlife. The Yide Lu Seafood market is where you will find to the world-renowned seafood. There are so many different types of seafood, ranging from oysters and abalone, all the way to cuttlefish.
Guangzhou hosts a wide variety of food, but is dominated by the presence of Yue Cai (Cantonese Cuisine). While these dishes use a wide variety of ingredients, seasonings are used sparingly. Even though most Chinese cuisines use a lot of thick, spicy dressings, Yue Cai (Cantonese Cuisine) stays away from it to keep the original flavor of the food. On top of all of that, you will be able to find such dishes as Double-Skin Milk and Jidi Porridge.
Excursions and Tours in Guangzhou
There are a lot of excursion and tours that you can take while visiting the city of Guangzhou. In these tours you will probably start in the Sun Yat-sen Memorial Hall. It was built some time between 1929 and 1931, and was built in memory of China's greatest revolutionist, Dr. Sun Yat-sen.This is the site where many public meetings and activities are help today.
Another place to visit is the Five-Ram Sculpture in Yuexiu Park. While the statue is the main reason for visiting Yuexiu Park, there are many other places to visit. You can see many historical sites in the park, including the Zhenhai Tower, which better known among the locals as the Five-Storey Tower. There is also a large complex garden and many beautiful lakes.
Event Tourism in Guangzhou
Guangzhou is one of the cities in China to hold numerous fairs and tradeshows ever year. Well, there is reason for that. The venues that are equipped with the latest technology to host such important and big scale events and the hotels that presents the attendees the comfort of their homes play equal part in Guangzhou's rise in the world's event tourism scene. A business trip to Guangzhou always means you will get more than you expect.