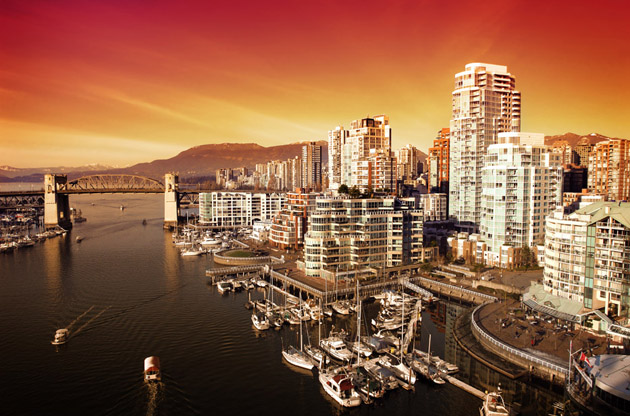 Canada's playground or mischievous kid, Vancouver is ready to take you in with all its attractions and make you come back to it as soon as possible.
Vancouver: The Attraction Point
Its beautiful nature and favorable climate made Vancouver an attraction center and now it is one of the most immigrated cities in the world. However its location near the large forests of North America make the Vancouver weather a bit rainy sometimes, it is still a matchless city for living.
A City to Cheer You Up
Confirmed as one of the most liveable city in the world, this city offers its residents a beautiful life filled with outdoor sports, cultural activities and an exceptional social life. Ice hockey is a passion for the people of Vancouver and they know how to make the most out of life.
A City for Everyone
Vancouver is one of a kind in terms of both being an American city and appearing as a European one. There is always a thing to do in this magical city and the local people are so kind and warm-hearted that they will never let you feel lonely.
Where is Vancouver
Canada's one of the largest city Vancouver is located in the province of British Columbia, in the south of Canada.
Getting to Vancouver
If you are coming to Vancouver by plane, you can prefer Vancouver International Airport which is located only 15 km away from the city center. To have more information about the transportation options from the airport, you can check the official website of Vancouver International Airport.
Things to Do in Vancouver
Capilano Suspension Bridge
Known for being the oldest attraction point in the city, Capilona Suspension Bridge still attracts the world with its 13t meters length and 70 meters height. If you are ready for some thrill, this amazing bridge will give you enough of it as well as the award-winning gardens, rain forest tours and nature trails.
Vancouver Art Gallery
Boasting being the largest art museum in Canada, Vancouver Art Gallery is the city's main cultural attraction point. What you will find here are the masterpieces from the Musée d'Orsay and the world famous works by Renoir and Degar.
Vancouver Aquarium
Ready to meet 70000 animals from sea lions to seals or watch sharks diving? With its fascinating Amazon Gallery, Vancouver Aquarium has so much to entrance you.
Dining and Nightlife in Vancouver
Nightlife
Yaletown
Yaletown is known as the most stylish district of the city's nightlife. Dressing up and sipping premium cocktails are what you can do in Hamilton and Mainland Street. These streets are also occupied by both Canadian and American celebrities. Try Opus Hotel's bar or one of the most popular one, Bar None to have an unforgettable night in Vancouver.
Gastown
Vancouver's historic yet always evolving center district Gastown, offers you a great diversity in nightlife from local pubs to urban chic ones. Irish Heather will make you feel as a local and The Diamond is for the sophisticated ones. Make your choice and enjoy!
Restaurants
Blue Water Café
If you are in the mood of eating seafood and you think dining with celebs will be amusing, Blue Water Café will meet your expectations. Taste the best oysters and sushi accompanied by perfect wines in a classy atmosphere.
Lupo Restaurant and Vinoteca
What about tasting from the amazing Italian cuisine by a cozy fireplace in a classy restaurant? If your answer is yes, Lupo Restaurant and Vinoteca, also known as Villa del Lupo, will satisfy you to the bone.
Provence Marinaside
Situated in the stylish district of the city, Yaletown, Provence Marinaside offers a stunning marina view and delicious French cuisine.
Shopping in Vancouver
Robson Street
If you are searching for the most preferred shopping street in the city, you have just found it. Being the address of the stylish boutiques, coffeehouses for refreshing brakes and the world famous brands' stores, Robson Street will make you have the best shopping experience in the city.
Alberni Street
Having the reputation of being Rodeo Drive of Vancouver, Alberni Street is undoubtedly one of the most popular street in the city that serves with many remarkable restaurants and shopping places that can meet any kinds of need.
South Granville
South Granville is regarded as the most prestigious shopping district in the city. In South Granville you will find what it takes for shopping, entertainment and arts.
Excursions and Tours in Vancouver
Granville Island
Located near the city center, Granville Island is a perfect opportunity to escape from the city's hustle and bustle. Thanks to many activities and the largest free water park provided, in Granville Island you will have the best moments of your trip.
Seaplane Tour
What do you think viewing this fascinating from the air? If you think it would be terrifying, come and take your seat in the plane and enjoy landing with and exhilarating splash into the sea.
Events in Vancouver
Vancouver's incredible nature and cosmopolitan structure makes it an attractive city for international events in Canada. World class hotels, exceptional cuisine, award-winning convention center with outstanding facilities are among the reasons why Vancouver is so charming for delegates.
Experienced as a host city for Olympic Games, Vancouver is always ready for large scale international events like conferences, congresses, fairs, exhibitions, tradeshows and symposiums and this city is generally regarded as Canada's convention center.