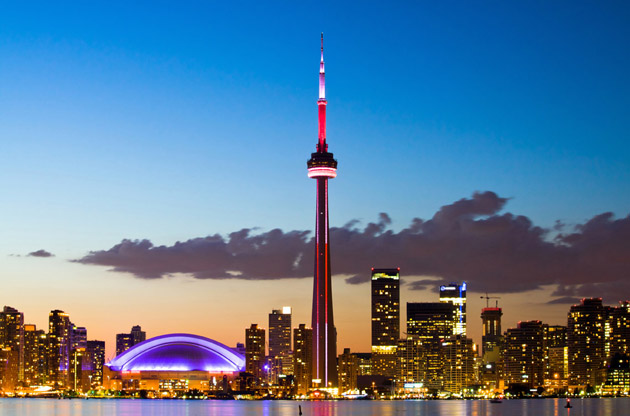 Standing at the top of the second tallest tower in the world, you might think that you are at the top of the world and the world revolves around you.
In an illustrated dictionary, you may encounter Toronto's illustration when you look up the word multiculturalism. It is common that you a European woman with her Asian husband and their crossbred child. You hear many languages in daily life, however all the people of Toronto speak fluent English.
This multiculturalism makes a perfect blend of cuisine, too. Whatever you want to eat, no matter it is from Italian cuisine or from Chinese's, it is there. Your culture is alive in Toronto with the many others. Toronto is a city where you will never feel as an alien.
This city, which is made of many cultures, offers you a great nightlife and cultural activities. Every day, you can catch a festival, an art exhibition or a club party. Breathing art, you feel you are alive in Toronto.
With the roaring beauty of Niagara Falls, the thrilling height of CN Tower, the refreshing smell of Tim Hortons coffee, the picturesque Toronto Islands, there is a city over there to shower you with enchantment.
Where is Toronto
The largest city in Canada, Toronto is located in the south-central part of Ontario and at the tip of the namesake lake.
Getting to Toronto
Toronto Pearson Airport
Located 27 km away from the city center, Pearson Airport is the busiest airport of Canada. If you will prefer this airport while coming to the city, you can check the official site of the airport for the detailed transportation options.
Billy Bishop Toronto City Airport
The other option is Billy Bishop Airport that is located just near the downtown of the city. For transportation options from the airport, you can visit the airport's website.
Things to Do in Toronto
CN Tower
Boasting being the second highest tower in the world, CN Tower is the iconic landmark of Toronto. Being the address of over 50 restaurants, CN Tower offers also a revolving restaurant. If you are not the spectator but a participator type, you can give Edge Walk a try and experience the most thrilling activity in Toronto.
Art Gallery of Ontario
Located in Grange Park, Art Gallery of Ontario (AGO) exhibits over 68000 pieces from 1st century to these days. Hosting many remarkable exhibitions during the year, Art Gallery of Ontario is an important artistic spot in the city.
Royal Ontario Museum
One of the largest museums not only in Canada but also in North America, Royal Ontario Museum (ROM) exhibits world culture and natural history.
Bata Shoes Museum
Being a museum dedicated only to footwear, it collects and exhibits footwear from all around the world. If you are a shoes addict, this museum will thrill you.
Dining and Nightlife in Toronto
Nightlife is alive and determined to make you stay awake in Toronto. There always a concert, a festival or a play for your taste. You can follow the events in the city on the official guide of Toronto tourism bureau.
360 The Restaurant
If you like to dine accompanied by a stunning Toronto view, 360 The Restaurant located at the top of CN Tower, will satisfy both your palate and your eyes.
Roof Lounge
Another restaurant offering you a fascinating Toronto view under an upscale ambiance, The Roof Lounge located in Park Hyatt Hotel is a remarkable dining spot in the city.
Michael's on Simcoe
What you will find in Michael's on Simcoe are the contemporary cuisine, homemade pastas freshest seafood accompanied by a delightful wine menu.
Shopping in Toronto
Eaton Center
Toronto's biggest shopping mall Eaton Center offers you everything in the name of shopping. If you are ready to spend a full day in here, numerous restaurants are ready to fill your tummy with the greatest tastes.
The Bay
Like Eaton Center, The Bay is another popular shopping mall in the city and you can find whatever you need from souvenirs to clothing or decorative goods.
Queen Street
Being Toronto's one of the most important streets, Queen Street is the address of many stylish boutiques, unique goods and fashionable brands' stores.
Bloor Street
Toronto's most famous and chic street Bloor, is full of world famous brands' stores and it is regarded also as the most popular upscale shopping district in Toronto.
Excursions and Tours in Toronto
Niagara Falls
Niagara Falls is a place where you can witness the power and magnificence of nature. Shared between USA and Canada, the Canadian part of the falls is shaped as the horseshoe. You can stay up for a few days in the hotels nearby and have a great escape from the rush of the city.
Toronto Islands
By ferry services, you can easily reach these islands located in the Lake Ontario and have a recreational escape from the city. Being so close to the city, yet far away from the city chaos, Toronto Islands will give you overdose of tranquility.
Cabbaegetown
Toronto's historic face, Cabbagetown is woven of Victorian-style houses. Being defined as the biggest continuous area of preserved Victorian housing not only in Canada but also in North America, Cabbagetown will give you an essence of Europe.
Events in Toronto
Toronto, being a multicultural, inspiring and energetic face of Canada is a great choice for global events like symposiums, tradeshows, fairs, exhibitions, congresses and conferences. Its high class hotels and stunning venues with modern facilities host numerous large scale events during the year and draw global attention to the city.