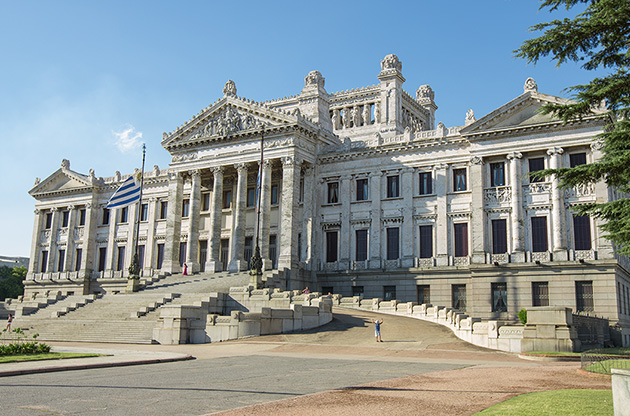 Montevide may as well be regarded as European city because of its architecture, its monuments, its streets. However actually it is Montevideo, the "cup of Silver", the conquering, the capital city of Uruguay. This small country, despite the years that passed, practically maintains a stable population of "something more" than three million souls. Half of them living in, in Montevideo, city by the Rio de la Plata, founded by Bruno Mauricio de Zabala between 1724 and 1730.
Today Montevideo joins in the same melting pot modernity and progress, bohemian and history, tango and candombe, poetry and rock and roll.
Where is Montevideo?
Montevideo is located in the southern coastal area of Rio de la Plata.
How to get to Montevideo?
By plane, there are flights from some of the major European cities as well as the major cities of America to Carrasco International Airport, located in Paso Carrasco, about 20 kilometers from Montevideo downtown.
In addition, from Aeroparque Jorge Newbery in Buenos Aires, you can choose between about 10 direct daily flights to Carrasco International Airport in Montevideo.
Attractions in Montevideo
Radiant by day and accomplice by night, with a temperate climate, far from torrid heat or freezing cold, Montevideo offers to the visitor a variety of tours and places to see, discover and enjoy.
Sightseeing & Museums in Montevideo
There are a bunch of options to spend your free time in Montevideo. Here is a list of most noteworthy places to enjoy yourselves and get into the Uruguayan culture even more.
Carnival Museum: Carnival is the principal festival in Uruguay. An interactive museum where people can learn while they enjoy and have fun.
Blanes Museum: Juan Manuel de Blanes painted the most famous historical paints and they attract a large nuumber of visitors from all over the world.
Rivera Park: There is a large artificial lake and some craft fair days are held in the park. Games for children, green spaces to have a picnic. It is also possible to try bird watching and biking.
The Japanese Garden: There you can find a Japanese influenced tea house, stony trails, an island, bridges, a waterfall and a huge variety of plant species.
El Prado: Includes the Botanical Garden with plants from around the world. You also can enjoy the Rose Garden with different species of roses.
Ciudad Vieja: The historic center preserves highly attractive colonial buildings, including the Town Hall, the Solis Theatre, The Torres Garcia Museum, The Cathedral and the Gate of the Citadel.
Dining & Nightlife in Montevideo
Here is a list of high end restaurants in Montevideo in which you can experience the best dishes in Uruguayan Cuisine.
Rara Avis
Amadeo
La Vaca
El Palenque
La Criolla
Gallagher's
The Ciudad Vieja area is the place where the nightlife's heart beat at in Montevideo. It is filled with bars, clubs and pubs. You can catch one of the tango shows if you are interested. It is also possible to find places that have live Uruguayan music.
Shopping in Montevideo
One of the most important questions of all the people who visit Uruguay is what to buy and where to do it. Well, Montevideo responds with a huge variety of options. In the Ciudad Vieja (Old Town) there are a lot of crafts shops, you can find especially art galleries with the Uruguayan artists' products.
The malls are located in Tres Cruces, Punta Carretas, Pocitos and Carrasco. Their prices are usually somewhat higher than in downtown, but also offers other pleasures to enjoy, as almost all of them have a theatre and a large food court to enjoy.
On Sundays, you can visit the fair in Tristan Narvaja, a flea market where you can find the more diverse and geniune items.
Excursions in Montevideo
If you still have free time to spend in the city after you have completed the major sightseeing, you may try one of the excursions listed.
Wine Roads
Art Deco
The Western
The new Ciudad Vieja
The Prado
Sur and Palermo Neighborhoods
Event Tourism in Montevideo
In the recent years, Montevideo has started to gain more importance in the world's event tourism scene. The number of the international congresses, seminars, symposiums, conferences, fairs and tradeshows has increased significantly. It is possible to say that the rise of the quality of the hotels and the venues that are equipped with the lates technology have contributed to this increase significantly. The attendees also get the chance to get to know the Uruguayan culture