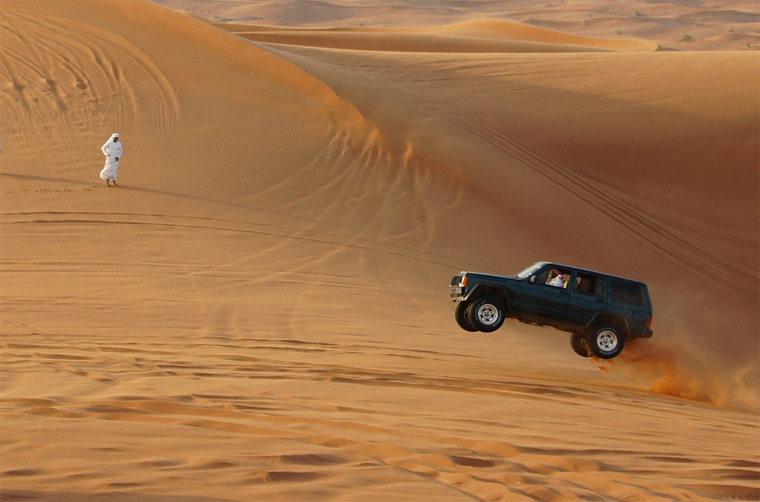 Go to a Desert Safari
The most popular touristic activity in Dubai is undoubtedly the desert safari. Especially for the ones who have never stepped into a desert in their lives, this is a really fantastic experience. You just lose yourself into an eternity of sand and forget everything in your mind during that time.
A desert safari tour may include a ride with safari jeeps on the sand (may be really thrilling), a camel tour, sand boarding and finally an Arabian night. It's your choice to buy all or omit some of them. Safari jeeps take you from your hotel to the desert and the adventure starts. Your mouth may fall open when you see that how fast these jeeps can go on the sand (mostly jumping or careening). Then they give a break to leave you alone with that stunning amount of sand. You can take amazing photos or just enjoy the soft and hot sand. Then a tall camel kneels down to take you on its back and takes you a tour around the desert (of course accompanied by its caretaker). After this exciting camel tour you can try sand boarding and when the sun sets with a breath-taking view, the Arabian night starts. You can enjoy the oriental music, dance with the belly dancers and let the local henna maker tattoo you! Before you leave that spectacular desert, don't forget to buy some souvenirs for your family and friends. Local handcrafters produce excellent items that will leave you speechless. For example sand art bottles are among the most popular souvenirs.
Go to Skiing at Ski Dubai
Yes, what you just read is true. You can go skiing in Dubai. Especially after a hot summer day, (each day of the year is hot in Dubai, though) going to skiing will be an unforgettable experience for you. For this fascinating activity, you can visit Mall of Emirates that houses 22500 square meters of ski slope inside.
This ski slope features 5 different slopes of varying difficulty and the world's first indoor black run. A tow lift and a quad lift are also available. As well as the ice cave, huge snowballs and toboggan runs, penguins (yes, real penguins) are waiting for you. In other words, almost everything regarding winter are offered in Ski Dubai.
If you want to witness the hot summer and the chilling winter at the same time, book your ski passes, snowboard tickets or penguin encounters before your visit via the Ski Dubai website. All the equipment and the clothing can be hired and if you don't want to join the activities, sitting at the café-bar in the ski slope is also an option for you.
Take an Abra Ride on Dubai Creek
If you are not into that much of luxury or flamboyance, you can leave yourself into the calmness of Dubai Creek and listen to the sound of the dance of the abra and the water.
The creek area is the oldest and one of the most scenic areas in Dubai. While you enjoy the fascinating views of the city, the sun sets and call the prayer is heard. The Creek Ride will offer you a completely different Dubai experience. While you are on board a dinner is served if you like accompanied by music and tanoura dance. Hiring your own charter abra is also an option.
You can make your choice from many tour agencies and pre-book your tour beforehand. If you want to experience Dubai from totally a different point of view, an abra ride on the creek will make you more than satisfied.
Image Credit: Neil Wilkie