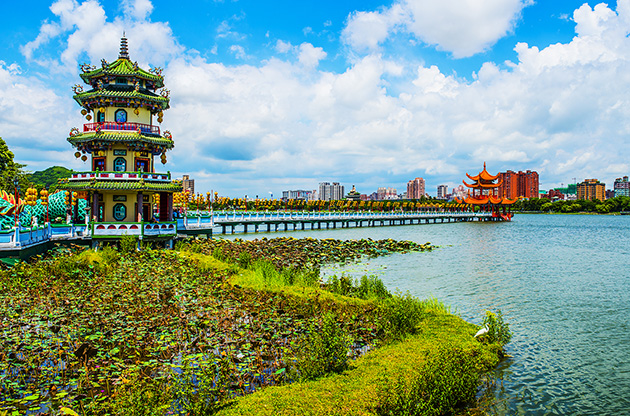 In the seventeenth century, Kaohsiung was a small fishing village. Now it is the second largest city in Taiwan with a population of about three million people. The city used to be called Dagou which meant "beating the dog" but the name was changed to Kaohsiung by the Japanese when they controlled the island during the early 1900s. The new name means "High Hero".
Kaohsiung is in the south of Taiwan and at one time was most famous for its harbor which is the sixth largest cargo-container seaport in the world. The harbor is still an important part of Kaohsiung's prosperity as are a number of other heavy industries but the city has been slowly transforming itself into a new city.
The harbor of Kaohsiung is still an important part of Kaohsiung's prosperity as there is high a number of other heavy industries but the city has been slowly transforming itself into a new city. A lot of money has been spent on beautification projects throughout the city aimed at cleaning up the rivers and creating a number of tourist and recreational centers for visitors to enjoy. The Love River was once very polluted but has been cleaned up and is now a major tourist attraction with tours of the river happening every day.
Kaohsiung is now a bright, clean city with wide streets, parks, and sporting venues as well as various cultural venues. It has become a major tourist destination for both Taiwanese and foreign tourists.
Where is Kaohsiung?
Kaohsiung is in the south of Taiwan and it serves as the industrial port of the country.
How to get to Kaohsiung?
If you are flying into the city, it is quite easy to make it from the Kaohsiung International Airport to the city centre. The airport is about twenty minutes from the city and transportation into the city is available. You can take public transportation, the Mass Rapid Transit (MRT) Red Line or simply jump in a taxi. There will be signs throughout the airport to direct you to the correct area to catch either a taxi or the MRT.
Attractions in Kaohsiung
There are so many things to do in Kaohsiung that it can be difficult to fit them all in. You will probably need to pick and choose from various sights depending on your interest and time. Although Kaohsiung is a modern city with all the amenities, don't forget to check out some of the traditional aspects of the city.
Sightseeing & Museums in Kaohsiung
If you feel a bit athletic, you could go on a hike in the Chaishan Nature Reserve. It has a large population of macaques so if you decide to go, don't bring any food since the macaques are more than willing to try and grab food.
You can also take a stroll around the harbor. You'll want to make your way to Pier 12, Gushan Ferry Pier or Fisherman's Wharf. You'll find walkways as well as bike paths (and bike rentals) as well as harbor cruises. At Pier 12, there is an art district where both exhibitions and concerts are held.
If you want to learn a little bit more about the history of Taiwan, you can visit the Museum of History. The museum has a number of exhibits and is housed in a former government building. You can also learn about the history of science and technology in Taiwan by visiting the Museum of Science and Technology. If you're an art buff, then the Museum of Fine Art may be something you'd like to check out. The museum usually has exhibits of the work by Taiwanese artists.
If you are at all interested in visiting a number of Taiwanese temples, then one of the best places to go is the Lotus Pond. The Lotus Pond is a small lake with over twenty different temples on the shoreline. There is a walking path around the lake so you can take your time and visit each temple as you make your way around the lake.
Shopping in Kaohsiung
You can buy almost anything in Taiwan. It all depends on what you are interested in. The Dream Mall is Taiwan's biggest mall and has a number of high end stores. You can buy a variety of merchandise, see a movie or get something to eat at the mall. You can even ride a Ferris wheel at the mall. There are also a number of other malls throughout Kaohsiung that you can visit but you should make it to at least one traditional market before you leave.
If you are interested in more traditional crafts you can make your way to Bamboo Street where they sell a variety of items, all made from bamboo. You can buy traditional raincoats and hats as well as a number of household items.
The Jade Market is another market you might be interested in. There are some very interesting jade pieces, including bracelets, necklaces and figurines, that can be found in this market but just make sure you know a bit about jade before going and be prepared to bargain in order to get a good price.
Dining & Nightlife in Kaohsiung
Kaohsiung offers a wide variety of dining experiences. Since it is close to the harbor, there is an emphasis on fish dishes but other options, including vegetarian meals are also available. Meals can be found at high-end restaurants as well as in small local restaurants popular with the locals.
One of the most interesting places to grab a bite to eat is in the various night markets. In the night markets, you will be treated to traditional Taiwanese food sold from small stalls. You can walk around the market, checking out all the sights and sounds while deciding what to try. It is an experience that you definitely will not want to miss.
Excursions in Kaohsiung
There are a number of excursions or small trips you can take from Kaohsiung. One of the most popular trips is to Cijin Island. You can take a ten-minute ferry ride from Gushan Ferry Terminal to get to the island. On the island, you can visit the Matsu Temple which is the oldest temple in Kaohsiung. You can also wander around the beach, visit the lighthouse or rent a bicycle to ride around the island. There is also a very popular seafood street where you can find some delicious food to eat.
If you're interested in Buddhism, you can visit the Buddhist Memorial Centre. It is a religious as well as an educational complex and is even believed to hold a tooth relic from the Buddha. It is a very large complex and will take most of the day, if not longer, to explore the whole place.
Event Tourism in Kaohsiung
As the city hosts as the hub of the industry, it is no surprise that Kaohsiung is the home to a large number of tradeshows and fairs throughout the year. Not only those, but a lot of large scale congresses, conferences, symposiums and seminars also take place in the beautiful city and giving the attendees the opportunity both to discover the hidden beauty of this charming Taiwanese city and to attend the event in their area of interest.