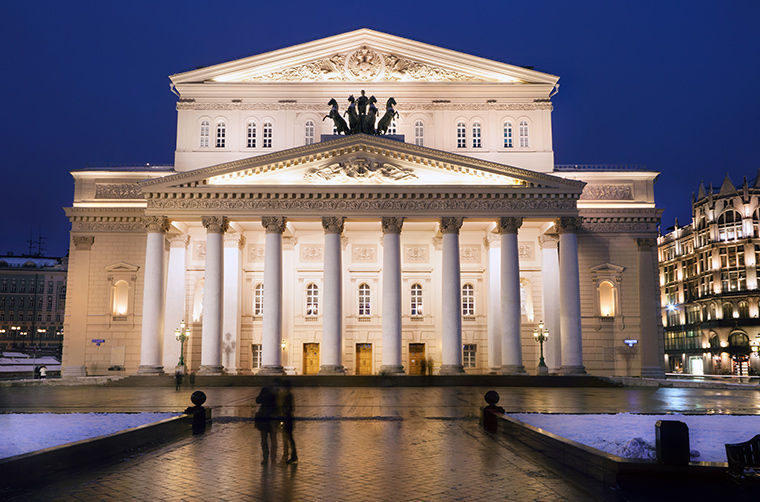 Watch a Ballet in Bolshoi Theatre
Given that you are in Moscow, leaving the city without watching a ballet in world famous Bolshoi Theatre would really be a big regret.
It represents the Russian neoclassicism perfectly with its architectural style and with its inner decoration. The huge golden chandeliers and the red velvet fabrics impressively decorate the halls of this beautiful theatre. Bolshoi Theatre was so lucky that it housed the premiers of Tchaikovsky's Swan Lake and the Nutcracker and also the concerts of Richard Wagner. The theatre boasts being one of the largest stages in the world.
Have Fun at the Famous Gorky Park
Situated by the Moskva River, Gorky Park is a famous recreation park that houses amusement parks, a pond, tennis courts, an amphitheatre, bridleways, sport clubs and more. In winter, you can join the ice sculpting activities or enjoy ice skating.
You can dine at the reputable restaurants, be fascinated by the best views of the city from the bridge that span the river, or just mingle with the crowd enjoying any kinds of activities. It is also good to know that the park is named after Maxim Gorky and was written of in the novel Gorky Park by Martin Cruz Smith which was later made into a film. This legendary park of Gorky is open daily between 10:00 and 22:00.
Be Charmed at Diamond Fund Exhibition
Diamond Fund Exhibition was built in 1719 in Moscow Kremlin to provide the jewelry of the royal families to belong to the state and to stay in Russia. In the museum a large and highly charming collection of the royal family can be seen.
Previously, Diamond Fund Exhibition was located in St Petersburg but then it was moved to Moscow after the German invasion. Among the magnificent collection of the museum are Orlov diamond, Faberge egg, the biggest sapphire in the world and the Imperial Crown of Russia. You can visit the museum daily except Thursdays between 10:00 and 17:00.