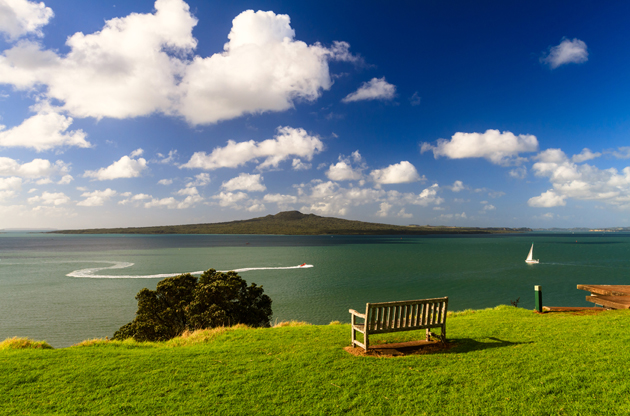 The biggest and probably, the best city, in all of New Zealand, Auckland openly distinguishes itself from its counterparts, with its rich historical attractions, cultural energy, growing economy and attractive job market for an increasing number of young graduates.
The "city of sails" has a population of over 405,000 people, which is about ten percent of the country's population; it spans a large area and is home to two of the country's major ports. It prides itself in having a reputation for being the sunniest location in New Zealand, with long summer days and mild winters.
Auckland is popular as both as an international business hub and a social mecca, for locals and tourists alike. The smooth talking New Zealand charm is always vividly present and the laid back personalities of the local "Kiwis" gives little indication of the continuous economic development that is taking place in this amazing city. Overshadowed by the innovative modernisation of this impressive city, other cities lack Auckland's drive and unquenchable thirst for more.
With a temperate climate and a host of spectacular sights on display, Auckland draws visitors from all the over the world. The abundant natural wonders of New Zealand as a whole, fills the senses with renewed vigour. Also, let us not forget to mention, the soaring mountain peaks that overlook emerald green valleys, which sink into the deep blue waters of the vast ocean. Natural beauty is a widely-admire treasure of this beautiful region.
Where is Auckland?
Auckland is situated in the central part of New Zealand's North Island and it spans the narrow strip of land that lies between two large harbours - the south-western Waitemata Harbour on the Pacific Ocean and the eastern Manukau Harbour on the Tasman Sea.
Getting to and around Auckland
The Auckland Airport (AKL) has both a domestic and an international terminal and it is situated only about 35 minutes out of the city. There are busses between the city and the airport available every 20 minutes or a choice of taxis if haste is necessary.
The city transportation is a very reliable and the main mode of public transport is the well-maintained bus system, which is also fairly simple to use. Taxis are readily available and are, as with all other transport forms here, considered to be very safe and reliable.
It is also possible to use the train system when travelling between major cities and both Auckland and Wellington offer a convenient metropolitan train system that connects outlying suburbs to the city centre.
Things to Do in Auckland
Sky Tower
Brave the trip up to the top of the Sky Tower and admire uninterrupted views of the greater Auckland area; visitors are able to see in every direction, for up to 80 kilometres in places.
Museums
The world renowned MOTAT (Museum of transport and technology), is as its name suggests, a museum documenting New Zealand's history of transportation and technology. Fascinating exhibits such as "I am the last tram" and "While you were away" line the halls of this national treasure.
The Auckland Museum, situated in central Auckland, is also well worth a visit.
Parks and Gardens
The beautiful Auckland Botanical garden is just 20 minutes from both the city and the airport. The delicate and colourful array of indigenous plant life provides a quiet retreat from the hustle and bustle of the vibrant city. It is possible to take a train or a bus to the Botanical Garden.
The Waterfront
Surfing, fishing and scuba diving are also high on the local agenda, thanks to the warmer climate of the Auckland region.
Shopping in Auckland
There are a few main shopping areas in Auckland, but two of the most sought-after are, the stylish Queen street with its name brand designer stores and the trendy fashion boutiques on High Street.
Downtown Westfield and Britomart, are also prime shopping destinations. Don't miss the flurries of modern art galleries if the need arises for a break from the scurry; it's a great place to silently meditate on the exciting events of the day. There is also a range of fine dining options in both these areas, when the hunger pangs seek to interrupt the energising shopping experience.
Dining and Nightlife in Auckland
The greater Auckland region boasts almost one thousand restaurants. A delicious blend of home-cooked comforts of European kitchens, alternative Asian combinations, Polynesian food traditions and an affinity for fresh ingredients, the cuisine of New Zealand is tasty and completely beyond the expectations. Amble in to the one of the many top restaurants in the main city center and choose from Italian, Mexican, Vietnamese, Japanese or Kiwi cuisine.
Try a mouth-watering meal of tender lamb shank, topped with fresh seasonal vegetables and complemented by a generous glass of new world wine. There is always a freshly baked salmon fillet or fresh tuatua, seasoned with herbs and lemon and served with perfectly cooked sweet potato wedges drizzled in manuka honey; and of course, that side of greens, still fresh and crunchy. Move on to a freshly baked apple tart with whipped cream, or indulge in a delectable slice of kiwi cheesecake, as you wonder how you will ever be able to go back home cooking.
After a great meal, the night beckons to the flickering lights of the "Little big city". By no means has a sleepy hollow, Auckland offers plenty of options for night owls, every night of the week. Chill out bars and upmarket cafes are plentiful in the central city area. Pop over to the High street area and seek out the local pubs of Vulcan Street, or enjoy the upmarket vibe of the Queen Street shopping and entertainment area, not far from the Sky Tower.
Auckland has its fair share of high end cocktail bars, wineries, karaoke bars and quirky cafes. It also offers a variety of modern art galleries and a few laid back jazz bars as more sophisticated alternatives.
Tours and Excursions in Auckland
Take a half-day tour on a luxury bus, to see the sights and sounds of the vibrant city. If sightseeing alone, start in the central city and work outwards.
For those with a little more time to spare, choose from a user-friendly bus system, taxi services and train lines. Even better, hire a car and drive yourself through the hills and vales of the spectacular countryside surrounding Auckland.
Events in Auckland
A continuous line-up of fairs, events, shows and travelling expos, graces the events calendar of this cultural hub. An array of activities awaits visitors, as they discover the astounding diversity of things to do in Auckland. Every year, numerous reputable global events like tradeshows, fairs, exhibitions, symposiums, congresses and conferences take place in Auckland.