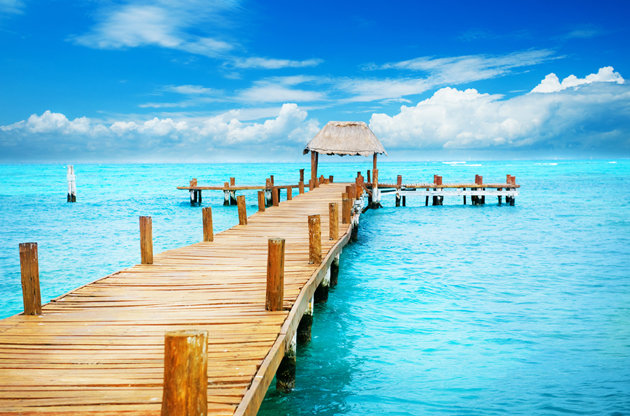 The capital of Mexico, Mexico City is established nearly 700 years ago and has lost nothing from its charm since then. Every year millions of tourists, both for leisure and business, visit this city where sophisticated culture and historical richness walk hand in hand.
Mexico City, officially known as México, D. F., has a population of nearly 11 million people and it is one of the largest cities in North America. The city is divided into 16 boroughs, which have more than 250 neighborhoods in total. All of these have got quiet distinctive features that you will be happy to explore and find about.
People from Mexico City are called Chilangos and their nice and helpful attitude towards visitors surely play a role in Mexico City's being a top destination among travelers. The efficient public transportation in the city minimizes the need of renting a car. High quality restaurants that serve not only Mexican but also international cuisine guarantee your trip to turn into a gourmet adventure at some point.
Mexico City is the cultural and recreational center of the country and offers the travelers numerous options of attractions to choose from. There are many museums, art galleries, parks and important sights to see across the city and I am sure you will not understand how time passes while you are in the rush of make the most out of the beautiful Mexico City.
Mexico City is one of the places on the earth that has a unique atmosphere. Let the soul of the city put its arms around you and make you have the time of your life. It is highly probable that you will be looking for ways to come back even before you leave the city. Enjoy your trip!
Where is Mexico City?
Mexico City is located in Central Mexico, near the plateau of Anáhuac.
How to get to Mexico City?
The busiest and the largest airport in Mexico City is Benito Juárez International Airport. It is located 5 km east of the downtown Mexico City. The official PDF file provided by the website of the airport gives information about how to get there. Metro and Metrobus stops are also located nearby the airport.
Licenciado Adolfo López Mateos International Airport is the second airport in the city, located in the Toulca region. This airport usually hosts domestic and international flights from nearby countries.
How to Get Around in Mexico City?
The public transportation in Mexico City is highly reliable and covers a wide area in the city. There are different ways of transport however Metro and Metrobus are the most reliable and the fastest ones in Mexico City. You can find the maps and schedules on Mexico City Metro's website .
Attractions in Mexico City
Mexico City is like a generous friend with whom you never get rid of spending time with when it comes to attractions. You may find yourself not being able to choose from the variety and end up with the feeling no matter how hard you try to make the most out of it, you will always miss something.
Sightseeing & Museums in Mexico City
Plaza de la Constitución, especially the City Hall and the Cathedral must be seen. Angel de la Independencia and Basílica de Guadalupe should also be in your list. If you would like to explore the artsy side of the city, head to Coyoacán, the place where served as home to Frida Kahlo and Diego Rivera.
National Museum of Anthropology is an important museum not only in Mexico City but throughout the world. The famous Aztec Calendar Stone, which has been the inspiration for many exquisite art projects, such as this , is exhibited there. Museum of Modern Art, Casa Mural Diego Rivera, National History Museum, Frida Kahlo Museum also known as Casa Azul and Leon Trotsky Museum are among the countless museums worth a visit in Mexico City.
Dining & Nightlife in Mexico City
You will enjoy a wide variety of cuisines in Mexico City. There are quality places that serve Mexican cuisine too, so you don't need to worry about that. Especially Polanco, Condesa, Centro Historico, Zana Rosa and Santa Fe are filled up with countless restaurants. In addition, Plaza Garibaldi is another place you can go to find a nice restaurant to dine.
Mexico City has got a vibrant night life. Mexican drinks and music characterizes the way of having fun in the city. You shouldn't leave Mexico City without watching one of the Mariachi shows. You will certainly enjoy the rhythm of the music that suits really well with the soul of the city. You will come across many bars, clubs and pubs in Plaza Garibaldi.
Shopping in Mexico City
Shopping in the city is always fun and not so expensive. You will come across a bunch of pure Mexican things that you would like to take home with you. In addition, luxury brands have also stores in the city. If you want to visit some of those head directly to Polanco or Zona Rosa. Condesa and Centro Historico have got many bohemian boutiques.
Street markets in Mexico City are really popular. In Bazar del Sábado, Centro de Artesanias La Ciudadela, Bazar del Oro are 3 of the most popular ones and all of them are really interesting to explore. You can find a lot of different items; clothes, jewelry and accessories coming from different parts of Mexico.
Excursions in Mexico City
Mexico City has got a lot of excursions to try out both inside the city and outside. If your trip falls within the dates of yearly celebrations such as the Independence Parade, you will have the chance to see one of the most enjoyable parades ever. The city is also famous for Grand Prix races too. Horse racing is popular in the city and you may participate in watching.
If you would like to travel some nearby destinations, then Acapulco, Tepotzotlan, Pachuca and Tlaxcala are interesting to visit and easy to reach during the day.
Event Tourism in Mexico City
The capital serves not only a hub for the cultural events and attractions, but also for international meetings. Ever year Mexico City, thanks to its highly equipped venues and centers and the fortunate geographical location of the land, hosts many different congresses, conferences, symposiums, tradeshow, fairs and exhibitions. These large scale events provide the attendees with a chance to explore this magnificent city and its culture.