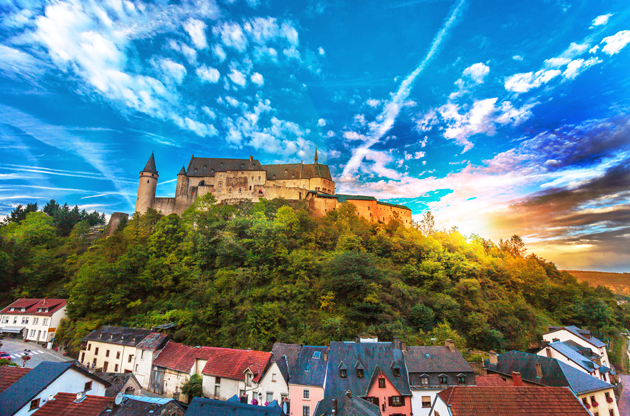 The only Grand Duchy in the world, with majestic mountains, rolling valleys, fairy-tale castles and grim fortresses, Luxembourg offers visitors a holiday replete with adventure, visual delights, romantic rendezvous, and in general 999 sq. miles of good time.
Landlocked between France, Belgium and Germany, Luxembourg was founded way back in history, around 963 AD to be precise. Since then, through a tumultuous passage in time, with counts, countesses and dynasties, enchanting castles and forbidding fortresses, battles and victories, Luxembourg of today has emerged as a major financial capital of the world and a tax haven too.
Known as one of the most picturesque countries of Europe, tourists visit Luxembourg both for its sophistication and the feel of its rustic way of life. You can ramble through villages that haven't changed much since medieval times, visit castles perched on hills, enjoy wholesome meals at small village inns, stroll through deep mystic forests and lovely riverbanks, or you can choose to spend time in Luxembourg City visiting the museums, the shopping avenues and fine restaurants.
Once you visit the place, you will find it difficult to say goodbye to this tiny European country that charms you and makes you wish for a never ending vacation.
Where is Luxembourg?
The country and the capital city with the same name – Luxembourg - is a landlocked nation sharing borders with Belgium, France and Germany. With a population of around half a million, Luxembourg situated in north-western part of Europe is its oldest and smallest state.
Visa Procedure of Luxembourg
Before you travel to Luxembourg, it's wise to check if you need to obtain a visa or not. VisaHQ offers detailed information about visa procedure of Luxembourg.
How to get to Luxembourg?
Nestled in the middle of the European heartland, Luxembourg is very well connected to the rest of the world by air traffic, and a network of railways and roadways. The road network has been considerably improved in the recent years with 147 km of motorways connecting Luxembourg City to nearby countries. The start of the high-speed TGV connection to Paris has led to revamping of the city's railway station and there are plans of introducing trams in the capital city in the near future.
You can enter Luxembourg by air, and the international airport, located six kilometers outside Luxembourg City is known as the Luxembourg-Findel International Airport. All major airlines are served by this airport and the airport is easily accessible from the city by cheap bus services.
Another main airport is Metz-Nancy-Lorraine Airport in France, catering to both domestic and international air traffic which is around 70 km from Luxembourg.
Cuisine in Luxembourg
Influenced by Central European cooking style, traditional Luxembourg cuisine is a hearty affair. Luxembourg's national dish known as judd mat gaardebounen is a pork dish served in a creamy sauce with potatoes and broad beans. You must also try 'Kachkéis' which is soft cheese that is melted and served with bread and is a traditional fare. Then there is the delicious 'Bouneschlupp' which is a French bean soup, and to satisfy your sweet tooth a plum tart called 'Quetschentaart'. Another must try is the 'Gromperekichelcher' which is very tasty potato pancake.
Nowadays in Luxembourg you will find most restaurants serving quality French cuisine. Italian food too has gained popularity over the years, so has Portuguese food. In fact, almost every international cuisine ranging from pan Asian to African and Middle Eastern is represented in Luxembourg.
Luxembourg produces a wide variety of good quality wines, mainly light white wines which are made along the north bank of the Moselle, just as it had been in the bygone days of the Romans. Beer is popular in Luxembourg and is made at the local breweries.
Attractions in Luxembourg
Sightseeing & Museums in Luxembourg
Though Luxembourg is a tiny country in the heartland of Europe, it still packs quite a punch. Due to its historic past and scenic beauty you will have a wide range of sightseeing activities to choose from whether it be lovely castles atop hills or battle scarred fortresses still standing vigil over the country side, or hikes and rambles through forests of birch trees.
The city of Luxembourg is listed as a UNESCO World Heritage Site and while in Luxembourg City you must not miss the Grand Ducal Palace, the town fortifications, the Cathedral of Notre Dame, and the many Second World War memorial sites. Walking through the cobble stoned streets you will come across sites to explore at every turn.
Some of the museums that must be a part of your itinerary include the National Museum of History and Art with its impressive collection of art and artifacts, and the relatively new Museum "Dräi Eechelen" which is inside a fort and traces the history of Luxembourg through its exhibits and the Luxembourg City History Museum that is located in a group of restored residences. Also, the National Museum of Military History with its interesting military memorabilia is worth a trip.
Dining & Nightlife in Luxembourg
Family run cafes and brasseries or gourmet restaurants offering epicurean delights, the city puts out a fantastic and a diverse range of culinary delights for visitors. While discovering the many tempting places to eat, it is worth knowing that Luxembourg has 11 Michelin starred restaurants, one of which is Mosconi that offers eight courses of sumptuous dining fare.
You would be surprised by the vivacious nightlife that the city offers. There are many discos, clubs and bars offering trendy modern music and enjoyment. Your nightlife sojourn will remain incomplete without visiting the city center and trying out places like the M Club, Cabaret Le King's Club, and Auberge Gaglioti.
Also, a recently converted brewery Rives de Clausen is the focal point of the city's nightlife with a number bars, restaurants and clubs concentrated here. Nearby, you will find quaint restaurants like Mousel's Cantine serving Luxembourg specialties like judd mat gaardebounen for you to savor.
Shopping in Luxembourg
Luxury brand and boutiques are concentrated along the Grande Rue and its adjoining streets where you will find designer stores of fashion and jewelry. Other prime shopping streets are Avenue de la Gare and the Avenue de la Liberté, which are ideal for souvenir hunting. Luxembourg chocolates, called knippercher, traditional bird whistles, pretty porcelain, wines and clocks are local specialties.
Excursions in Luxembourg
If you enjoy gambling, then a visit to Mondorf-Les-Bains has to be on the cards. It is at a distance of around 16 kilometers from Luxembourg City and is the only casino in this sovereign state.
You must visit the Valley of the Seven Castles which is a beautiful valley dotted with magnificent castles and castle ruins. In fact, this small area has the finest concentration of European castles.
Some other side trips that you can make are to the forested and mountainous Ardennes region, the Mullerthal also known as Luxembourg's 'Little Switzerland' and the wine region. Also, a must-see is the sparkling town of Echternach which is the oldest city in Luxembourg and the dreamy village of Vianden with its fairy-tale castle, swans gliding on blue lakes and green forests and also the house of Victor Hugo the poet, dramatist and novelist.
Event Tourism in Luxembourg
The city hosts a large number of international congresses, conferences, symposiums, fairs and trade shows every year, and keeps astonishing the attendees who visit the place to join an event with its scenic look.