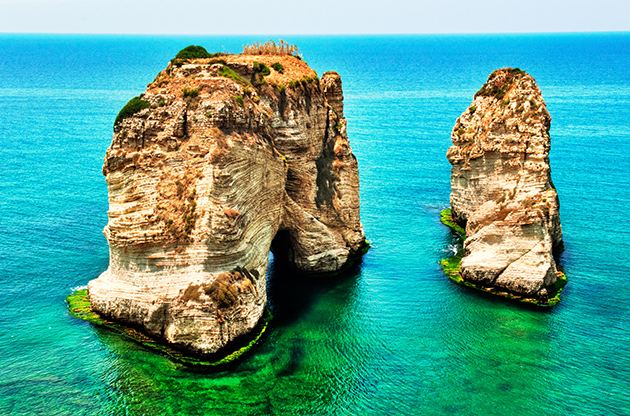 Beirut, being like no other Middle East city, is known as the Paris of the Middle East. Although this beautiful city is wounded by merciless civil war, it recovers so fast to amaze its visitors.
Beautiful nature, fantastic nightlife and the epic cuisine may be the primary things that flash in your mind when you hear the name of the city but Beirut will offer you more.
Although known as an Arab country, Beirut is a privileged one having both Muslim and Christian population almost fifty-fifty. This also adds up to the cultural richness of the city.
When you first step into the city, the disordered traffic, the beauty of the women may make you dizzy. Traffic rules seem not to apply for Lebanese people and what is more, there are no public transportation systems in the city. The only ways for transportation are just taxis and cars. Even if it may be hard to find your way in Beirut, it is fun to get lost in this charming city!
The bullet holes on the walls will pull on your heartstrings but Beirut has everything to camouflage its cruel scars. It is for sure that when you visit Beirut and meet the warm-hearted Lebanese people, you will just look forward to your second visit.
Where is Beirut?
The capital of Lebanon, Beirut is located on the west shore of Lebanon.
How to Get to Beirut?
If you like to travel to Beirut by plane, your landing stop will be Beirut-Rafic Hariri International Airport that is located 9 km away from the city center. Since there are no public transport systems in the city, you need to get a cab or rent a car to reach the city center or to your hotel from the airport. For more information, you can visit the official website of Beirut-Rafic Hariri International Airport.
Things to Do in Beirut
Museums in Beirut
National Museum of Beirut
The National Museum of Beirut is a main archeology museum in the city. Opened in 1942, more than 100,000 antique objects and about 1300 artifacts from prehistoric times to Mamluk period are on display.
Mim Museum
Mim Museum is located in Saint-Joseph University and it is a private museum exhibiting 1400 minerals. Mim Museum is known as having one of the best mineral collection.
Sursock Museum
Sursock Museum is the most important modern and contemporary art museum in Beirut. It was built as a private house by Lebanese aristocrat Nicolas Ibrahim Sursock and he bestowed this house to the state to be used as a museum. The building is also impressive exemplifying Venetian, Ottoman and Lebanese architecture.
Sightseeing in Beirut
Pigeon Rocks
One of the most popular spot in the city, Pigeon Rocks stand in the sea in Raouche, at the end of Corniche. When you walk along Corniche, the beautiful Pigeon Rocks will welcome you at the end of the way offering you a stunning view, especially in the sunset. If you are there in summer, you can have the chance to pass under the arch of the rock by a boat.
Jeita Grotto Caves
Lebanon's apple of the eye, Jeita Grotto Caves was a finalist for the New 7 Wonders of the World. When you step inside the caves, you'll immediately realize that this is not for nothing and you'll feel yourself out of this world. Jeita Grotto Caves are located approximately 1-hour drive away from Beirut but they are worth the every single minute of the journey.
There are two caves in the area which are the upper and the lower one. Spanning 9 kilometers, these karstic limestone caves are separate but interconnected. Between the caves you can transport by the cable car or the train.
Harissa Hill
Harissa Hill is located 25 km away from the city center and on top of the hill there is the statute of Lady of Lebanon and a chapel and of course a breath-taking view from 600 meters of altitude. You can reach there by the famous Jounieh cable car enjoying the city view. Harissa Hill is also important because Pope John Paul II visited there in 1997 and this was the first visit of a Roman Catholic pontiff.
Le Grand Serail
Le Grand Serail is the place of residence of the Prime Minister but a historic building as well, reflecting Ottoman architecture. It is located atop a hill in Beirut city center and in the area you can also see the Hamidiyyeh Clock Tower and Council for Development and Reconstruction.
Shopping in Beirut
Beirut Souks
Beirut Souks is a popular shopping place located in Majidiye that you can find reputable brands. This open air shopping mall also has great restaurants and cafes and it's a common meeting point for Lebanese people.
Saifi Village
Saifi Village is a district that can be interesting for art, boutiques or handicrafts lovers.
Orient 499
Orient 499 is highly popular both among tourists and the local people. It is an atelier and a boutique at the same that sells many things from furniture to accessories but all of them are made in Lebanon, Turkey, Morocco or Syria reflecting Oriental tradition.
Dining and Nightlife in Beirut
Nightlife in Beirut
When it comes to nightlife, Beirut is one of a kind. So if you are thinking that Lebanon is a Middle East country and the people are too conservative for a lively nightlife, you are wrong. Most of the tourists come to Beirut for the amazing nightlife. Especially young people go out after midnight and have fun at the nightclubs until dawn. The most popular nightclubs are:
Dining in Beirut
Hotel Le Gray
The terrace restaurant and the bar at Hotel Le Gray are perfect for a view of Beirut and great tastes.
Mar Mikhael
This fashionable neighborhood is famous for its cafes, restaurants, patisseries and art galleries.
Gemmayzeh
Gemmayzeh is also a popular neighborhood in the city. Rue Gouraud is especially famous and known as the bohemian quarter of Beirut. Trendy bars, restaurants, lounges and cafes are located there.
Mayrig Restaurant
Located in Pasteur Street, this Armenian restaurant is one of a kind in the name of good taste. James Blunt, Elie Saab, Lara Fabian, Jamel Debbouze, Roch Voisine are among the visitors of this restaurant. You'll have the chance to taste the best samples of Armenian cuisine with touches of Lebanese tastes.
Excursions and Tours in Beirut
Byblos
Being a UNESCO World Heritage Site, Byblos is known as the first city in Phoenicia and it is also one of the oldest continuously inhabited city in the world. It is located only 42 km away from the Beirut city center. When you are in Byblos, dining at Pepe Fishing Club will never be a regret.
Batroun
Thanks to its vibrant nightlife, cleanest beaches, freshest citrus, historic churches and the famous Makaad El Mir, Batroun is definitely worth a visit. It is located nearly 55 km away from Beirut.
Baalbeck
If you are into history, it will be wise to visit Baalbeck while you are in Lebanon. Known as the best preserved Roman ruins in Lebanon, Baalbeck is located 75 km away from Beirut.
Events in Beirut
Being the shining star of Middle East, Beirut is one of the most preferred event cities. Each year many reputable academic or business events are held in the city to draw global attention. Academic conferences and congresses in Beirut make major contributions to the related sectors and the expectations of the attendees are met with highest standards.