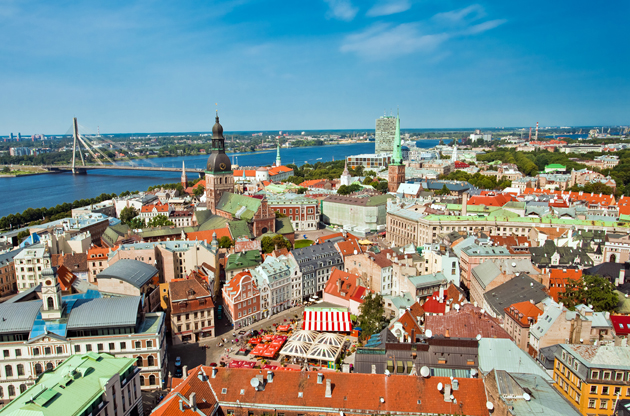 "I have heard about Riga, it is beautiful. Latvia? What is it?" This phrase,when said by a foreigner does not surprise a Latvian. It seems that the small and charming city Riga has earned its place in the hearts of many worldwide, despite the fact that the name of the country is not fixed in the minds of foreigners. So why then do they remember Riga?
Everything is simple in Riga – its natural landscape is extremely well-preserved, its past is readable from the amazing architecture, and its wild nightlife makes even the most patriotic tourists forget about home.
Do not expect locals to smile at you on the street or shop assistants to ask about your day. Nevertheless, Latvians are kind and generous people once they know a person they are dealing with. A Latvian proverb speaks volumes about the peoples' attitude: "Talking is silver, keeping silent is gold".
Leisure activities for Latvians usually depend on the season of the year. In winter many go skiing and snowboarding. In summer, they prefer grilling sašliks (meat) outdoors and taking care of their houses on the countryside where they grow fruits, berries and vegetables. Autumn is time for mushroom-picking.
No matter what your purpose in visiting this beautiful city is, Riga will show you a face of its which you had no idea of before. Discovering so much in a city that seem to be this small will surprise you. In addition, getting to know the Latvian way of living is going to be quite an interesting experience.
Where is Riga?
The capital of Latvia, Riga, is located on the Gulf of Riga at the mouth of river Daugava.
How to get to Riga?
Riga International Airport is located 10 km west of the city center. The options on reaching the city center from the airport are listed on the airport's official website.
Attractions in Riga
Riga is quite rich in terms of sights so get ready to absorb new information and admire the beauty of the town.
Sightseeing & Museums in Riga
Art Nouveau
It is the style of architecture that Riga's streets are most famous for (pay a special attention to Alberta Street). Although it is quite simplistic and contemporary, supposedly it is one of the reasons Riga's centre was named in UNESCO world Heritage site.
Old Town
If you want to see 'as much of Riga as possible', go to the top of St. Peter's Church's tower and see the spectacular view it holds. The House of Blackheads on Town Hall Square, Riga Church, and the remains of Riga's defensive structures by no means should be left without due attention.
Central Market
It is one of the oldest and largest markets in Europe. There, not only can you find any type of object you may want to buy (clothing, souvenirs, cheeses, honey, etc.), but you can also observe the halls that served as hangars for German airships during World War I.
Kalnciema Street
Have you ever seen a wooden house? Sure, you have. Have you ever seen 10 wooden houses in one location? 20? We are not speaking about your childhood home. In the 21st century, it is a very rare phenomenon. Kalnciema Street is full of 120 years old wooden buildings.
Shopping in Riga
Spice
It is the closest shopping mall to the airport which consists of a fashion alley, a supermarket, a huge LIDO cafeteria (which you will not find anywhere else) and a unique children's playground.
Galerija Centrs
Visitors usually prefer this shopping center as it makes the shopping a bi more easier by having a lot of stores all together. Remember, if you are planning to do lots of shopping, it pays off to get the mall loyalty card first.
Dining in Riga
Without pork, a Latvian meal would not be Latvian anymore. Karbonade (pork schnitzel), karbonade ar kaulu (grilled pork chops) and cukas stilbs (pork knuckle) are some things that make a Latvian heart beat faster! If you still have space in your stomach after tasting pork, go for something from the following: pelekie zirni (grey peas), frikadelu zupa (meatball soup), maizes zupa (rye bread pudding) and kiselis (starchy fruit pudding served with milk).
Taverna
Here you will be able to 'assimilate' with the culture, at least in terms of cuisine. Traditional dishes, candle light, live music and a lot more await you there.
Biblioteka No1
This is typically considered the best restaurant in Riga (unfortunately, the best is a synonym with the most expensive in this case). You can expect a wide range of dishes, highly professional staff, and a pleasing atmosphere. It is recommended for business meetings.
Laivu Centrs
The location makes this place exceptional. It is situated on an island on the banks of river Daugava. Great food is good, but great food and nice views make for perfect combination.
Nightlife in Riga
Pulkvedim neviens neraksta
This is a legend of Riga's nightlife since it has been there for generations. There is high-quality music and no entrance fee.
Omes briljants
The place is usually chosen by middle aged people as it offers more classy and 'not so loud' type of entertainment.
Excursions in Riga
A free walking tour starts every day at 12 p. m. in front of the St. Peters church. An enthusiastic English speaking guide will provide you not only with many historical facts, but also will tell you many entertaining legends of the city.
If you feel like not joining to a walking tour, there are other options available, such as a bus tour, a boat tour, a bicycle tour.
If you are a kinaesthetic learner, you can search for Riga Beer and Balsam Tour (make sure you do not get too much excited about it so that you are in a good shape next morning).
Jurmala is worth visiting because of its beach covered with white quartz sands, pine-trees on the dunes, amazing wooden architecture and a lot more.
Event Tourism in Riga
Thanks to the scenic look that surrounds the city, the increasing number of bed space in quality hotels and the venues that are filled with the lates technology, Riga is one of the greatest destinations to hold international events such as congresses, conferences, symposiums, fairs and trade shows.