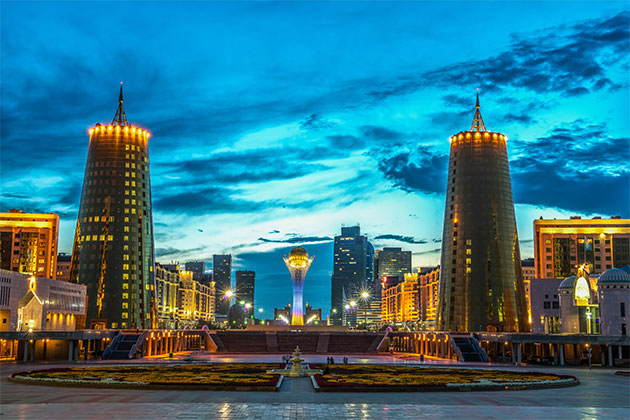 Astana is one of the youngest capitals in the world. It was the year 1998 when Astana stole the capital crown from Almaty and since then, it has been increasingly improving. It will not be wrong to say it is a "designed" city since it is one of the planned cities in the world just as Canberra, Australia or Washington D.C., United States of America. This is the reason why the first things that are recognized are the skyscraper like buildings or streets that look this neat.
However, Astana is also one of the cities in Kazakhstan that has got a deep history. It was firstly settled by Siberian Cossacks in 1830, and since then has gone under a bunch of major changes all of which can be described as both administrative and physical.
Because of these, namely the recent investments to turn Astana the capital of not only Kazakhstan but also the whole Central Asia and the rich and rooted history, the city has become an interesting destination with a lot to offer to its visitors. It is a city where one can learn much about the Kazakh culture and witness how fast and strong the country is growing.
Astana is one of the coldest cities in the world during winter months. Actually, it is the second after Ulaanbaatar, Mongolia. The continental climate features are seen in extreme levels which means the summers are really warm and winters are very long, cold and dry. Checking the forecast before you set out for Astana is recommended.
There are a lot of things to do, see and experience in Astana. It is definitely not like any other corner of the world and has got a very different story from the other cities you have visited. Get ready for a memorable and exciting journey in Astana.
Where is Astana?
Astana is located on Ishim River, on the west part of Kazakhstan. It is in the region of Akmola and is a special status city which is administrated differently from the others in the region.
How to get to Astana?
Astana International Airport is located 15 km south of Astana city center. Once you are in Astana International Airport, you can go to city center whether using the public transport or taxis. More detailed information about the transportation to / from the airport is provided on Astana International Airport's Official Website.
How to get around in Astana?
The major mean of transportation in Astana is buses. Some of the buses are old and most of them are usually crowded however this doesn't mean they are not providing an efficient service. If you want to use the buses is Astana, you simply get on the bus and pay to the driver; you don't need buy your ticket in advance.
Taxis are the second most common way of transportation. They are easy to find and cheaper when compared to the European taxis.
P.S.: It is also common in Astana to "hitchhike", just as it is in Russia. If you stand by a road filled by passing cars and raise your hand up, a couple of them will stop and ask you where you are headed. Make sure how much the trip will cost you will not end up having to pay way more than you should. (This is a feature of the city and of course all individuals must consider their personal safety for themselves.)
Attractions in Astana
Astana offers a wide range of attraction possibilities to the visitors. Nature lovers, history enthusiast, shopping fans and the ones who like trying new gastronomy heavens. Have a look at the major points of interest, museums, lively shopping and dining areas as well with a selection of excursions in Astana now.
Museums and Sightseeing in Astana
New National Museum of Kazakhstan is a museum that is opened in 2014 and the content is still being widened. Museum of the First President of the Republic of Kazakhstan is another one that is visited by most of the visitors. As its name speaks for itself, the museum showcases the period when Nazabayev was in power. Most of his personal items and the gifts he received are exhibited in the museum.
Palace of Peace and Reconciliation is the unofficial emblem of Astana. The 250 foot tall structure was built in 2006 and since then it is the venue for Congress of Leaders of World and Traditional Religions. Hazret Sultan Mosque, Baiterek Tower, Atameken Map of Kazakhstan and Kazakh Eli monument are among the other must see places in the city.
Shopping in Astana
Astana is great city where you can get some really traditional souvenirs for your friends and family back home. One of the best places to shop the unique Kazakh items is Republic Avenue. There are a large number of shops and boutiques where you can find almost anything you may need. As Astana is a recently built city, the modern day effects on daily habits can be seen visibly and this can be connected to the large number of shopping malls in the city. These are popular among the young generation in Astana however the older generation seem to be enjoying the easiness of finding everything at a place. Sine Tempore, Artem and Eurasia are the popular shopping malls you can visit.
Dining and Nightlife in Astana
One of the best things about Astana is that it offers a wide selection of restaurants to try some of the most exquisite examples of Kazakh cuisine. Beshbarmak must be included in your list if you eat meat; it is Kazakh dish made of horse meat and something that cannot be found just anywhere. You can find a lot of nice restaurants serving Kazakh dishes along Turan Street.
The official age to purchase and consume alcohol in Kazakhstan is 21. There are some nice clubs and restaurants however it is not possible to say that the nightlife scene in Astana is rich and vibrant. Some of the most preferred bars are the ones located at the roofs of the hotels.
Event Tourism in Astana
Astana, thanks to the investments made in the recent years, has been chosen as an even city many times lately. Every year the city becomes the host of some of the most important congresses, conferences, symposiums, trade shows and fairs. High quality hotels and venues equipped with the latest technology also play a major role in Astana's emerging place in world's event tourism.