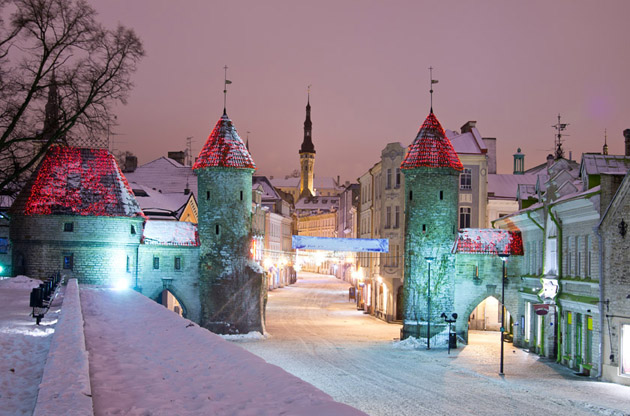 The capital of Estonia, Tallinn, is one of the most beautiful medieval capitals in the world. While representing the one of a kind Estonian characteristics, the city also shows a great deal of Russian and Scandinavian features. Tallinn can definitely be referred as a metropolitan, however, it is a one with a special inner charm that fascinates the travelers sooner or later.
The population of the city is around 420.000 people and the number effects the phase of the daily life of the Estonians. Traffic jams, hustles or stressful rushes are hardly seen in the city. The very well-structured modern design of the city walks hand in hand with the extremely well preserved historical parts.
One thing that characterizes the city is the weather of course. Tallinn's winter can compete with Stockholm's or Helsinki's without doubt and this means you may need some extra sweaters in your bag before setting out for Tallinn. In addition, the day time during winter and summer may be a bit different than in your hometown, get ready to say hello to long days of summer or short ones in winter if your trip falls in any of these.
Tallinn is also one of the cities in the world that can be accessed from a number of other capitals easily. A day trip to Helsinki, Stockholm, Riga or St. Petersburg is actually something really common among locals. These trips are also among the attractions of the city.
A trip to Tallinn opens the doors of a place where has witnessed a lot more than most of the places in the world. The way all of the cultures mixed crates the unique attitude of the city and captures you the moment you start to walk in the streets of Tallinn. Get ready to change the list of your favorite cities, because Tallinn will make you fall in love with itself.
Where is Tallinn?
Tallinn is located on the north of Estonia, by the coast.
How to get to Tallinn?
Tallinn Airport is located 5km from the city center and offers the passengers with a bunch of options on airport travel.
As Riga Airport is bigger and hosts more international flights when compared to Tallinn Airport, flying to Riga and transferring to Tallinn is also a popular way of getting to the city. Riga Airport provides the needed information about travelling to Tallinn from the airport.
How to get around in Tallinn?
Maybe we should start with mentioning the awesome fact that Tallinn is one of the numbered capitals in the world that offers free public transportation to its locals. As a traveler, you must pay to use the highly accessible local transportation however the fee is not that high. Buying a Tallinn Card is recommended as the card provides you with a lot of discounts in major museums, sightseeing areas and makes it possible to use the public transportation for free.
Tallinn is an easy capital to explore on foot if the weather lets you. If you would like to use the bus, trolley or the tram, you might as well have a look at TAK, Tallinn Public Transport Operator and find more about routes and schedules.
Attractions in Tallinn
There will be times in Tallinn when it will be difficult to choose from the countless attractions the city offers. So, you should plan your free time in advance before you set out your daily tours.
Museums & Sightseeing in Tallinn
Kumu Art Museum, Estonian History Museum, Estonian Maritime Museum and Niguliste Museum are Tallinn's major museums. These, along with, Museum of Occupation and Fight for Freedom, Estonian Open Air Museum and Hotel Viru, KGB Museum serve as extremely good sources to understand not only Estonian history but also Swedish, German and Russian.
Tallinn's Old City has been preserved so well that it has been added to UNESCO World Heritage List. A trip to there will make you feel you are travelling back in time. Kiek in de Kök, Oleviste Church and Tower, Tallinn TV Tower, Bastion Tunnels, Holy Spirit Church, Seaplane Harbour and Kadriorg Palace are the other major points of interest in Tallinn.
Shopping in Tallinn
You will come across a lot of stores selling Estonian goods around Old City, especially on Viru Street. These are the stores that sell the typical tourist souvenirs and most of them sell good quality items.
As Tallinn is becoming more and more metropolitan, the shopping habits and areas are undergoing a change, too. It is more common for people to see big shopping malls around the city for example. Rotermann Quarter is a recently emerged area of shopping and includes stylish boutiques and stores.
Dining & Nightlife in Tallinn
Most of the dining is done around the Old City, again. Around the streets, you will come across a bunch of restaurants that serve authentic Estonian food. If you would like to have a dinner in one of those, (some of them has a concept of medieval times, so you may have to enjoy your dinner under the candle lifght) make sure to have a reservation as it is really hard to find a seat in the evening. Kalamaja and Kopli districts also have got really nice restaurants.
Tallinn has got a surprisingly live night life scene when its size is considered. Actually the city attracts a lot of Western European travelers on the weekends just to have some fun. The pubs and clubs in the city center and in Old Town offer unlimited fun. In addition Kalamaja has also got quite a few bars you might enjoy.
Excursions in Tallinn
Prangli Islands is becoming more and more popular, so if you have time in Tallinn, you better go and see this amazingly beautiful and not filled with tourists yet island. Lahemaa National Park, Coastal Cliffs & Soviet Paldiski, Narva & The Eastern Bloc, Western Coast & Haapsalu and South-Estonian Countryside are the top excursions from Tallinn, but they need more than a day however they are definitely worth your time and endeavor.
Event Tourism in Tallinn
Tallinn becomes the host of many international exhibitions, tradeshows and fair, symposiums, congresses and conferences every year. The expertise of the organizers, the geographical accessibility of the city and venues' having all the necessary technical qualifications turn the city into a perfect host for these kind of large scale events.