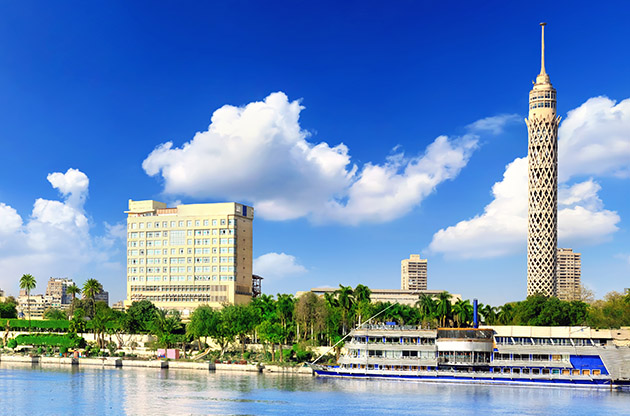 The city that dominates the world history, that the sun rises from, that houses many different cultures and exoticism is undoubtedly Cairo. Located in a very important position that is in the middle of Africa, Europe and Middle East, Cairo has its own and unique culture.
This one-of-a-kind-city offers its visitors examples from almost each eras of the history. 24 hours vibrant city, Cairo promises its visitors a matchless experience with its lively streets, mild climate and admirable history.
Cairo is also unique for its geographical condition. It is under the effect of scorching winds, yet it is also the city of water. The architectural style of the city is a composition of both Islamic and Christian examples especially in Old Cairo.
Although it has a deep culture and history, Cairo has been started to be discovered by the western world as of the last century. However, the things that can be explored are just limitless in this beautiful city. Cairo will definitely make you forget about yourself and set out on an unforgettable journey.
Where is Cairo?
The capital city of Egypt, Cairo is located near the south shore of the country, near the Nile Delta.
Getting to Cairo
Cairo International Airport is the only airport in Egypt. It is also known as the second largest airport in Africa. You can get to Cairo by the direct or indirect flights to Cairo International Airport that is located 15 km away from the city center. For more information about the transportation options to and from the airport, you can visit the official website of Cairo International Airport.
Things to Do in Cairo
Sightseeing in Cairo
Tahrir Square
The most popular address in Cairo is probably the Tahrir Square. The building of the Arab Union, ministries, The Mogamma are all located in this square as well as the popular restaurants and shopping centers.
Cairo Citadel
Cairo Citadel houses many buildings such as mosques, museums and restaurants so can you'd better spare at least half a day for the citadel. Cairo Citadel promises a fantastic view of the city. Among the places that you can see in Cairo Citadel are Suleiman Pasha Mosque, National Police Museum, Al-Gawhara Palace and The Mosque of Al-Nasir Muhamma.
Old Cairo (Coptic Cairo)
Old Cairo is located towards the south of the city and offers a multicultural structure. In Old Cairo you will see mosques and churches together because Coptic Christians in Egypt regard Old Cairo is their center. Among the places that you can see in Old Cairo is The Hanging Church, Saints Sergius and Bacchus Church, Saint Barbara Church, Coptic Church, Babylon Fortress and Mar Girgis.
Museums
Mahmoud Khalil Museum
Mahmoud Khalil Museum is located in Giza and it exhibits both the European art and Eastern art. This museum was built as a palace for Mahmoud Khalil and his wife but now it serves as a museum. You can visit the museum from Tuesday to Sunday.
Mathaf al-Masri
Housing the largest Ancient Egypt collection, Mathaf al-Masri exhibits old moneys, papyruses, coffins, statues and tablets at the first floor. At the second floor, you'll have the chance to see the golden coffins, masks, and treasures as well as the 1700 pieces that belong to Tutankhamun's grave. You'd better spare at least 5 hours for this museum which you can also see some of the mummies.
Museum of Islamic Art
Museum of Islamic Art exhibits 103000 different pieces such as moneys, carpets, ceramics, handwritings, marbles, guns and gemstones from 7th and 12th centuries.
Shopping in Cairo
If you like to buy some unique items for yourself of for your family and friends from Cairo, the first stop that you should pay a visit to is Khan al-Khalili. In this marketplace, you'll experience a totally different shopping experience. You can shop for dried fruits, souvenirs, handicrafts, jewelry, spices, textile products, carpets and even perfumes at one place.
Your bargaining skills will also be challenged in Khan al-Khalili because if you can do it, you can buy the things that you want even 50% off. The sellers may be persistent so if you are not interested in buying, you'd better leave the stall.
Among the things that you can buy from Cairo are perfumes, papyruses, jewelry, spices and marble products.
Dining and Nightlife in Cairo
Oriental Shows
Oriental shows are the traditional entertainment especially for the tourist. So make sure you watch at least one show one you're there. Many hotels and night clubs organize these shows and you can secure yours seat there to have a great night out.
Khan El-Khalili Restaurant & Naguib Mahfouz Coffee Shop
Named after the Nobel prize-winning Egyptian novelist Naguib Mahfouz, this place serves an incredible Om Ali (a traditional dessert) and traditional Egyptian cuisine accompanied by traditional music in most evenings.
The Moghul Room
If you like to have a dinner overlooking the Pyramids, your address should be The Moghul Room which is regarded as the finest Indian restaurant in Egypt. Each night there is classical music and you can taste the best examples from the North Indian cuisine.
Café Riche
Dating back to 1908, Café Riche was the haunt for prominent figures in art and literature. When it was reopened in 2000 after a restoration, it gained its previous popularity immediately and attracts many local people and tourists thanks to its rich history and delicious menu.
Excursions and Tours in Cairo
Saqqara and Giza
Leaving Cairo before seeing the pyramids in the flesh would be nothing but a lifetime regret. Saqqara and Giza are the places where the most popular pyramids are located. Pyramid of Djoser is situated in Saqqara and it is also known as the Step Pyramid.
In Giza, you will have the chance to see Great Pyramid of Giza (Cheops), the Pyramid of Khafra and the Pyramid of Menkaure.
Felucca Tours
If you like to have a tour on Nile, you can try the Felucca Tours. Feluccas are the traditional Egyptian sailboats that move with the wind power with no motor. You can join another group from many tour operators or make your own up to 13 people to have an unforgettable experience on the legendary river Nile.
Event Tourism in Cairo
Having nearly 8000 years of history and being a cradle of many different cultures, Cairo has always been the apple of the eye of academic or business event organizers. As an event venue, Cairo has so many things to offer to its visitors. Many national and international attendees get inspired by this legendary exotic city as well as the events they attend. Each year, Cairo is swarmed by many international delegates to attend sector leading conferences, congresses, symposiums and more.